Prior to the referendum, our opinion had been this lack of a defined plan would lead to heightened uncertainty which is an environment in which businesses tend not to do very well. Ultimately, it may turn out to be beneficial, but there is potentially a long period during which the UK economy could go through some troubling times.
In the several weeks after the referendum result, the immediate shock to various indicators of economic health seem to have either reversed or stabilised with the UK consumer able to shrug off the uncertainty. This has surprised various experts and indeed many companies operating in the UK. Our sense was the adjustment would take some time for everyone (consumers and businesses) to appreciate and adapt to, so it may be several months and quarters before we see the real impact come through.
Today, exactly 16 weeks after the date of the referendum, the first rumbles are being felt in something that equally polarises opinion: Marmite!
I happen to love it, but I'm flabbergasted to read it may be banished from the UK's leading supermarket shelf!
Plastered across the news today is a tussle between two UK companies, Tesco and Unilever, about who should bear the cost of Brexit. Unilever is trying to increase the cost it charges to Tesco and others by 10% for various products like Marmite, PG Tips, Persil and Magnum due to the falling value of the British Pound. Since the referendum, Sterling has fallen almost 18% versus the US Dollar and more than 15% against the Euro.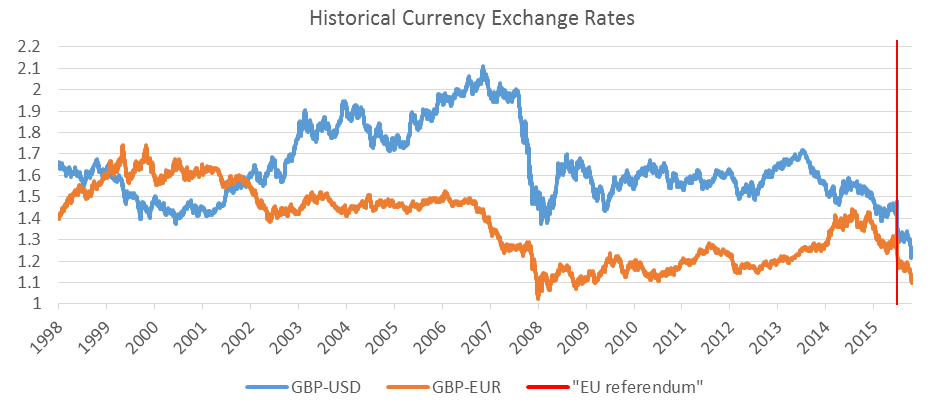 The last time there was a major adjustment to the value of Sterling was in 2007/ 2008. In March 2008, there was a spike in prices of wheat (+130%), soya (+87%) and rice (+74%) on global commodity markets that subsequently hit UK supermarket shoppers. The website www.foodsecurity.ac.uk [1] reports at the time tinned foods registered a 15% increase, croissants went up 47%, ham was up 45% and various fruit and vegetables saw increases of around 33%.
We're confident the tussle in the UK's food supply chain will eventually be resolved amicably. However, with over 40% of Britain's food being imported, it's fairly certain we will need to part with more hard earned brass for our bread! That is, at least, in the short term. Longer term, we are excited by the beginnings of a renaissance for "Made in England" with UK industry picking up.
In the interim, I'm sprinting to Sainsbury's!