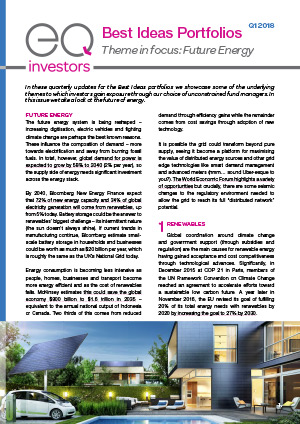 The fight against climate change has probably never been stronger with globally coordinated policy action. This is leading to some material changes to the way in which we both use and also produce energy.
As you will soon read, there are strong investment cases for a number of energy related themes:
Growth in smart devices like smart meters, smart home thermostats or more complex commercial building environmental control systems, is decentralising the electricity grid and leading towards "smart cities".
This growth in connected devices includes smart phones through to smart cars. With many of these devices being mobile, battery technology has been driven to the point where grid scale storage facilities are both technically viable and investable.
Renewable energy generation is of course a critical component of the future energy mix. This fact is not lost on energy companies and we find some of the biggest investments into renewable energy generation have been made by traditional power companies that are integrating this technology into the energy stack on a mass scale.
If you have any questions about the Best Ideas Portfolios, please do not hesitate to contact us [1].