Best Ideas: what makes a quality company?
In our recent monthly commentaries we have talked about the shift towards quality companies that has been underway in your portfolios. So what exactly is it that makes a 'quality' company, and why are they good investments now?









by Kasim Zafar, 24th April 2019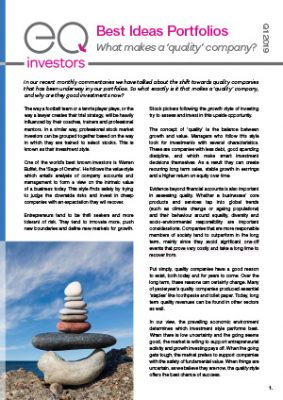 The way a football team or a tennis player plays, or the way a lawyer creates their trial strategy, will be heavily influenced by their coaches, trainers and professional mentors. In a similar way, professional stock market investors can be grouped together based on the way in which they are trained to select stocks. This is known as their investment style.
In this quarterly update, we introduce three of the most common investment styles (growth, value and quality) and explain why we think that the quality style is best suited to current market conditions. We then present three case studies to show how quality companies are represented in the Best Ideas portfolios.
If you have any questions about the Best Ideas Portfolios, please do not hesitate to contact us.