By now, you will have heard plenty of news about the coronavirus (dubbed COVID-19) which has infected over 80,000 people to date. It began in the Chinese province of Hubei with the city of Wuhan at its epicentre, but has been spreading around the world.
Where are we?
Further alarm has been caused over the last few days with a growing number of cases being recorded outside China, notably in northern Italy, South Korea, Egypt and Iran. In the cases of Italy and South Korea in particular, the linkage back to China is weak or unidentifiable, as shown in the grey bars 'under investigation' in the chart below.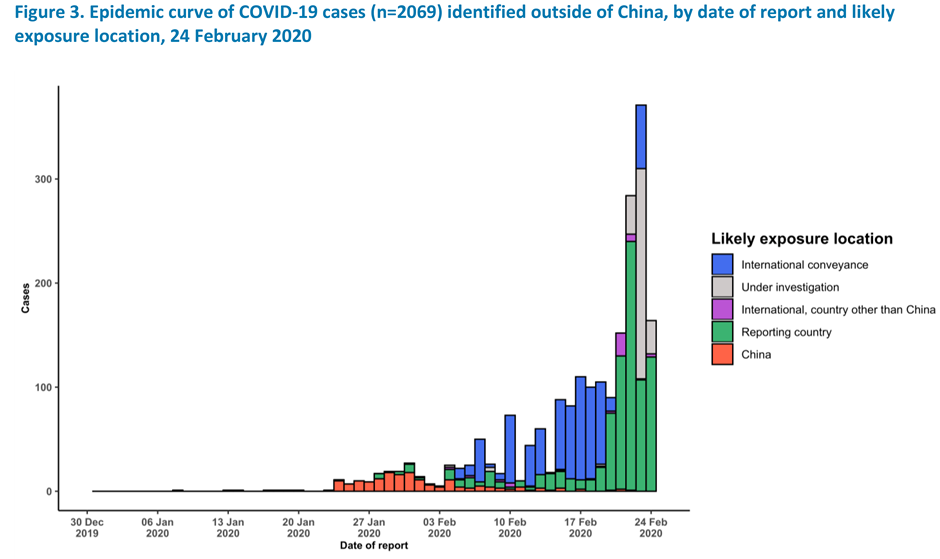 [1]
Risk of greater disruption
If the source of these cases under investigation do not lead back to contact with a previously recorded infected person, it will likely mean that we have lost track of the spread of the virus. In this scenario, we could be looking at the early stages of a global pandemic.
The World Health Organisation Director-General Tedros Adhanom Ghebreyesus has said the coronavirus has: "pandemic potential", but isn't there yet. Although he warned countries should be: "in a phase of preparedness".
Economic implications
China's large-scale containment effort has seen 57 million people quarantined in Hubei [2] province with travel restrictions in and out of Wuhan. Several other cities have implemented partial lock-downs with Hong Kong restricting travel to and from the mainland.
The economic implications of these restrictions could be significant. China has recognised this and is doing its best to get itself back to normal. Travel restrictions are gradually being eased and an increasing number of companies are being allowed to restart operations.
Implications for markets
After the first reports of the virus in mid-January, we saw equity markets sell off aggressively, wiping out all gains achieved in 2020 by the end of the month. In February, the scale of the containment effort in China together with expectations of economic policy responses saw equity markets bounce to fresh highs.
We believe both the January sell off and February bounce went way too far. Markets have since sold off aggressively again in recent days, giving back February gains. It is likely that various economic data and company announcements over the next several weeks and months will be much weaker than the market previously expected. This 'air pocket' in economic data could create some additional volatility.
What are we doing?
In the short-term, we are continuing with our modestly defensive stance [3] that has been in place for much of the past year. We are monitoring the virus spread, policy and market responses daily. If we see an acceleration in the number of cases, then it will mean the risks to global growth from a renewed containment effort could be severe and we will respond accordingly.
Alternatively, if we see the virus under control and China's economic activity gradually accelerating, our expectations are for a continuation of the economic recovery that had just got underway at the end of 2019. With stock market valuations amongst the most attractive in the world, we would view this as an opportunity to gradually reintroduce a tactical overweight to Asian equities.
As Warren Buffet reminded his investors this week, we are buying businesses and stocks to own for the next 20 to 30 years. "If it gives you a chance to buy something you like and you can buy it even cheaper, you're in good luck," he said. "You can't predict the market by reading the daily newspaper."
Contact
Have a question about investing with EQ? Please email enquiries@eqinvestors.co.uk [4] or call 020 7488 7171, we're always happy to hear from you.