Thanks to progressive leaders at companies like Amazon, Facebook and Google, lots of people have started to think about company culture differently. We have four very different generations at EQ, each with a different set of priorities. Understanding this and developing a healthy, productive work culture benefits everyone who works here.
Healthy workspace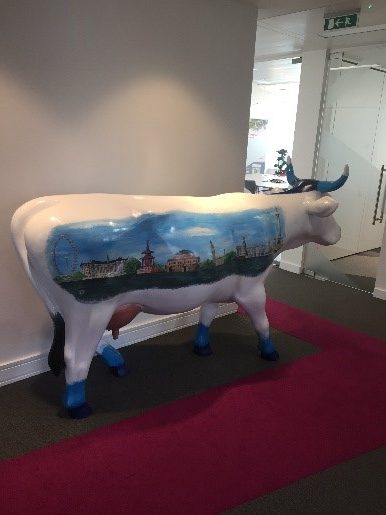 [1]We moved into new offices in 2015 and working in a clean, attractive office has had a big impact. Not only for existing employees, but also in terms of attracting new team members.
There are not many places workplaces where you have a cow in the office and a mock beach in the middle of the office, with kitsch deckchairs and parasols for informal meetings and social events. We're working on the sand!
Encouraging feedback
EQ has a great team of talented, committed professionals who care about the work they do. We encourage honest and open dialogue, and the management team are open to input from employees.
The EQ Forum was created as a space where ideas, suggestions and recommendations can surface, get some airtime, and where the good ones can get actioned by the business and taken forwards.
Rather than just add another regular meeting to busy calendars, the forum only meets when there's a problem to solve or a new goal to tackle.
Being flexible
For our employees, the benefits of flexible working are often focused on improving their work-life balance, as well as looking after their health and wellbeing. However these arrangements also impact positively on productivity and enhance loyalty towards EQ.
Allowing employees the freedom to choose their working hours or to work from home saves them commute time and money, and can be a great help in giving them more time with their children or to support an elderly parent. With video conferencing and remote access, productivity can even increase due to fewer distractions when working out of the office.
Supporting a cause
At EQ we have a strong sense of being a member of a wider community. Just over four years have passed since EQ was recognised as one of the first UK companies to be awarded B Corporation status, an internationally recognised standard for companies that believe in business as a force for good.
We operate a Matched Giving programme to help our clients and staff raise extra funds for their favourite causes and we have set up the EQ Foundation [2] as a registered charity with a particular focus on improving social mobility.
One charity, the Foundation has supported is the Spear programme [3] operated by Resurgo. It provides pre-employment training for young unemployed people, mainly in London, initially via a six week intensive course. We've been delighted to employ a number of Spear graduates and would encourages other employers to do the same.
All EQ staff are also encouraged to donate two days per year of their time to volunteering initiatives, and we organise a programme of events so that staff can participate as a team.
Employee ownership
EQ's CEO, John Spiers is a long-term advocate of employee ownership. He has seen first-hand the strategic and ethical rewards of adopting a model which aligns the interests of employees with that of the business.
Since 2018, staff at EQ have given the opportunity to acquire a stake in the company [4] via an employee share incentive plan. To date, 90% of eligible employees have taken up the opportunity.