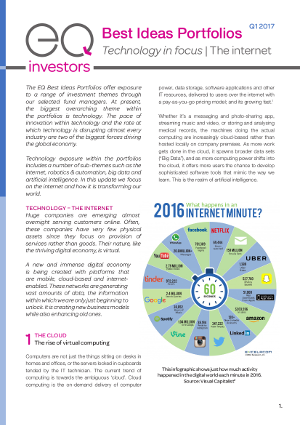 Focus: internet technology
The EQ Best Ideas Portfolios offer exposure to a range of investment themes through our selected fund managers. At present, the biggest overarching theme within the portfolios is technology. The pace of innovation within technology and the rate at which technology is disrupting almost every industry are two of the biggest forces driving the global economy.
Technology exposure within the portfolios includes a number of sub-themes such as the internet, robotics & automation, big data and artificial intelligence. In this update we focus on the internet and how it is transforming our world.
If you have any questions about the Best Ideas Portfolios, please do not hesitate to contact us [1].