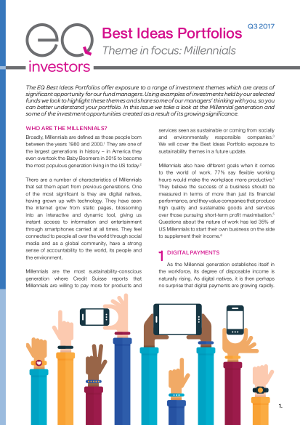 Broadly, Millennials are defined as those people born between the years 1980 and 2000. They are one of the largest generations in history – in America they even overtook the Baby Boomers in 2015 to become the most populous generation living in the US today.
There are a number of characteristics of Millennials that set them apart from previous generations. One of the most significant is they are digital natives, having grown up with technology.
This update focuses on how this generation is fast becoming the world's most important for consumer spending growth, sourcing of employees and overall economic prospects. It then showcases some examples of companies that are leading their fields in digital payments, the gig economy and gaming.
If you have any questions about the Best Ideas Portfolios, please do not hesitate to contact us [1].