About Blue Sky (The Forward Trust)
Blue Sky is an award-winning charity, now merged with the former Rehabilitation for Addicted Prisoners Trust (RAPt) to form The Forward Trust [1], supporting ex-offenders and people suffering from substance misuse issues into employment, to alleviate the poverty, hardship and disadvantage often faced by this beneficiary group due to their criminal records. They employ ex-offenders, in paid jobs, for up to six-months through one of two commercial models, during which time they support them (through a dedicated in-work support team and access to training grants and interest-free loans) in finding a longer-term, sustainable job elsewhere
Since 2005, the charity has employed 1,513 ex-offenders, with 626 (41%) of these individuals progressing into longer-term employment with our support, and only 9% re-offending during their 6 month period with us (compared to a national rate of 29.6% – Ministry of Justice, January 2018).
EQ Foundation match funding
The funding from the EQ Foundation [2] contributed towards the implementation of The Forward Trust's growth strategy and in particular three key aims:
To diversify and win commercial contracts in new industries to create new jobs for ex-offenders.
Develop new training programmes that are linked to jobs in new contracts/industries.
Employing and supporting ex-offenders within new commercial contracts.
The charity has produced a progress report which summaries its key outcomes and achievements in implementing their strategy over the 12 month period between January and December 2017 and also sets out its objectives for the year ahead: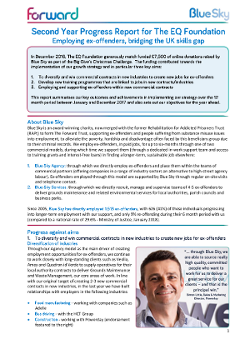 [3]