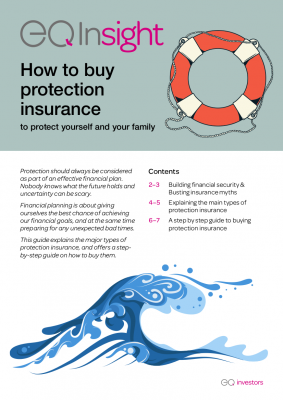 [1]EQ Investors (EQ), has published a new guide to help people understand how protection insurance works. 'How to buy protection insurance', [1] outlines what you need to need to consider when it comes to buying protection insurance.
EQ's latest guide [2] is intended to help: 
people understand why they need financial protection;
explain the main types of protection insurance; and
what to watch out for when buying.
Available to download from EQ's website, the guide is designed with beginners in mind and offers practical guidance for those new to the subject.
Jeannie Boyle, Director & Chartered Financial Planner at EQ said:
"Protection should always be considered as part of an effective financial plan. Nobody knows what the future holds and your financial plan should ensure that you are prepared for any unexpected bad times as you progress towards your financial goals.
Our new guide explains the major types of protection insurance, and provides tips on how to buy them."
For further information download the guide here. [1]
– ENDS –