With many savers fed up with low rates of return on their cash, the guide sets out some basic concepts you should know before you get started.
Whether you're thinking about investing for a wealthier retirement, to build a nest egg or to give your children a great financial start in life, this guide will help you understand some of the key fundamentals and your own priorities:
Why should you invest
What kind of growth can be achieved
Selecting the right level of risk
The advantages of investing through funds
The different characteristics of each asset class
Over the longer term, history shows the benefits of investing, however new investors can be overwhelmed by the seemingly endless jargon. Even if you have a wealth of experience, it is helpful to go back to basics from time to time.
While the perception of stock markets may trigger images of brokers yelling "Buy! Sell!" the reality of long-term investing tends to be rather more mundane – thank goodness!
Sophie Kennedy, Head of Investing, EQ
Download a free copy of the guide here [1].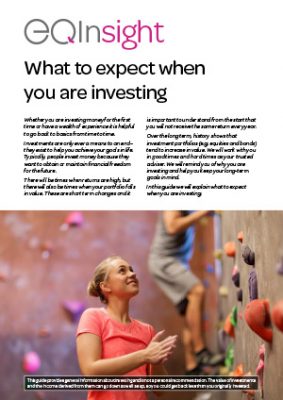 [1]