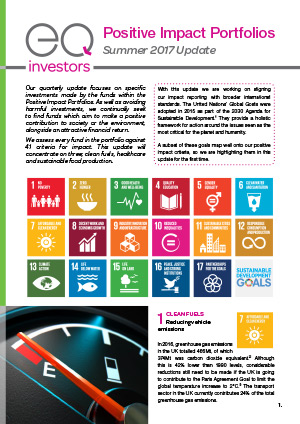 Our quarterly update focuses on specific investments made by the funds within the Positive Impact Portfolios. As well as avoiding harmful investments, we continually seek to find funds which aim to make a positive contribution to society or the environment, alongside an attractive financial return.
We assess every fund in the portfolio against 41 criteria for impact. This update will concentrate on three of them:
Clean fuels – reducing vehicle emissions
Healthcare – providing specialist cancer care
Sustainable food production – organic food production
With this update we are working on aligning our impact reporting with broader international standards. The United Nations' Global Goals were adopted in 2015 as part of the 2030 Agenda for Sustainable Development [1]. They provide a holistic framework for action around the issues seen as the most critical for the planet and humanity. A subset of these goals map well onto our positive impact criteria, so we are highlighting them in this update for the first time.