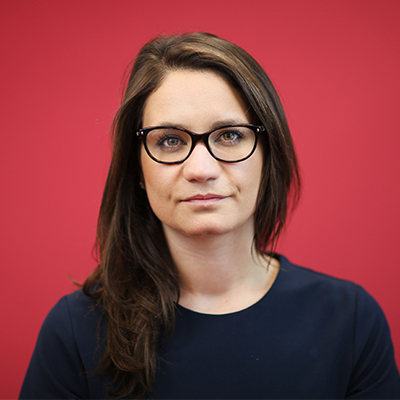 The annual Women in Investment Awards [1]were launched to not only honour the inspiring achievements of women across all parts of the investment industry, but also to improve diversity within the investment sector and highlight some of the most forward-thinking initiatives in this area.
Following on from the success of the inaugural event last year, the awards received over a thousand nominations. We are delighted to announce that EQ's Head of Investing, Sophie Kennedy has been shortlisted in the 'Fund Analyst of the Year' category.
We caught up with Sophie to learn a little bit more about her career path and achievements to date.
How did you start your career in the industry?
Having graduated from Queen Mary University of London with a Masters in Finance & Economics, I joined Bestinvest, the investment & advisory firm as a Data Analyst, before quickly progressing to become a valued Research Analyst within the investment team.
During this time, I developed my skills within both qualitative and quantitative fund research, which was primary responsibility, through both on-the-job experience as well as committing to completing industry examinations.
I became a key decision maker on fund selection, as well as using my own initiative to improve client communications and facilitating the introduction of other services within Bestinvest.
I was approached in early 2015 to join EQ Investors (EQ), to take on a more senior position and broader role. Increased responsibilities at EQ include fund selection, asset allocation and portfolio construction.
What does your role at EQ involve?
I'm responsible for the research agenda across the firm, leading a six-strong team that covers open and closed-ended funds, as well as tax-efficient investments including VCTs, EIS and SITR. I also chair EQ's strategic asset allocation, fund selection and investment management committees.
Since arriving, it's been great to bring new ideas and a fresh approach to the EQ investment team. My primary role is heading up the research team which consists of four analysts and two portfolio managers. The team is tasked with identifying suitable and attractive investment opportunities for EQ's clients, as well as completing in-depth research and due diligence. This includes both qualitative research, briefings with fund managers and product specialists throughout the industry, as well as quantitative analysis, using Morningstar and Bloomberg to analyse performance and risk metrics in all market environments.
I've a keen interest in social impact investing which has seen me take the lead role on EQ's involvement in the social investment tax relief (SITR) market. This involves helping clients identify attractive investment proposals and making investments on behalf of the EQ Foundation. [2]
Which career achievement are you most proud of?
Obtaining CFA Charter Holder status is certainly up there. The exam has a notorious reputation of being enormously tough, with success rates as low as 32%. An average of four attempts is required to clear this examination. Thankfully that wasn't the case for me.
Following that, it's what we have achieved over the last three years at EQ. We've grown the team from three people to ten, hugely improving the quality of the research we deliver – recognised by the Investment Week Research Awards
Our Positive Impact Portfolios [3]continue to go from strength to strength, demonstrating that investing in companies making a positive impact is good for returns.
How have you helped raise the profile of the investment sector as a career for women?
Earlier this year I was appointed to the board at EQ and in the last month have been promoted to the role of Head of Investment. This will hopefully mean other women within the firm and further afield aspire to succeed in their chosen career paths.
Within the business, I also mentor members of the investment team. This has taken two forms; the first in terms of upskilling colleagues that have taken on new roles within EQ and the second in terms of helping our investment analysts prepare for their Chartered Financial Analyst (CFA) exams.
Mentoring is powerful personal development and empowerment tool that we place a lot of trust in. At EQ, it's been an effective way of helping people to progress in their careers and helping to create an environment in which they think about what they are doing – especially important in a highly regulated business.
We've also introduced an intern programme in the last eighteen months. I would hope that women graduates recognise that a career in investment management is worthwhile. I certainly communicate that when I meet them!
Why should women take an active interest in investing?
Investing has consistently been one of the best ways to build and maintain wealth over the long term. It is a safety net in case of emergency, a cushion for old age, and the key to leaving a better life for our children and loved ones.
How EQ can help
We're here to help, and we'd love to hear from you. Please get in touch for a conversation or an initial meeting:
Telephone:      020 7488 7171
Email:              enquiries@eqinvestors.co.uk  [4]