It feels like this past month, we have witnessed an unprecedented level of public concern about climate change. Thousands of children are striking during school hours to get the attention of the older generations in power, through the #fridaysforfuture movement. London's otherwise smooth- running transport infrastructure was interrupted for days on end by the Extinction Rebellion protests, calling for greater government action on climate change mitigation.
Even at home, David Attenborough is telling millions of Netflix and BBC viewers about the destructive impact we are having on the environment through two new documentary series. Climate change is on people's minds – reflecting in a five-fold increase in Google search popularity of 'climate change' over the last year (see below).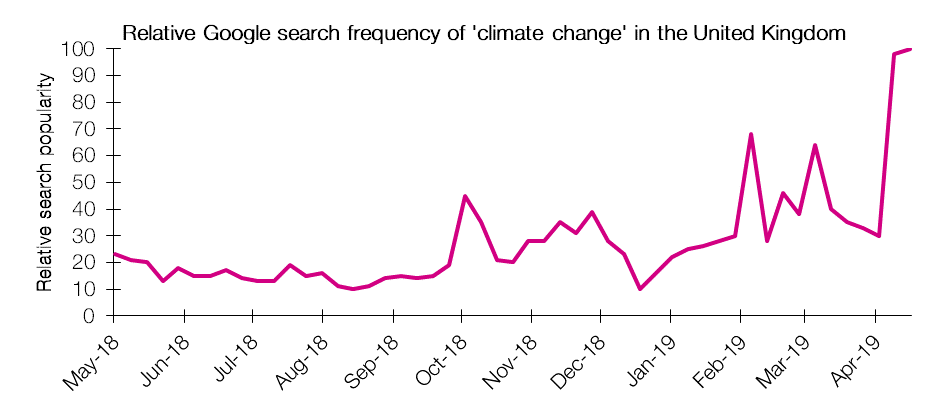 [1]
All of this has seemingly culminated in the release of a special report by the official advisory group to the UK government on climate matters – the UK Climate Change Committee (CCC) – proposing a revision to the UK's climate change mitigation commitments. Just more than ten years ago the UK had set its first CO2 reduction targets through the Climate Change Act [2] – but with the amassing scientific evidence pointing to the urgency to act [3], these had to be set at a more ambitious level.
Climate emergency
The CCC report proposes a 'net-zero' emissions target for Scotland by 2045, and 2050 for the rest of the UK. While UK MPs have approved a motion declaring a state of 'climate change emergency' [4] on May 1st, we are now waiting for a legal framework to follow this and provide more concrete drivers for a green economy transition.
With all this pressure, there are good reasons to be hopeful. We should not forget that we already have a good idea of what needs to change, we know the 'blockers' and 'enablers' to a net-zero UK. As the 16 year old climate activist Greta Thunberg said in her latest TEDx talk [5] : "The climate crisis has already been solved. We already have all the facts and solutions. All we have to do is to wake up and change." This change needs to be made through all of us – aligning our buying, investing and voting with a sustainable future.
Making a positive impact
We are firm believers that the financial sector can be a real catalyst in creating a net-zero-emissions society. Through shareholder engagement and active stewardship we can push any 'blockers' to do better, and hold these companies responsible to climate change targets. Through impact investing [6] (investing to maximise positive social/environmental impact and financial returns), companies that provide low-carbon solutions can gain access to cheaper cost of capital and be helped to scale. With more money being diverted to sustainable firms, the 'snowball effect' also encourages their peers to improve.
Through the EQ Positive Impact Portfolios [7], you can support the development of solutions to the climate change challenge. You would avoid any exposure to 'blockers' of a low-carbon economy, but intentionally invest in renewable energy technologies, energy efficiency, electric vehicle infrastructure or innovations for waste reduction. To demonstrate this, we measure the absolute impacts that can be associated with the portfolio's investments through our impact calculator [7]. For example, a £1 million investment in 2018 would have contributed to 195 tonnes of avoided CO2 emissions – roughly equivalent to taking 48 cars off the road.
We are excited about the developments in the impact investing space, and believe that impact investing can play an important role in transitioning to a carbon-neutral economy.
Contact our team
Have a question about the EQ Positive Impact Portfolios? Please email enquiries@eqinvestors.co.uk [8], we're always happy to hear from you.