A testing year
In December it is usual for us to think forward to the year ahead and make ourselves all sorts of promises about how we will be healthier, read more books, devote more time to our hobbies and so on. It is also a time for reflection on the year that was, and what a year 2018 has been!
Sure enough, there has been a whole gamut of headline grabbing events to the point of near exhaustion. From a synchronised expansion at the start of the year, we navigated through the threat of nuclear war to trade tariffs and the slow removal of extraordinary monetary support from central banks, the US Fed in particular. You'd be forgiven for thinking it has been a tumultuous year, or has it?
Back to normal
In 2017 we commented on how little volatility we were seeing across a variety of markets, especially equities. Equity markets tend to exhibit trending behaviour over time, which is to say they tend to go up for a bit, then down for a bit and so on. It is less common to take really big steps up or down. We can think about this in terms of the percentage change of a given equity market on a daily basis.
Looking at the FTSE100 using daily returns all the way back to 1986, we can see that the market spends most of its time moving up or down by around -1 to +1%; 74% of its time, to be exact. That means it has spent 26% of its time moving by an amount more than this. The chart below right shows those moves for the long term, 2017 and 2018 individually.
The reason why 2018 feels like it has been more eventful is because 2017 was so very stable and our expectations tend to get anchored to the recent past. As we see in the charts below, 2018 was not far off the long term average.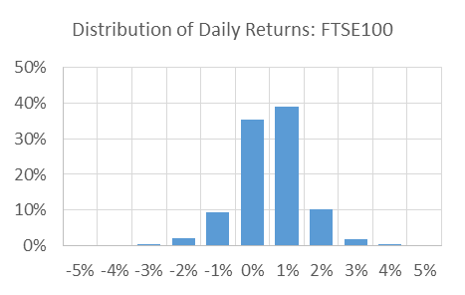 [1]
[2]
Looking forward to 2019
With the removal of extreme monetary policies by central banks across the globe, our base expectation is for equities to be more volatile. That means we should expect portfolios to rise and fall to a greater degree than that to which we are recently become accustomed.
There are a few things that concern us as we move into 2019:
A major concern is the deterioration of global financial conditions. These are being driven mainly by the tightening of monetary policy in the US. As the Fed has indicated, we expect a small degree of additional tightening but our concern is that if it goes too far, it could cause growth to slow significantly which could deliver a negative shock to markets.
The impact of trade wars and increased political uncertainty have served to dampen corporate and consumer animal spirits. An escalation in either of these would have a significant economic impact.
More generally, we think we are squarely in the later stages of this business cycle. During this environment we often see significant gains in markets which can go on for some time, especially if there are no policy errors from central banks or governments. Cycles don't die of old age, but rather from economic imbalances that eventually topple over. We don't see signs of this yet. Consumption is not rampant, household borrowing remains in a healthy place, housing costs are elevated but not bubble-like and inflation is also well behaved. We think there are some risks around corporate borrowing and shadow banking activity, especially in China, but the economic cogs are still turning.
We don't believe that we are on the brink of a global recession. However, the risks are certainly higher.
Portfolio changes
We are holding steady on our overall allocation risk allocation because of the high returns that can co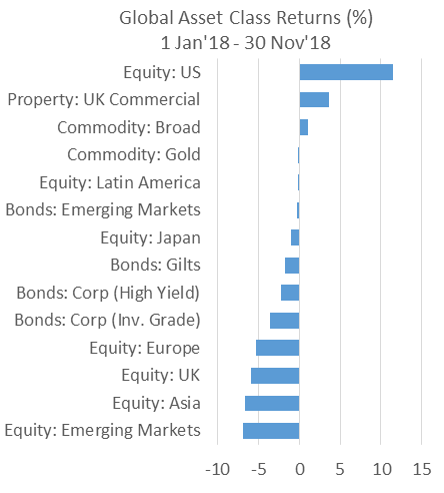 [3]me during this stage of the cycle, but we have changed their composition. We have closed down all the active over and under weights in equities, bringing portfolios back to neutral. We have also aimed for a higher degree of "quality" in the types of companies to which portfolios are exposed.
One feature we noted in 2018 was how little portfolio diversification has been available across asset classes. In particular, both equities and bonds are down over the year (to 30 November) as we see in the chart opposite. We have certainly seen bonds and equities move together historically, so whether we increase our bond holdings will be a function of whether inflation remains well behaved.
For now, we light up the seat-belt sign as there is a chance we could see some turbulence ahead. We are on high alert to the alternative, more sinister possibility but it feels more like the market returning to normal. The good news is that should mean some great investment opportunities for active managers.
I take this opportunity to wish you and your families a warm and joyous Christmas.
Kasim Zafar, Portfolio Manager
EQ Investors