Land of the rising sun
After a prolonged period of hardship it's hard to recall that back in 1990 Japan appeared on the verge of taking over as the dominant economic powerhouse. It has now embarked upon radical economic reforms that have been described as the Three Arrows of Abenomics, after Shinzo Abe the prime minister. These radical measures could bring back at least a glimpse of the good times.









by Sophie Kennedy (née Muller), 22nd July 2015

The 3 arrows of Abenomics:
Massive quantitative easing
Fiscal stimulus
Structural reforms
Twenty years of deflation have led to an environment in which there is no incentive to spend as goods keep getting cheaper. Therefore one of the key policy objectives has been to create inflation. We are now seeing a modest uptick and the effects have begun to feed into retail sales. More money travelling through the economy has enabled corporates to hire additional people and reduce unemployment. This should increase disposable incomes, willingness to spend and, in turn, corporate profits.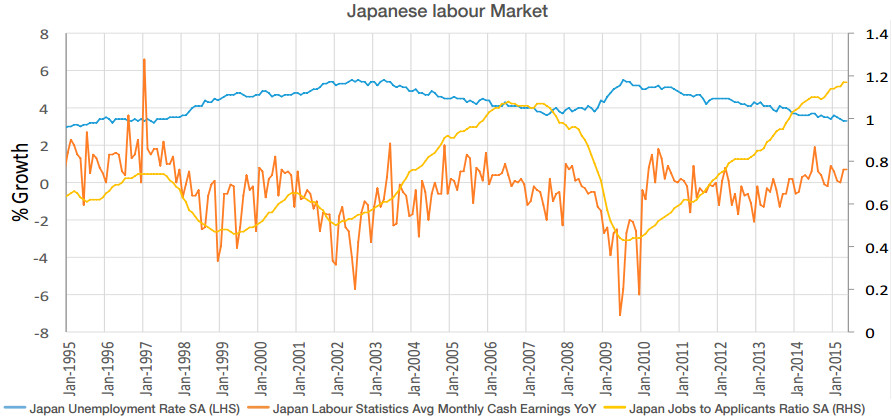 Many Japanese companies have been notoriously unfriendly towards shareholders and generated poor returns on equity, not least because they have been hoarding cash. As part of a range of measures to change corporate culture the JSX Nikkei 400 share index has been created. Membership of this is restricted to companies that score most highly on a range of criteria that include return on equity and the appointment of independent directors. There are encouraging signs that this is beginning to have an impact.
Large cash reserves, low dividend pay-out ratios plus growth in earnings make a compelling argument for strong dividend growth and share buy backs which should translate into positive equity market performance.
Exporters have so far been the largest benefactors of Abenomics as a result of the devaluing Yen. We anticipate that, as exporters start to distribute some of their increased earnings via increasing salaries and bonuses, consumers will begin to spend more domestically. At this point, corporates who are more reliant on domestic consumers will start to feel the benefits of the economic reforms.
Attractive valuations
On a number of valuation metrics, such as price to book and cyclically adjusted price/earnings ratios, Japanese equities look cheap in comparison to other developed global markets and to their own range of historical values.
Conclusion
We believe that an improving macro-economic environment, favourable valuations and structural reforms make Japan a relatively attractive place to invest. As with any investment, there are downside risks. Previous attempts to revive the economy have failed, government debt is massive and the working population is declining. However, Shinzo Abe's government have shown themselves to be committed to stimulating inflation and growth within the economy, both of which should be positive for the equity market. On balance, we believe that they are likely to achieve this and have increased our portfolio allocations to Japan.