Weekly market recap: back to Brexits
Sterling tumbles following Theresa May's Brexit and leadership negotiations.









by Tertius Bonnin, 17th May 2019

A 3,000 gallon tanker which specialises in clearing out huge volumes of human waste has been spotted at the Palace of Westminster last week, along with a gas services and fire safety company, presumably called in to deal with all the hot air…
Clearly UK equities were caught by the updraft arising from Westminster as they outperformed other asset classes. Asset class returns in sterling and local currency are below; sterling took a tumble last week following two significant but expected events occurred: the UK PM Theresa May agreed to discuss a timetable for her departure, and the Brexit negotiations between the Conservative and Labour parties collapsed.
Table 1: GBP total returns

Source: Bloomberg
Table 2: Local CCY total returns

Source: Bloomberg
Following increasing pressure from within her own party to step down, Theresa May met with senior party figures who retain the power to trigger a leadership challenge by altering party rules. Despite Mrs May having seen off a leadership challenge as recently as December, the current rules (which could be modified at short notice) mean the party leader cannot face a second challenge within a year. When Mrs May emerged from the meeting, the accompanying statement revealed she had agreed to discuss a timetable for her departure after the Withdrawal Agreement has once again been put to the House of Commons for a vote, expected in early June.
Chart 1: Sterling slid versus the dollar throughout the week as investor hope of a cross-party breakthrough broke-down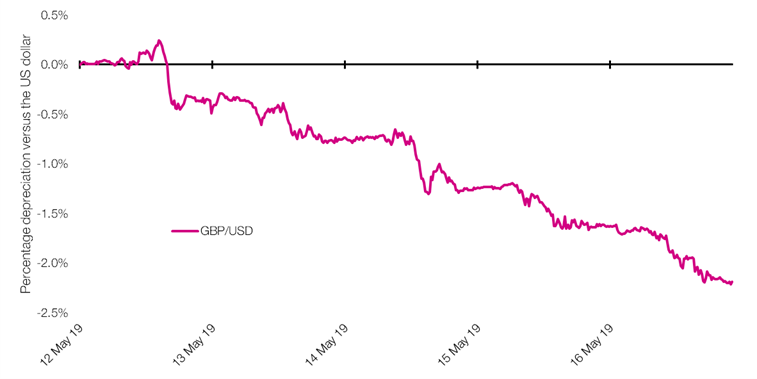 Source: Bloomberg
With an increasing number of her own Cabinet ministers now putting themselves forward to be the next leader, Mrs May has been rendered powerless and a leader-in-name-only as the party now looks beyond her premiership. As such, the "increasing weakness and instability" of government was subsequently one of the reasons cited by Opposition leader Jeremy Corbyn for the break-down in cross-party talks as he went on to say "there cannot be confidence in securing whatever might be agreed between us".
Chart 2: The Brexit Party has stunned pundits with the newly founded party in first place, while its opposite number Change UK, has failed to capitalise on pro-EU sentiment over a similar time frame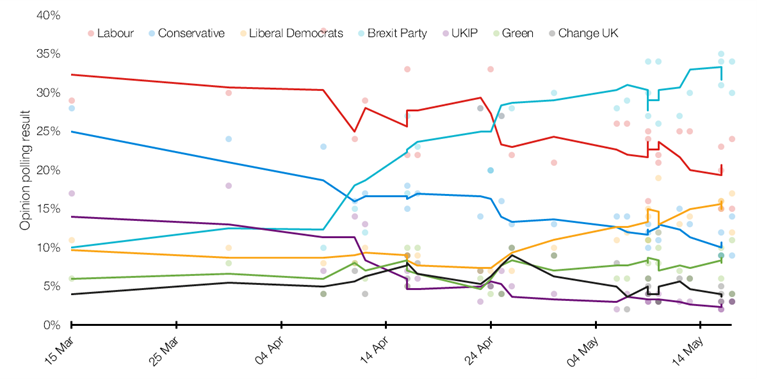 Source: Survation, YouGov, ComRes, Opinium, Hanbury Strategy, BMG Research, Number Cruncher Politics, PanelBase
All focus now is on the European Parliamentary Elections which are due to take place this week, and have been billed as a de facto referendum on the public's attitude towards leaving the European Union. Though many posit that the current makeup of the House of Commons would not allow for a "no deal" exit, it is hard to deny the sudden rise in popularity and attention enjoyed by The Brexit Party. This raises the probability of a general election.
THE WEEK AHEAD (G7 + China)
Monday: Japan Q1 GDP, Japan Capacity Utilisation, Japan Industrial Production, Eurozone Current Account
Tuesday: US Redbook, Eurozone Consumer Confidence
Wednesday: Japan Balance of Trade, UK Inflation Rate, Canada Retail Sales, US FOMC Minutes, ECB Non-Monetary Policy Meeting
Thursday: Japan Nikkei Manufacturing PMI, Germany Q1 GDP, Germany Markit Manufacturing PMI, Eurozone Markit Composite PMI, Eurozone Markit Manufacturing PMI, Eurozone Markit Services PMI, Germany Ifo Business Climate, US Markit Composite PMI, US Markit Manufacturing PMI, US Markit Services PMI
Friday: Japan Inflation Rate, UK Retail Sales, US Durable Goods Orders
STAT OF THE WEEK: 84.5% and 48% – the combined vote share of Labour and Conservative parties in the 2017 UK General Election and the combined share of Westminster voting intention in the latest YouGov poll respectively (YouGov).
Data correct as at: 17/05/2019