We are just days away from the start of the FIFA World Cup and, as someone who normally couldn't care less about watching Match of the Day on the TV, I'm just as enthusiastic about England's chances. With odds for an England win set at 16/1, I thought I'd look at a few events currently tracked by the bookies:
The end of the world @100/1
Statue of Donald Trump to be erected in North Korea this year @66/1
North Korea to offer a trade alliance to the UK post-Brexit @40/1
Donald Trump to announce that aliens lifeforms exist @20/1
North Korea to officially bid for an Olympics in the next 50 years @10/1
The US withdraws from the UN @7/1
Donald Trump to be re-elected as President of the United States in 2020 @7/4
With investor odds for an Italian hard euro exit beginning to reduce, focus has already turned to the impending fallout and wider implications of the G7 meeting over the weekend. Asset class returns in sterling and local currency are below, highlighting the fragility of Latin American equities driven by growing political risk, a shortage of dollars and higher US interest rates.
Table 1: GBP total returns

Source: Bloomberg
Table 2: Local CCY total returns

Source: Bloomberg
As emerging markets go, Latin American and Asian markets' behaviour appears to be increasingly disparate. Firmly cementing themselves as a key component in the global supply chain, many manufacturing-heavy Asian economies have taken advantage of both free markets and the synchronised upswing in global growth. Simultaneously, these economies have undergone reforms to empower consumers so as to diversify their economies. In Latin America, however, commodities remain integral and idiosyncratic risks still plague many nations. Such a reliance on commodities leaves the South American nations particularly vulnerable to macroeconomic events, i.e. trade tariffs or volatility in capital markets. It is therefore of no surprise that as the so called "dollar shortage" becomes a more prevalent theme, some of these economies have begun to suffer.
The more recent cause of dollar shortage has been a combination of factors, including disappointing data from the Eurozone, the market re-pricing expectations around future US rate rises and higher US yields. As the dollar strengthens, the debt-serving costs for countries who have issued bonds in US dollars, many of which are emerging, is set to rise.
Chart 1: Latin American equity markets have taken a tumble year-to-date on increasingly negative sentiment around economic health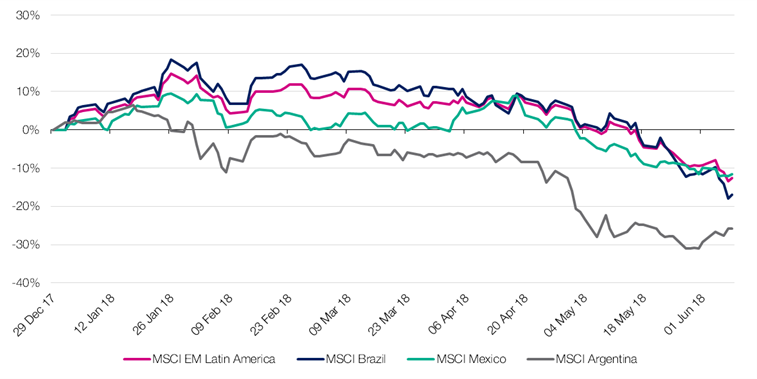 Source: Bloomberg
We have seen three examples in recent weeks of distinctive events that have caused a number of sell-offs in Latin American assets:
Brazil's economy has been crippled following a strike involving truckers that has starved the country of basic goods. The government offered a cut in the fuel price as an incentive to get hauliers back on the road, but with international oil prices rising in recent weeks, the economic costs of resolving these labour disputes has begun to bite. Increasing selling pressure on the Brazilian real reflects investors' bearish views on the economy, which in turn has hit the country's stock market.
The Mexican peso landed in Donald Trump's firing line following diminished hopes around renegotiating the North American Free Trade Agreement (NAFTA). The sell-off accompanied Mexico's attempt to hit back at US steel and aluminium import tariffs by targeting US agricultural goods. The G7 summit over the weekend did nothing to soothe these concerns, so we can expect volatility in the short term as investors attempt to reprice the risk of a NAFTA withdrawal.
Argentina remains in the limelight [1]; signing a larger than expected IMF loan package which provides a backstop to the nation's finances a little over a month after the central bank was forced to take extraordinary measures in defending the country's currency, raising the base rate to 40%.
Chart 2: Currencies have also come under fire as investors ditch Latin American denominated assets and faith in central bank policy wanes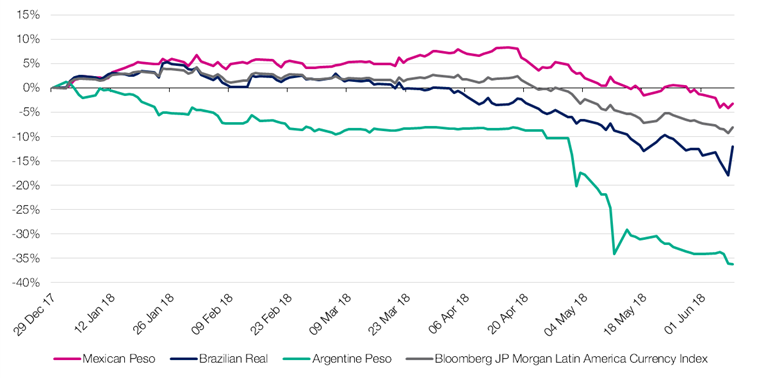 Source: Bloomberg, JPMorgan
Considering the importance of the US dollar and US yields to global markets, it is not surprising that investors will be watching the week ahead closely: a plethora of data releases in the next few days precede possibly the most economically important week of the year for central banks. Meetings are scheduled for:
The US Federal Reserve on Wednesday where investors have fully priced in another 25bp rate rise;
The European Central Bank on Thursday where investors widely expect a shift in rhetoric towards the end of the bank's quantitative easing program; and
The Bank of Japan on Friday who is broadly expected to make no change to existing monetary policy.
UK inflation data on Wednesday is also set to have a substantial impact on the interest rate decision by the Bank of England next week.
THE WEEK AHEAD
Monday: UK Balance of Trade
Tuesday: UK Claimant Count Change, Unemployment Rate, Parliamentary votes on UK Withdrawal Bill, Germany Economic Sentiment Index, US Core Inflation Rate, US-North Korea Summit
Wednesday: UK Inflation rate, US Fed Interest Rate Decision, FOMC Economic Projections, Fed Press Conference
Thursday: European Central Bank Interest Rate Decision, European Central Bank Press Conference, US Retail Sales
Friday: Bank of Japan Interest Rate Decision, US Consumer Sentiment
STAT OF THE WEEK: 80% – the value of the Mexican exports that go to the United States (Council on Foreign Relations).
Data correct as at 08/06/2018.