Back in Copenhagen over the weekend, I was slightly disturbed when I found (what I consider to be) a relatively small pot of Marmite in the "world food" section of a local supermarket costing 55 DKK, or £6.50 in real money. Who knew that an extremely lucrative opportunity in the post-Brexit export drive could lead to selling the delicious yeast extract to unsuspecting buyers?
"You either love it or you hate it" was an apt phrase for equities and bonds respectively this week; asset class returns in sterling and local currency are below with the most notable move in markets being a fall in the value of sterling which boosted the returns of foreign asset classes.
Table 1: GBP total returns

Source: Bloomberg
Table 2: Local CCY total returns

Source: Bloomberg
We have had a calm few days relative to the missile launches from the previous week, though in the UK we have seen a number of significant economic data releases which resulted in a subsequent sell-off in the pound versus major currencies.
In the UK, three data points confused investors' outlook on the probability of future interest rate rises by the Bank of England. Tuesday saw a new multi-decade low for UK unemployment, bringing the jobless rate to 4.2%. This was coupled with average weekly earnings growth reaching 2.8%, its highest point since mid-2015 and led to a sustained real (adjusted for inflation) increase in wages for the first time since 2016. Most notable, however, was CPI (inflation) data which was released on Wednesday and came in below market expectations at 2.3% (versus a consensus of 2.5%).
Chart 1: UK Average Weekly Earnings Growth, Consumer Price Inflation (CPI) and the Unemployment Rate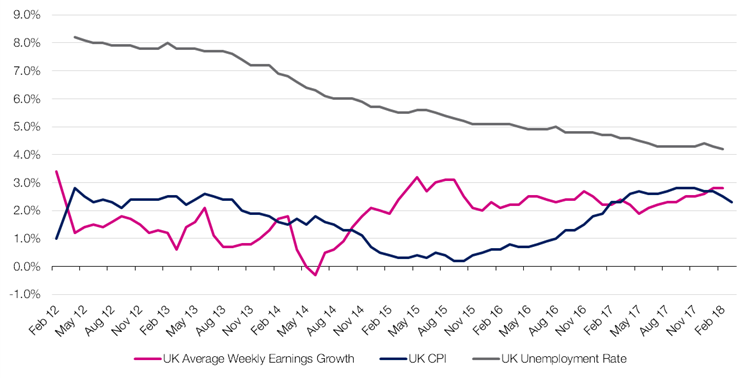 Source: Bloomberg, Office of National Statistics
This has unnerved many investors positioned for a rise in interest rates by the Bank of England in May, given the inflation case that would drive a rate rise decision are deteriorating. Below shows the implied probability of an interest rate rise by the Monetary Policy Committee for May, which has dramatically fallen from close to 80% to below 50%.
Chart 2: Implied probability of an interest rate rise in May 2018 using Overnight Index Swap (OIS) rates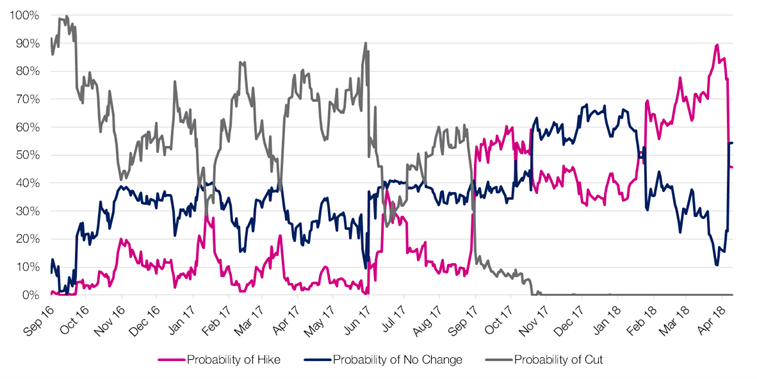 Source: Bloomberg
The Bank's Governor, Mark Carney, gave little away by stating the UK should "prepare for a few interest rate rises over the next few years". Though some speculate from this that the path of rate rises may be slower than initially expected, all eyes (and ears) will be on any clues afforded to the market on future action by the MPC.
THE WEEK AHEAD: German Manufacturing PMI (Mon), ECB Interest rate and Press Conference (Tues), Japanese Unemployment and BOJ Quarterly Outlook Report, France Q1 GDP, UK Q1 GDP, US Q1 GDP, German Unemployment (Fri).
STAT OF THE WEEK: The amount of global debt in 2016 reached a record peak of $164 trillion, which equates to 225% of global GDP (International Monetary Fund).
Data correct as at 20/04/2018.