The UK is on the edge of its seat as the fallout from the incredible footage taken over the weekend rippled onto social media. Many, both loyalists and long standing sceptics, have taken the opportunity to debate whether one of the nation's crown jewels has any place in today's society. That's right, there has been another sighting of Nessie, the Loch Ness Monster. Laria Annand, 8, has sparked controversial debate as to whether the mystical Scottish monster really does exist while her grandmother put forward a powerful argument for Nessie's existence: "I can't explain it [flickering in the water] so the only thing I can think is we have seen the Loch Ness Monster."
Perhaps not as mystical, though equally as awe-striking, is the one month total return figure for the UK market which stands at a colossal 6.6% after trailing its European and US peers in recent months. This remarkable gain has been primarily driven by the FTSE 100's significant weighting to energy and mining sectors which have been beneficiaries of rising commodity prices. Asset class returns in sterling and local currency are below and most notably emerging markets and Latin America are the relative underperformers.
Table 1: GBP total returns

Source: Bloomberg
Table 2: Local CCY total returns

Source: Bloomberg
Uncertainty around trade remained a lasting theme in the United States last week with the US and China coming head-to-head, driving equities down and bond yields up. However, after the market closed on Friday a number of key concessions were formally announced by the Chinese Commerce Ministry which included the lifting of anti-dumping and anti-subsidy penalties targeting US agricultural producers. Chinese officials went on to indicate their willingness to buy more US exports (thereby shrinking the massive Chinese surplus), though stopped short of accepting the US President's demand for a $200 billion reduction. Commentators have seen this as a positive step towards agreeing a mini-deal, though some senior figures in Washington have greeted China's pledge with scepticism.
Chart 1: Year-to-date performance for US, Asian (ex-Japan) and Chinese equities (indexed, 100 = 29 December 2017)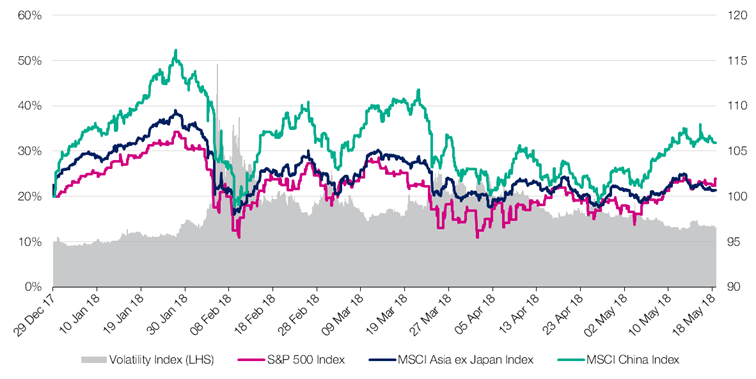 Source: Bloomberg
Looking to other emerging markets away from Asia, my piece titled USDomination [1] (4th May 2018) described recent drivers, and in particular looked at how these economies have been large beneficiaries of both a relatively weak dollar and low interest rates in developed markets. As US government bond yields rise to levels not seen since 2011, US investors are no longer forced into potentially more risky assets in foreign markets in their search for yield and can instead look at short dated government paper that carries minimal risk relating to short-term interest rate changes. This is shown in the asset class returns table as a negative for the bond indices due to the inverse relationship between a bond's yield and price.
Chart 2: Comparison of 10 year government bond yields across the G7, along with a 90 day US Treasury bill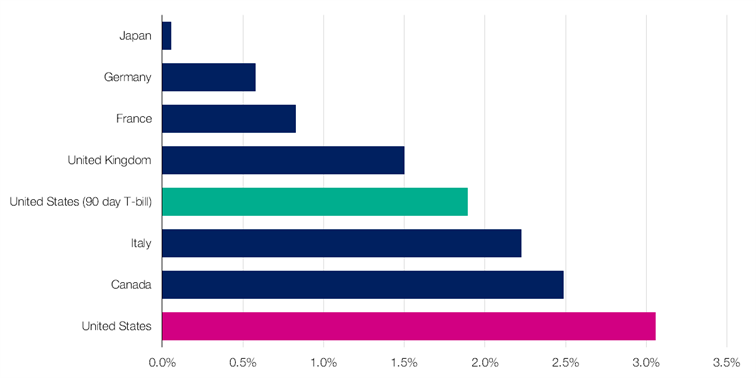 Source: Bloomberg
With solid data continuing to emerge from the US, it is expected that the Federal Reserve will raise interest rates a further two or three times this year which will continue to put upward pressure on both the dollar and US bond yields. Overly aggressive action by the Fed in order to control inflation expectations may risk constraining US growth. Market participants will be eagerly waiting to dissect the minutes from the Federal Open Market Committee which are released on Wednesday.
THE WEEK AHEAD: Japanese Balance of Trade (Mon), US Crude Oil Stock Change (Tues), Japanese Manufacturing PMI, French Manufacturing PMI, German Manufacturing PMI, Eurozone Manufacturing PMI, Eurozone Services PMI, US Services PMI, US Manufacturing PMI, US Composite PMI, UK Inflation, Eurozone Consumer Confidence, US FOMC Minutes (Wed), German GDP Q1, UK Retail Sales, US Existing Home Sales (Thurs), German Business Climate, UK GDP Q1, UK
STAT OF THE WEEK: In 2016 alone, global smartphone sales reached close to 1.5 billion, one for every fifth person on earth. (IMF)
Data correct as at 18/05/2018.