Thankfully, after weeks of feeling under pressure, I can now stop pretending that I like football. Though for many watching England in the final would have been a dream come true, it has become a pastime of mine to remind people that football is indeed NOT coming home. That said, I took a moment of glee when I heard that Croatia, the team finished England's chance of World Cup fame, were crushed by France. Allez les bleus.
Though celebrations on the streets of Paris went on into the early hours of the morning, French equities along with European peers struggled last week. Asset class returns in sterling and local currency are below; the resignation of the UK's Foreign and Brexit Secretaries was quickly side-lined by remounting concerns over global trade, which resulted in the subsequent erosion of market gains from earlier in the week.
Table 1: GBP total returns

Source: Bloomberg
Table 2: Local CCY total returns

Source: Bloomberg
Despite growing geopolitical tensions, gold has failed to offer investors protection in the midst of rising market volatility. Widely reputed as the ultimate safe haven asset, the lack of any significant increase in price despite heightened barriers to global trade appears to suggest investors are not yet fully recognising the wider implications of the US-China trade war on the global economy. However, there are a few other factors driving low investor demand and subsequently the gold price (see Chart 1). With inflation muted, the traditional inflation hedge trade has not materialised. Coupled with this, demand has been weakened by US Treasuries offering higher yields in recent months. With these "risk-free assets" offering a yield of close of 3%, the opportunity cost of holding gold instead of these income generating asset has increased.
Chart 1: Gold's price and open interest (i.e. the number of contracts outstanding) has failed to rise despite growing geopolitical tensions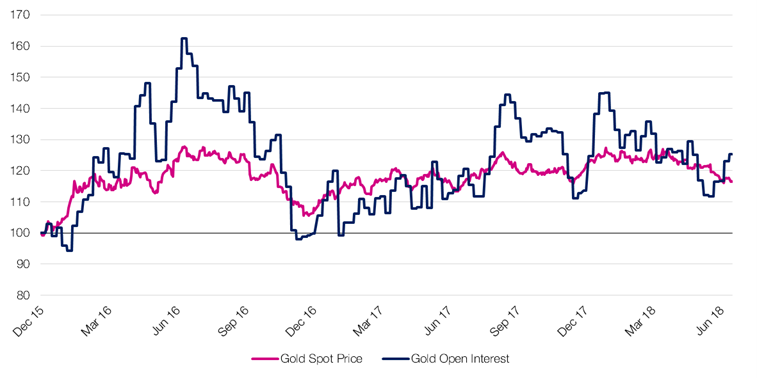 Source: Bloomberg
European equities were the relative underperformer last week, due to higher index weightings to those sectors exposed to China. Chart 2 highlights a sharp decline on Wednesday morning, which followed the US trade representative being instructed to begin preparations for increased levies on a list of products imported from China. Curiously, the 205 page list [1] contained some odd items including "Vegetable hair", "Clothes made of reptile leather" and "Blowers for pipe organs". Some of the largest fallers were steelmakers and mining companies listed in Frankfurt and London. Though losses were pared, Europe once again lagged US peers towards the end of the week with the NASDAQ Composite continuing to rise once again to record highs.
Chart 2: A volatile week for European bourses, though the main indices pared losses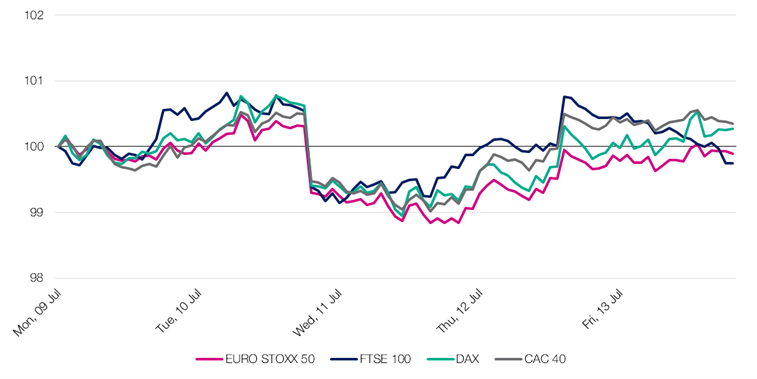 Source: Bloomberg
Though the tariffs actually imposed up until now have been relatively small compared to overall trade flows, investors and economists alike are beginning to wake up to the fact that a full-scale trade war is becoming increasingly difficult to avoid as neither side wishes to back down. That said, reports over the weekend indicated China has begun to use an increasingly conciliatory tone in a bid to maintain levels of foreign investment and therefore keep its economy on track; one example of this is Beijing ordering state media to no longer refer to its industrial strategy "Made in China 2025".
THE WEEK AHEAD
Monday: China GDP Growth Rate Q2, US Retail Sales, US-Russia Summit
Tuesday: UK Claimant Count Change, UK Unemployment Rate, Fed Chair Powell Testimony
Wednesday: UK Inflation Rate, Fed Chair Powell Testimony
Thursday: Japan Balance of Trade, Australia Employment Change, Australia Unemployment Rate
Friday: Japan Inflation Rate, Canada Inflation Rate
STAT OF THE WEEK: 68%, 46% and 43% – the approval ratings of US Presidents George W Bush, Barack Obama and Donald Trump after the amount of time into their presidencies (FiveThirtyEight).
Data correct as at 13/07/18