As thousands of spectators stood along the tree-line, contestants began mentally preparing for the 2018 Gloucester cheese-rolling competition [1]. Veteran Chris Anderson collected his 22nd cheese in 14 years of competitive cheese-chasing, breaking the all-time record for the most cheeses won. The unofficial race is not for the fainthearted, with participants hurling themselves downhill despite the official competition being cancelled in 2010 due to health and safety fears.
The market reaction to the simmering political issues in Italy is not dissimilar to cheese tumbling down a hill, with pan-European assets likely to be caught in the cross fire. Asset class returns in sterling and local currency are below. Most notably European equities were the relative underperformers, while oil suffered a fall in price from its multi-year high for a number of reasons including tweets from the US President aimed at the OPEC cartel.
Table 1: GBP total returns

Source: Bloomberg
Table 2: Local CCY total returns

Source: Bloomberg
Italy's turbulent political landscape is back in the news once again. For many, this is unlikely to be a surprise as Italy has seen 90 governments in around 116 years – excluding the upcoming one! Last weekend, Italy's two largest parties, the Five Star Movement and the Northern League, agreed upon the framework for how they could form a coalition government following March's election. Among their proposals was a so called "mini-BOT", named after Italy's short term treasury bills, which would effectively act as non-interest-bearing tradable paper which, crucially, could be used by holders to pay taxes and buy goods and services provided by the state.
This would give the Italian government the power to print billions of euros worth of the defacto currency, which would breach the European Union rules. As such, the two parties have come under increased pressure from the European Commission. This appeared to take the market off guard, with Italian government bond (BTP) yields dramatically rising relative to the German equivalent (bund) – a key bellwether in assessing the relative risk of European nations.
Chart 1: The 100-club – three European nations with 10 year government bond yields 100bps (1%) higher than the German equivalent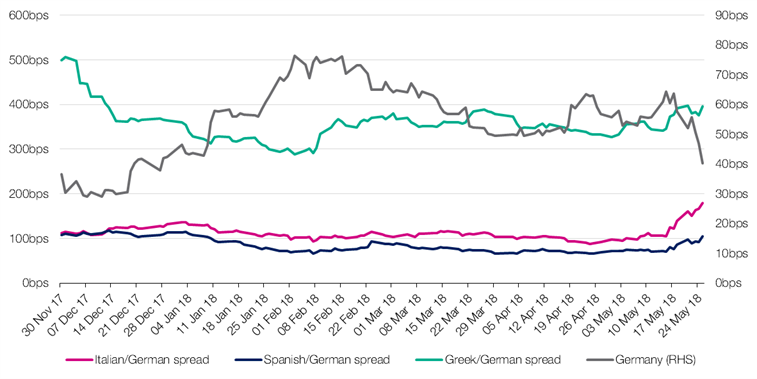 Source: Bloomberg
Pressure continued to mount on the European continent on Wednesday following a slew of poor data. A swing in the Citigroup economic surprise indices highlights a move from exaggerated negativity to excessive optimism. These indices measure a range of actual economic data releases (for example purchasing manager indices) versus consensus views. Thus, they act as a gauge for optimism about the respective economy; a negative score suggests over optimistic forecasting, while a positive score indicates the market has an overly negative view.
Chart 2: Citigroup Economic Surprise Indices for the Eurozone, United States and Global economies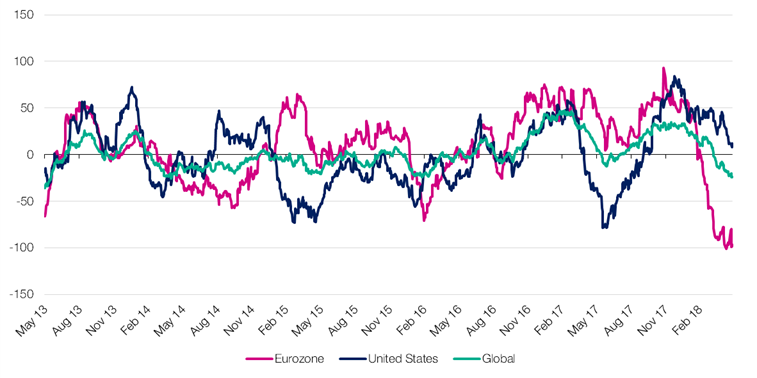 Source: Bloomberg, Citigroup
Given the above, the withdrawal of European Central Bank stimulus including low rates and an ongoing quantitative easing programme looks to be in doubt. Both political risk in Italy and the potential for an economic slowdown are systematic to the Eurozone economy so we expect market participants to watch intently for any further commentary from the European Union or any of its institutions.
THE WEEK AHEAD
Monday: UK & US Bank Holiday
Tuesday: JP Unemployment Rate
Wednesday: JP Consumer Confidence, DE Unemployment Rate, DE Inflation Rate, EZ Business Confidence, US 2nd Est GDP Q1, CA Bank of Canada Interest Rate Decision
Thursday: GB Consumer Confidence, CN NBS Manufacturing PMI, EZ Unemployment Rate, CA GDP Q1, US Personal Income, US Personal Spending
Friday: CN Caixin Manufacturing PMI, US Non Farm Payrolls, US Unemployment Rate, US ISM Manufacturing PMI
STAT OF THE WEEK: 5% and 13% – UK woodland as a percentage of total land in 1900 and 2017 respectively. (Forestry Commission)
Data correct as at 25/05/2018.