I was fortunate enough to spend a long weekend in Denmark where, beyond pickled herring and Lego, they have developed the concept of hygge which you may be familiar with. This is the Danish word for a mood of cosiness and comfortable conviviality with feelings of wellness and contentment.
The markets are certainly in need of hygge given the events of last week, with the S&P 500 delivering the largest negative return in GBP terms since 2009. Asset class returns in sterling and local currency are below revealing equity markets are the clear losers of the week.
Table 1: GBP total returns

Source: Bloomberg
Table 2: Local CCY total returns
Source: Bloomberg
The highest profile news story affecting global markets was regarding the tariffs ordered by President Trump on a range of goods from China. This coincided with disappointing manufacturing data in several large exporting economies including Europe and Japan. Where these large exporters have benefited from recent elevated global demand, the data is beginning to suggest a lapse in momentum. Understandably, these two risks have led to waning investor sentiment and a move into risk-off assets (e.g. bonds and gold) causing them to outperform. We are due to release some research on this topic in the coming days.
For sterling investors, negative asset class returns were exacerbated by a stronger pound. There were two reasons for this: the Bank of England looks more likely to raise interest rates in May (following stronger than expected wage growth), and the UK and EU have finally reached agreement on a transition period post-Brexit.
Chart 1: S&P 500 weekly returns in GBP with last week's return the lowest since 2009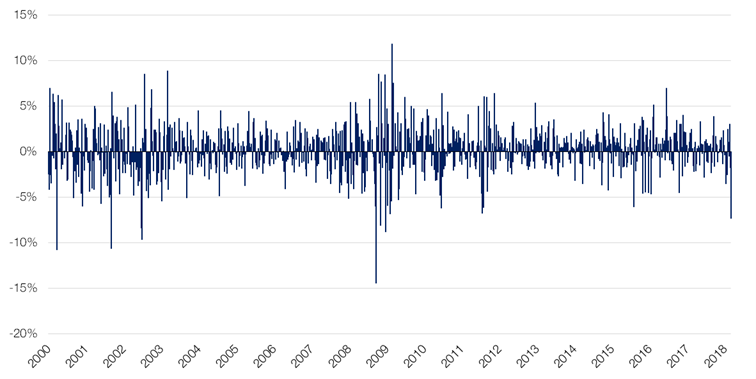 Source: Bloomberg
Facebook's embroilment in allegations of a data security breach, including an investigation by the US Federal Trade Commission, shed a bright light on the lack of regulation in social media. This could be the beginning of tighter controls on the use of data, but the time scale of the investigation and subsequent actions is anyone's guess. In the PR firestorm that has followed, $75 billion was wiped off Facebook's market value and the tech heavy NASDAQ has fallen over 7%.
Chart 2: Price returns for NASDAQ Composite, FANG+* and Facebook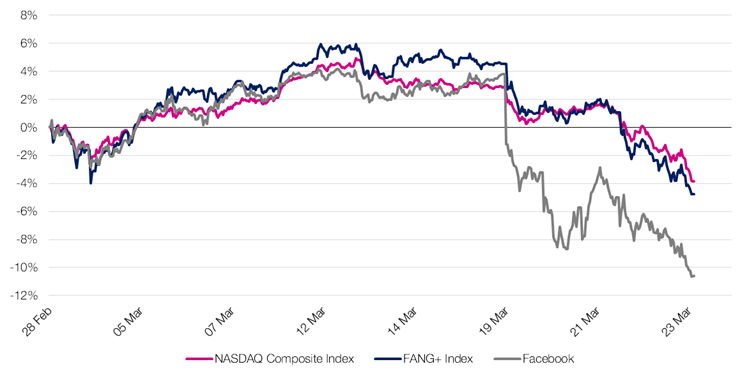 Source: Bloomberg
* FANG+ is a basket of large US Technology stocks, including Apple, Amazon, Alphabet, Microsoft, Netflix, Facebook and more.
Two other noteworthy events from last week were the first appearance of the Fed's Jerome Powell as the chairperson, and the replacement of the US national security advisor for war hawk John Bolton. Normally these would be significant news stories that market commentators would debate, but they were overshadowed.
THE WEEK AHEAD: Eurozone business confidence (Tues), Final UK Q4 GDP, German unemployment and inflation data (Thurs), Japanese unemployment (Fri).
STAT OF THE WEEK: 2017 saw Facebook lose 2.8 million users under the age of 25 in the US alone (eMarketer).
Data correct as at 23/03/2018.