Having received the glorious footballing nation of Panama in the EQ sweepstake, I was less than impressed by the 6-1 defeat suffered by the hands of the English! That said, tournament favourites are beginning buckle under the pressure placed on them by pundits, which is opening up the competition to an outside favourite to potentially emerge.
Investors are as pessimistic about trade wars as I remain about England's World Cup chances, the former of which is apparent from last week's equity market returns. Asset class returns in sterling and local currency are below, and it reveals the extent to which the rise in oil price has cushioned the UK's commodity-heavy market from the prospect of a trade war and central bank tightening.
Table 1: GBP total returns

Source: Bloomberg
Table 2: Local CCY total returns

Source: Bloomberg
The week commencing 11 June saw meetings at the US Federal Reserve, European Central Bank (ECB) and the Bank of Japan (BOJ) which heralded calls for the most economically important week of the year. In chronological order, the Fed's meeting came and went without any significant shock. Interest rates were raised by 25 basis points, or a quarter of one percent, as expected while the accompanying commentary indicated policymakers' increasingly hawkish.
Next was the ECB where, as expected, interest rates were held at historic lows. Significantly, however, officials announced a decrease in the rate of bond purchases under their quantitative easing program from €30 billion to €15 billion a month from September, and ultimately for purchases to end in December 2018. Forward guidance around future monetary policy decisions spelled out the ECB's plan to keep interest rates at their present levels until the summer of 2019. With recent German and French inflation data revealing surprise overshoots and the ECB revising down this year's forecasted economic growth in the Eurozone off the back of poor data, the ECB appears stuck between a rock and a hard place.
Stimulus withdrawal and interest rate rises are likely needed for those core European economies, where a cyclical upswing in global manufacturing has led to the economic environment heating up, as spare capacity is becoming scarce. This is illustrated by Germany's unemployment rate reaching a multi-decade low of 3.4% versus 8.5% across the Eurozone. In contrast, peripheral countries such as Greece or Italy with unemployment rates at 20.1% and 11.2% respectively stand to suffer significantly should stimulus be withdrawn or interest rates raised.
Chart 1: Unemployment in core nations (Germany and France) is on average way below that of the peripherals (Portugal, Italy, Greece and Spain)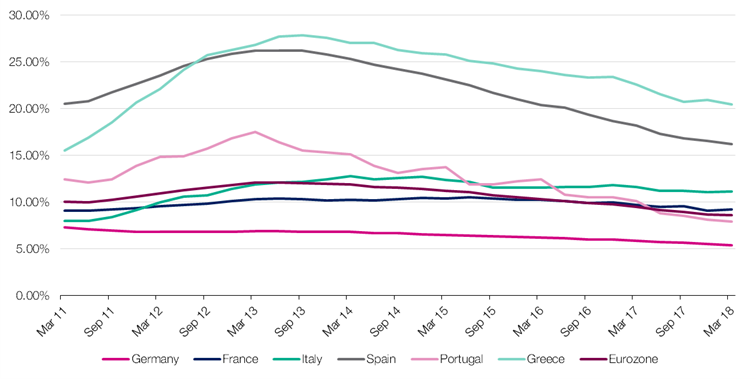 Source: Bloomberg, Eurostat
The prospect of more QE for longer is still very much a running theme for the BOJ, where a decision was made to stop projecting the timing on when the 2% target on inflation would be achieved. Having battled deflation and its associated threats for many years, officials at the BOJ have been strong proponents of extraordinary monetary policy, vis-à-vis QE. But despite bond purchases of ¥80 trillion (c. £500 billion) a year and a swelling balance sheet relative to the size of Japanese economy, policymakers are still failing in their stated objective of stimulating inflation, therefore pushing officials further down the QE rabbit hole.
Chart 2: Size of three central bank balance sheets as a % of the economies' gross domestic products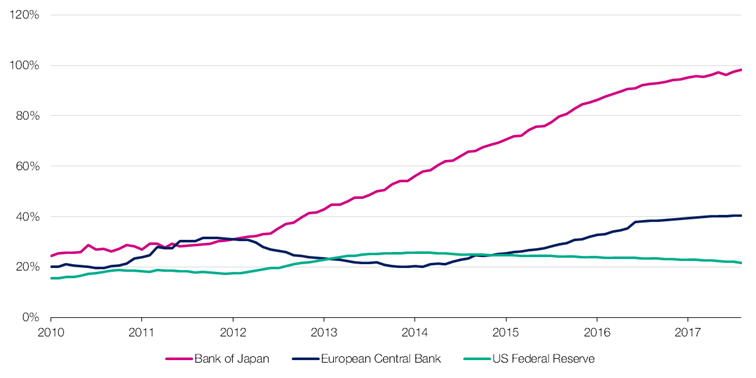 Source: Bloomberg, Bank of Japan, European Central Bank, US Federal Reserve
The Bank of England (BoE) caused its own ripples in the market last week following the BoE's chief economist, Andy Haldane, coming out in favour of a rise in interest rates. Though the BoE's Monetary Policy Committee voted 6 to 3 in favour of keeping rates the same, one of the most influential figures moved to support a raise, driving an increase in the probability of a rate rise in August and as such gave sterling some support. Following the lacklustre growth in Q1 GDP this year, it is clear that BOE officials are slowly becoming more confident in the economy and as such see the first quarter's performance temporary, so will act to raise rates should data allow it.
The fifth central bank to make headlines was the People's Bank of China which said it would cut the reserve requirement ratio (RRR) for a number of large state and commercial banks in a move that would effectively deliver close to $100 billion of liquidity into the Chinese banking system. The timing of the move is questionable, as the last two weeks have seen the US and China once again squaring up to one another in what increasingly appears to be more significant than just a small trade spat. Though not officially timed to counteract the implementation of tariffs by the US, those more sceptical commentators have taken the opportunity to join the dots. Chinese markets are not the only equity markets to suffer fallout from the White House's announcements. While US action threatened against the European Union has to date been less extreme, investors have begun to reallocate capital to safe havens. Europe's heavy manufacturing and exporter indices such as the German DAX or the French CAC have subsequently taken knocks.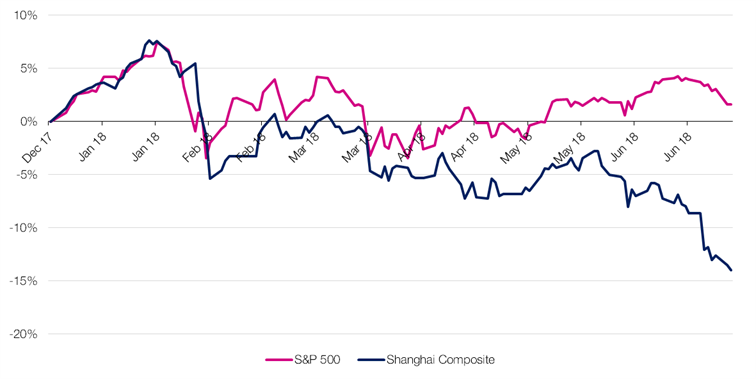 Source: Bloomberg
THE WEEK AHEAD
Thursday: Germany Consumer Confidence, Eurozone Business Confidence, Germany Inflation Rate, US GDP Q1 Final
Friday:  UK Consumer Confidence, Japan Unemployment Rate, Japan Consumer Confidence, Germany Unemployment, UK GDP Q1 Final
STAT OF THE WEEK: $51 billion and $11.8 billion – the cost of the 2014 Sochi Winter Olympics and 2018 World Cup respectively. (USA Today)
Data correct as at 22/06/2018.