For those of you eager to go to a hotel literally out of this world, you need wait just a little longer. Last week saw the announcement of the Aurora Station, the first ever luxury hotel in space. For those wanting to experience the final frontier, trips are expected to cost a modest £6.7 million.
Unfortunately market returns last week were somewhat less astronomical; asset class returns in sterling and local currency are below, with UK equities emerging as the relative winners and the US and Emerging Markets as the laggards.
Table 1: GBP total returns

Source: Bloomberg
Table 2: Local CCY total returns

Source: Bloomberg
Last week saw yet more tit for tat between the US and China as a plethora of trade barriers were announced by both sides. The latest news in the ongoing saga has revealed the US Trade Representative (USTR) office proposing 25% tariffs on circa $50 billion of Chinese made imports, which was met with China stating its intent to raise US practice with the World Trade Organisation. The Chinese readiness to take countermeasures with the same intensity and scale as the US was not taken well by President Trump, highlighted by a White House press statement: "in light of China's unfair retaliation […] the USTR [is] to consider whether $100 billion of additional tariffs would be appropriate".
Interestingly, the import tariffs proposed by both sides appear to have been attempts to target the other politically rather than economically. The USTR has targeted industries that are critical to China's "Made in China 2025" plan which are key to China's ascendancy as a world leader in sectors such as IT, robotics, aerospace and electric vehicles. China on the other hand has taken aim at large numbers of US consumers who are generally considered Trump voters: agricultural (e.g. soybeans) and metals industries such as aluminium and steel are at risk. Below shows the extent to which the heaviest soybean producers supported the incumbent US president.
Chart 1: 2017 Soybean production (in bushels) in the United States which make up c. 12% of US exports to China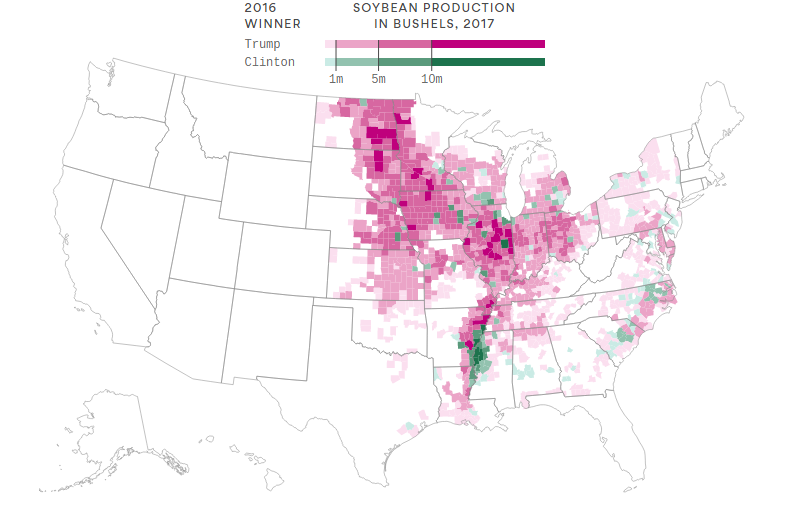 Source: Department of Agriculture; Map: Chris Canipe/Axios; https://www.axios.com/ [1]
Although the tariffs mentioned above are just propositions with public consultations due to take place in the US, the risk of increased trade barriers to global output is considerable. Data released over the last two months have shown a small rollover in global manufacturing output growth. This suggests the external boost from a recent pick-up in global growth may be waning. The downward trend in data continued last week, with disappointment across the Eurozone and Japan, though both regions are still well within expansion territory.
Chart 2: Global manufacturing surveys; figures above 50 represent expansion in output, below represent a contraction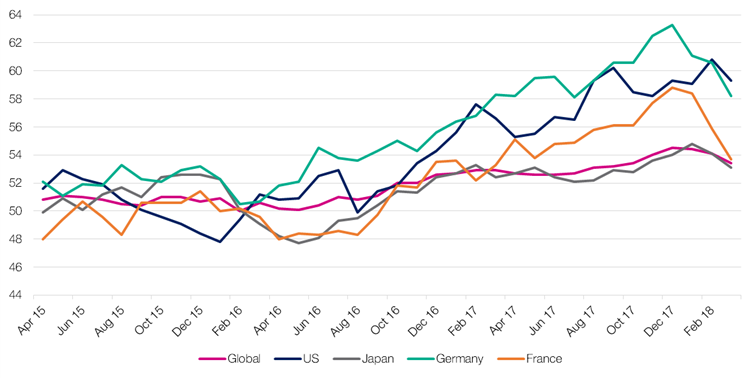 Source: Bloomberg, JPMorgan, Nikkei, Markit, BME
This week marks the beginning of the US earnings season with companies in the S&P 500 reporting performance for Q1 2018. It is hoped by many market participants and commentators that this will provide some much needed stability to the markets which, for a number of weeks, have lacked direction.
THE WEEK AHEAD: US inflation and FOMC minutes (Weds), Chinese Balance of Trade (Fri).
STAT OF THE WEEK: 1,600,000 square kilometres is the size of the "Great Pacific Garbage Patch" (The Ocean Cleanup Foundation).
Data correct as at 06/04/2018.