Having taken a few days off to visit my brother in Edinburgh over the weekend, my colleagues kindly took full advantage to ridicule me for a rather sunburnt face. To my horror, I have indeed discovered that the sun does indeed exist in Scotland and is more than capable of searing my seemingly delicate skin.
Last week's equity market returns appear to be as red as my face, as the US President continues to talk tough on global trade. Asset class returns in sterling and local currency are below, and again the UK was the relative outperformer (excluding the move in Latin America) as the oil price continues its upward march given falls in both production and inventories.
Table 1: GBP total returns

Source: Bloomberg
Table 2: Local CCY total returns

Source: Bloomberg
Oil traders have had a lot to keep up with as cracks begin to appear in the world's largest oil cartel, following the US President mounting pressure on Saudi Arabia to ramp up production and keep a lid of energy prices. Though the US has found support from Saudi Arabia and Russia (though Russia is not an OPEC member), Iran has taken less kindly to the President's request following the collapse of the Joint Comprehensive Plan of Action more commonly known as the Iran deal.
Consequently, the Iranian Oil Minister, Bijan Zanganeh, recently walked out of talks with the Organisation of the Petroleum Exporting Countries (OPEC). US led sanctions set to hit Iran in November 2018 have incentivised the Persian state to take advantage of unrestricted oil exports at relatively high prices compared to recent years. Concerns that increased production will suppress the oil price and Tehran's ability to take advantage of higher prices has prompted Iran and its allies to oppose any new deal, calling for existing output targets to continue.
Oil has enjoyed a price rally over the past year following coordinated supply cuts by OPEC and Russia in January 2017, and a continued uptrend in global demand. Though simultaneously the US has increased production to circa 10 million barrels per day (mb/d), it has failed to fill the demand deficit despite now becoming the world's largest producer ahead of Saudi Arabia. In part, this supply squeeze can also be attributed to the collapse of Venezuelan oil production as the political and economic crisis in the country worsens.
Chart 1: Change in oil output from January 2017 to present (dark colour for OPEC and light colour for significant non-OPEC producers)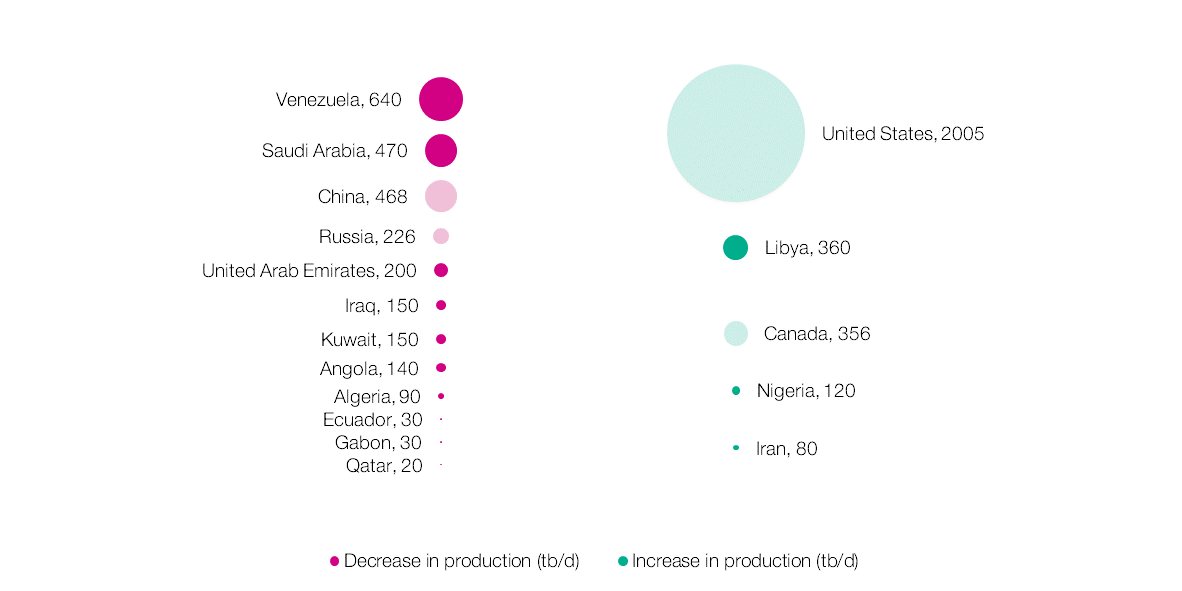 Source: Bloomberg, Energy Intelligence Group, Organisation of the Petroleum Exporting Countries
As a beneficiary of this supply squeeze, energy stocks, which are highly correlated with the oil price, have performed strongly. With such a large weighting to commodities relative to other markets, the UK's equity index has been relatively insulated in recent weeks from the increasingly hostile rhetoric around global trade.
Chart 2: The oil & gas sector has been a beneficiary of a rising oil price, which in turn has benefited the UK's commodity heavy index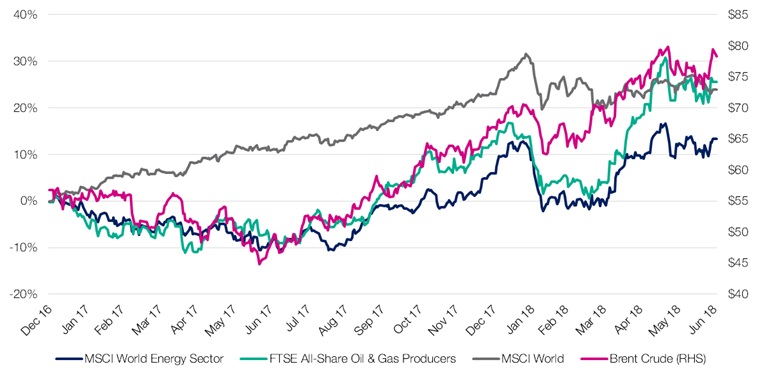 Source: Bloomberg
The asset class return tables illustrate the "risk-off" event we saw last week with equities suffering a sell-off and safe havens such as government bonds outperforming.
Hit particularly hard again were European and Asian manufacturing heavy indices as the US President continued to talk tough on trade with the European Commission and China. What caused investors particular angst was reports that US policymakers were planning emergency legislation to impose investment restrictions on countries it deems are interfering with its economy. However, concerns were somewhat abated by news that emergency legislation would be scrapped and instead the Committee on Foreign Investment in the United States (CFIUS) would take a more active role in moderating violations on "intellectual property theft".
As the situation regarding a global trade war becomes increasingly complex it is understandable that US monetary policymakers begin to err on the side of caution about any future impact on the economy. This was underlined last week when an influential member of the US Federal Reserve, Raphael Bostic, said that the more trade tensions progressed, the higher the risk would become for the broader economy.
THE WEEK AHEAD
Monday: Japan Tankan Manufacturers Index, China Caixin Manufacturing PMI, UK Markit/CIPS Manufacturing PMI, Eurozone Unemployment, US ISM Manufacturing PMI
Tuesday: UK Construction PMI, Eurozone Retail Sales
Wednesday: UK Markit/CIPS Services PMI
Thursday: US ADP Employment Change, US ISM Non-Manufacturing PMI, US FOMC Minutes
Friday: Canada Balance of Trade, Canada Unemployment Rate, US Balance of Trade, UM Non-Farm Payrolls, US Unemployment
STAT OF THE WEEK: 150,000 – the number of educated Iranians who leave the country every year. (CNN)
Data correct as at 29/06/2018.