My younger brother is currently in Turkey embarking on a cultural tour of the country before he starts university in September. Having worked shifts in our local pub up until the day before he left, he was forced to purchase his Turkish lira "on the go" once he got to his destination. Little did he foresee that the value of his pay checks would increase in lira terms by 15% on Friday alone!
Though most of last week was relatively sleepy thanks to thin summer trading volumes, Friday saw the stuffing beaten out of Turkish assets as markets lost faith in the administration's economic credibility. Asset class returns in sterling and local currency are below; most notable from the tables below is the sell-off in emerging markets, particularly Latin American equities and currencies which suffered from the contagion spread by Turkey.
Table 1: GBP total returns

Source: Bloomberg
Table 2: Local CCY total returns

Source: Bloomberg
Recent months have seen mounting tensions between the US and Turkey. Disagreements have stemmed from a range of issues, such as increasingly divergent foreign policy regarding Kurdish forces in Syria, the arrest of an American pastor for alleged espionage and terrorism charges, and a provisional Turkish-Russian agreement regarding military hardware that the US fears will compromise its $1 trillion F-35 programme. Should the transaction with Russia go ahead, it represents an unprecedented move from a NATO member which will see a key geostrategic partner moving closer to the Kremlin's sphere of influence. The US President has been quick to capitalise on recent weakness in the Turkish economy by enforcing sanctions that target not only exports of steel and aluminium, but also two senior ministers within the Turkish administration.
Though these may appear minor details independently, it contextualises the extent to which Turkey has increasingly been moving away from not only its Western alliances but also orthodox economic policy. Beyond geopolitical factors, a number of other concerns have been building in more recent weeks including the appointment of President Erdogan's son-in-law as the Minister of Finance and Treasury and rising concerns around the independence of the Turkish central bank. Last month for example, the central bank failed to raise interest rates despite inflation rising to its highest point since the early 2000s. By embarking on a path towards authoritarianism, Ankara has failed to reassure markets that it can battle slow economic growth, high inflation, an increasingly imbalanced economy.
Chart 1: The Turkish lira has devalued circa 50% over the past 12 months with broader EM currencies down 12%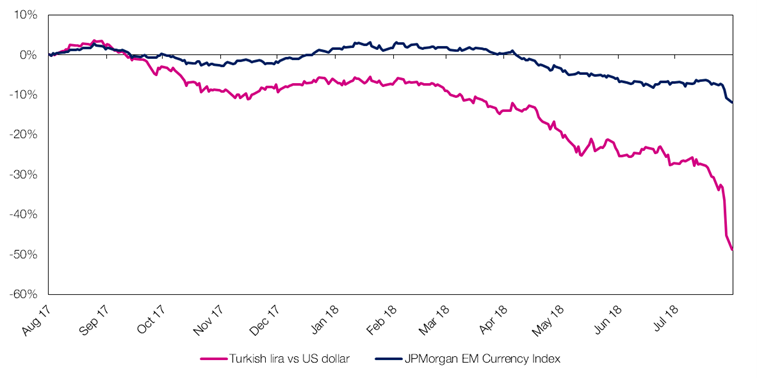 Source: Bloomberg, JPMorgan
The crux of the week's moves came on Friday when the US President came forth with the aluminium and steel tariffs on Turkish exports, prompting traders to aggressively sell the lira, facilitating a 15% drop against the dollar. Turkish corporates with dollar or euro denominated debt who earn the majority of their revenues locally were the biggest targets of the ensuing sell-off in the equity markets. This negative sentiment then spilt into wider European markets after the European Central Bank voiced concerns around the exposure of European banks to Turkish borrowers. The chart below illustrates just how exposed Spanish banks are:
Chart 2: Spanish and French banks have among the largest exposures in the European Union to Turkish borrowers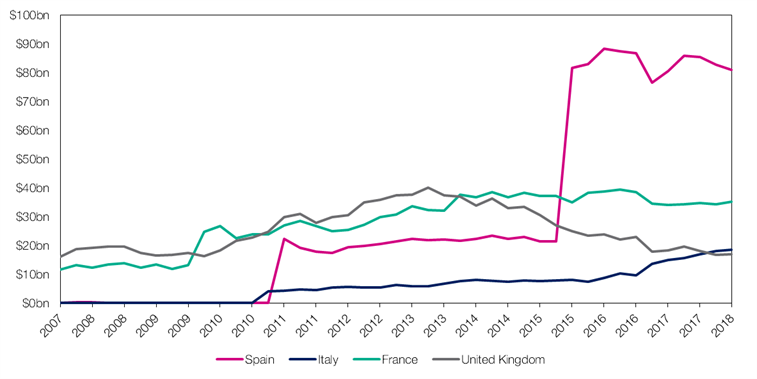 Source: Bank of International Settlements
As we got deeper into Friday's trading session, investors around the world took a more "risk-off" stance, favouring government bonds over riskier assets such as equities. The US dollar and Japanese yen also did particularly well during the week, in part due to their "safe haven" association. Looking forward, there are a number of situations that the Turkish President needs to overcome, not least resolving its issues with the US administration. Investors will be wary of Turkish assets in the shorter term, and will look for signs of a rapprochement with the markets such as seeking either an IMF loan and/or certifying the independence of the central bank's monetary policy.
THE WEEK AHEAD
Monday: N/A
Tuesday: Australia NAB Business Confidence, France Unemployment Rate, Germany Q2 GDP, UK Unemployment Rate, Eurozone Q2 GDP, Germany ZEW Economic Sentiment Index
Wednesday: Australia Westpac Consumer Confidence Index, UK Inflation Rate, US Retail Sales
Thursday: Japan Balance of Trade, Australia Unemployment Rate
Friday: Canada Inflation Rate, US Michigan Consumer Sentiment
STAT OF THE WEEK: 42% – the percentage of Republicans who agree with the statement "the president should have the authority to close news outlets engaged in bad behaviour".
Data correct as at 10/08/2018.