Millions of people across Britain battling the boiling bank holiday weather will be in disbelief over the soaring price of a key ingredient in the UK's favourite ice cream flavour. Due to a cyclone in Madagascar in March, a kilogram of vanilla pods is now trading at all all-time high of roughly $600 which is higher than that of silver!
The sweet taste of positive returns was experienced across developed markets last week, though emerging markets failed to bite. Asset class returns in sterling and local currency are below, and for a third week in a row a tumble in the value of the pound has cushioned or enhanced sterling investors' returns across asset classes.
Table 1: GBP total returns

Source: Bloomberg
Table 2: Local CCY total returns

Source: Bloomberg
One of the largest moves last week was in emerging market equities, paring back some of the gains from stellar performance in 2017 in which the index ended 15% ahead of developed markets. While some commentators have attributed the tumble to recent trade tariff talks from the US administration, others have pointed to both a strengthening US dollar and a rising US treasury yield. The dollar, until more recently, had seen a yearlong decline in its value against many major currencies. Particularly, US dollar depreciation has been seen against the euro which has benefited from a booming European economy that has attracted large capital inflows.
Chart 1: Comparison of USD weakness and Emerging Markets' outperformance of Developed Markets (100 = 31 December 2015)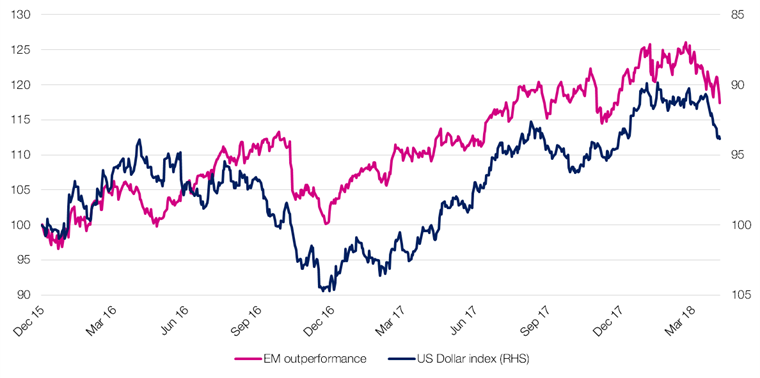 Source: Bloomberg
Not only have emerging market equities been under pressure, but currencies too. Among those worst affected have been the Turkish lira, Russia ruble and the Argentinean peso. Under increasing pressure from inflation rising markedly above target, Argentina made headlines following two successive interest rate rises resulting in the central bank's rate now sitting at a staggering 40%. Similarly, though not as extreme, Turkey has been struggling to control rising inflation using interest rate rises which has spooked investors and prompted a sell-off in the Turkish currency. Russia has suffered its own economic woes, primarily from Western sanctions in response to actions in Ukraine, Syria and Salisbury and as such is unloved by investors.
Chart 2: Among the worst performing emerging currencies vs the dollar year-to-date, JPM EM Currency index represents 10 emerging currencies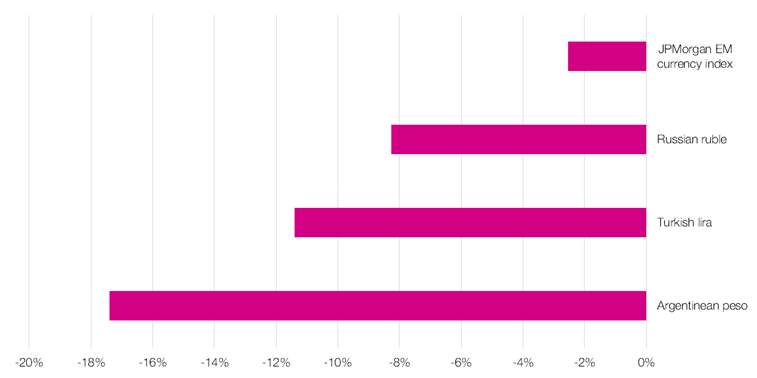 Source: Bloomberg, JPMorgan
Low borrowing costs in the developed world and relatively high emerging market bond yields have been a boon to emerging currencies in recent times due to the "carry trade". This is where investors borrow in one currency at a low interest rate and use the proceeds to invest in a different currency at a higher interest rate thereby pocketing the difference. Thus, as we have seen interest rates rise in the US coupled with increasingly hawkish statements from the Bank of England and European Central Bank, capital flows to emerging markets have waned.
The unwind of the carry trade and the reforms to the US tax system (giving incentive to US corporations to repatriate close to $2 trillion of foreign exchange back into USD) have been significant tailwinds for the US dollar since the end of 2017. While this appears to have been at the detriment of emerging markets as a whole, those hit heaviest have had idiosyncratic issues which should ease broader concerns around developing economies.
THE WEEK AHEAD: Chinese Balance of Trade, German Balance of Trade, US announcement on Iran nuclear deal (Mon), Chinese inflation rate, US inflation rate, UK's Bank of England interest rate decision (Thurs).
STAT OF THE WEEK: $100,000,000,000: the amount of capital Apple intends to return to its shareholders via share buybacks (alongside further distributions via an increased dividend).
Data correct as at 04/05/2018.