Italian scientists using Mediterranean vegetables have created, what they claim is, a "cancer-preventing" pizza. Researchers at the National Cancer Institute in Naples invented a pizza with no meat or cheese, but instead covered in olives, broccoli, tomatoes and garlic. The pizza follows the Mediterranean diet which along with the aforementioned ingredients, also allows/encourages a little wine!
Traders in Italian assets may have had more than a little wine over the weekend to calm themselves following a stressful week. Asset class returns in sterling and local currency are below, though they fail to show the intraweek volatility. Most notably at week end, the US was the only market with a positive return and thus was the relative out performer in the equity markets. UK and US government bonds both benefited from a "flight to safety", while oil continued to tumble following further announcements from Saudi Arabia and Russia regarding an increase in supply targets.
Table 1: GBP total returns

Source: Bloomberg
Table 2: Local CCY total returns

Source: Bloomberg
The Italian President's veto of the proposed finance minister and the subsequent increase in the probability of another election caused a kneejerk reaction in the markets on Monday. These moves spilled into Tuesday's session due to the bank holiday in the US and UK. Trading volumes on the Monday were therefore comparatively thin. This has been a slow moving car crash in which the signs have been there for all to see; populist parties were the clear winners of the March election (nearly three months ago) and the two largest parties, the Five Star Movement and the Northern League, had been negotiating a framework for co-governance since. Surprisingly, a number of market participants had expressed that they didn't anticipate the "change" in attitude of the two famously Eurosceptic parties towards the euro.
As fears rose that a new election may be on the horizon, investors struggled to find buyers for Italian government debt which saw an explosion in yields and also the bid-ask spreads. This spread represents the difference between what price a seller would accept versus the highest price a buyer would offer. Thus, as selling pressure increased and the market saw a fall away in demand from buyers, these spreads began to widen and liquidity began to thin out. In spite of the poor liquidity – usually interpreted as weak sentiment – the Italian debt management office held a successful bond auction on Wednesday indicating investor risk appetite had quickly returned.
Chart 1: Supposedly "risk-free" Italian two-year government bond yields blew out as the German equivalents were pushed further into the negative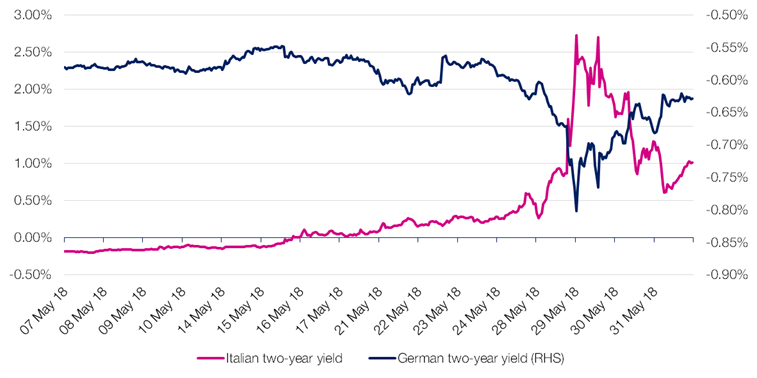 Source: Bloomberg
Despite the so called PIGS (Portugal, Italy, Greece and Spain) taking significant knocks, investors in relatively safe government bonds (German bunds, UK gilts and US treasuries) benefited from a "flight-to-quality" whereby panicked investors moved capital into less risky assets. This coincided with two very profound days last week relating to economic data releases. The first, on Wednesday, affected Germany which posted inflation figures for May way in excess of the market consensus. While in more normal times this would have triggered a sell-off in German bunds, the opposite occurred as investors instead sought security despite the risk of inflation. The second, on Friday, was non farm-day in the US whereby not only did unemployment fall to a new 17-year low but wages continued to rise ahead of inflation. This in particular is highlighted on the chart by the downward pressure on US yields going into the political uncertainty on Tuesday 29th which subsequently reverses once investors set their sights on the next risk in the calendar (Fri 1st).
Chart 2: US 10-year government bond yield whipsawed by a "fight-to-quality" and domestic inflationary pressures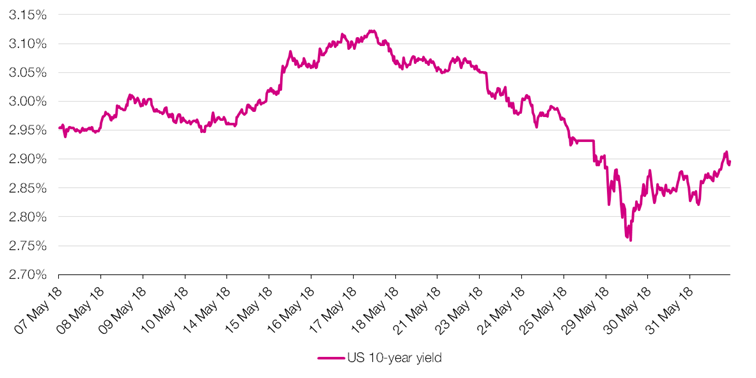 Source: Bloomberg
There has been much speculation that the current US administration action is a headwind for the US dollar and its "special status" as a safe haven asset of choice. However, the whipsaw effect seen across yields in recent days highlights investors still value dollar assets in times of market stress.
THE WEEK AHEAD
Tuesday: US ISM Non-Manufacturing PMI
Wednesday: Canada Balance of Trade, US Balance of Trade
Thursday: Eurozone GDP Growth Rate 3rd Estimate Q1
Friday: China Balance of Trade, Germany Balance of Trade, Canada Unemployment Rate
Saturday: China Inflation Rate
STAT OF THE WEEK: 31.3 years and 41.3 years – the average number of years Italian and Swedish workers participate in the labour force respectively. (Eurostat)
Data correct as at 01/06/2018.