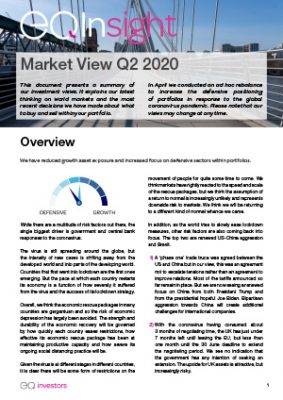 In April we conducted an ad hoc rebalance to increase the defensive positioning of portfolios in response to the global coronavirus pandemic. The virus is still spreading around the globe, but the intensity of new cases is shifting away from the developed world and into parts of the developing world. Countries that first went into lockdown are the first ones emerging. But the pace at which each country restarts its economy is a function of how severely it suffered from the virus and the success of its lockdown strategy.
Overall, we think the economic rescue packages in many countries are gargantuan and so the risk of economic depression has largely been avoided. The strength and durability of the economic recovery will be governed by how quickly each country eases restrictions, how effective its economic rescue package has been at maintaining productive capacity and how severe its ongoing social distancing practice will be.
Given the virus is at different stages in different countries, it is clear there will be some form of restrictions on the movement of people for quite some time to come. We think markets have rightly reacted to the speed and scale of the rescue packages, but we think the assumption of a return to normal is increasingly unlikely and represents downside risk to markets. We think we will be returning to a different kind of normal whence we came.