Market View Q4 2017
Our market view explains how we position our client portfolios, taking your risk profile and the relative attractiveness of different asset classes into account.









by Sophie Kennedy (née Muller), 22nd November 2017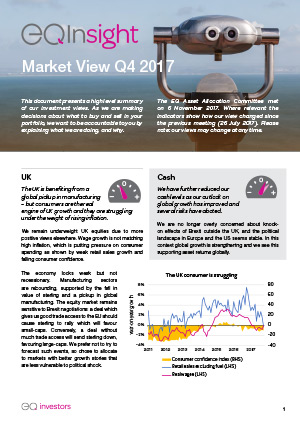 What has changed?
The EQ Asset Allocation Committee met on 6 November 2017.
We have further reduced our cash allocations as our outlook has improved on global growth and several risks have abated.
We have increased our exposure to Europe and North America, and decreased our exposure to Asia Pacific and government bonds.
Please note: this document represents a snapshot of our views, which may change at any time.