Equally as unpredictable were the markets this week as the direction of movement was disparate across all regions. Asset class returns in sterling and local currency are below, highlighting under-performance across the Americas and revealing Japan as this week's winner.
Table 1: GBP total returns

Source: Bloomberg
Table 2: Local CCY total returns

Source: Bloomberg
The week began with US inflation data at the fore, yet once again centre stage was stolen by a string of political news items. Even a modest attempt by Mr. Trump to steal the limelight, with the dismissal of the US Secretary of State, failed to capture headlines for a prolonged period of time. Instead, UK PM May captured the spotlight having stepped up her response against the Russian state following the attempted assassination of Sergei Skripal, a former Russian intelligence officer.
We have seen a mixed response from markets to the odd combination of data releases and Cold War-esque news stories. The main weight on the US markets has been the prospect of a global trade war and the associated risks that propagate from increasingly protectionist US trade policy. The appointment of Mr. Trump's new Economic Advisor, Larry Kudlow, has not done anything to soothe investor sentiment as he jumped straight into the tariff debate saying he was "on board" with the proposed measures. As a result of the heightened trade tensions, the US's NAFTA partners (Canada and Mexico) have suffered from increased uncertainty.
US inflation data was broadly in-line with expectations ahead of the US Federal Reserve meeting later this week, though on further inspection it has revealed a weakening component (food) which has begun to spark bigger fears of disinflation. Below is a chart showing the spread (difference) between two sets of US Treasury yields that are closely monitored as a gauges for investor sentiment around US economic growth (orange and white), and real annual GDP growth brought forward two years (blue).
Chart 1: Investor sentiment around US economic growth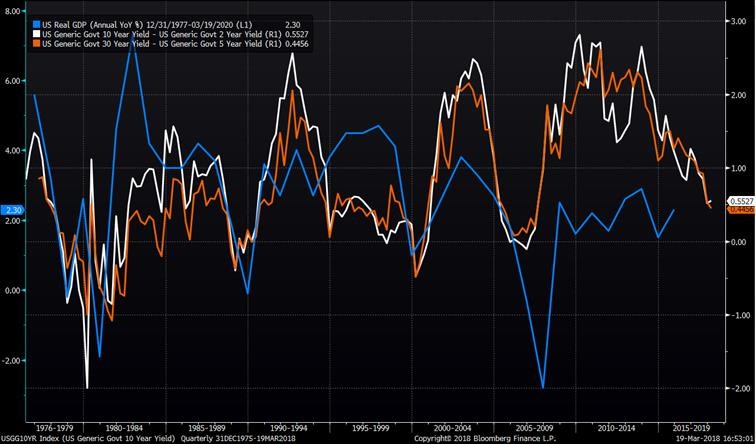 Source: Bloomberg
The chart indicates that when investors begin to reduce the rate at which they lend to government over long periods of time, slower economic growth usually follows. We are still some way off this being of real concern, though this is becoming an increasingly hotly discussed topic. Should the Federal Reserve continue too quickly in its rate tightening cycle in anticipation of inflation that doesn't materialise, there is a risk that the US economy may slow. Eyes this week will be on the release of minutes from the meeting at the Fed.
The other large news story to break last week was the UK, the US, Germany and France issuing a joint statement accusing Russia of the "first offensive use of a nerve agent in Europe since World War II". The UK has also expelled 23 Russian diplomats identified as unregistered intelligence agents in the biggest expulsion since 1985. Interestingly investor confidence was not knocked enough to affect a $4 billion bond issuance by Russia, with close to half of investors coming from the UK. The fallout from this is likely to scale upwards in coming weeks, though we do not expect it to have a significant market impact.
THE WEEK AHEAD: G20 finance minister meetings (Mon), UK Inflation data (Tues), and FOMC meeting outcome (Weds). Latter half of the week sees a string of data releases from all regions.
STAT OF THE WEEK: Stephen Hawking's 'A Brief History of Time' has sold over 10,000,000 and has been translated into 35 languages (Daily Telegraph)
Data correct as at 16/03/2018.