Positive Impact Portfolios – Summer 2018
Our quarterly updates feature companies that our funds invest in, showcasing their solutions to real world problems.









by Damien Lardoux, 24th August 2018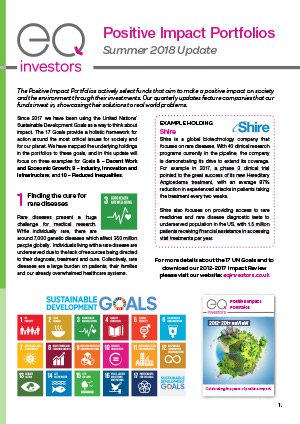 The Positive Impact Portfolios actively select funds that aim to make a positive impact on society and the environment through their investments.
Since 2017 we have been using the United Nations' Sustainable Development Goals as a way to think about impact. We have mapped the underlying holdings in the portfolios to these goals, and in this update will focus on three examples:
Goal 3 – Good Health and Well-being;
Goal 7 – Affordable and Clean Energy; and
Goal 12 – Responsible Consumption and Production
The United Nations' Global Goals were adopted in 2015 as part of the 2030 Agenda for Sustainable Development. The 17 Goals provide a holistic framework for action around the most critical issues for society and for our planet.