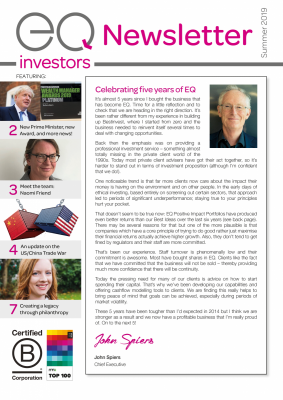 It's almost 5 years since I bought the business that has become EQ. Time for a little reflection and to check that we are heading in the right direction. It's been rather different from my experience in building up Bestinvest, where I started from zero and the business needed to reinvent itself several times to deal with changing opportunities.
Back then the emphasis was on providing a professional investment service – something almost totally missing in the private client world of the 1990s. Today most private client advisers have got their act together, so it's harder to stand out in terms of investment proposition (although I'm confident that we do!).
One noticeable trend is that far more clients now care about the impact their money is having on the environment and on other people. In the early days of ethical investing, based entirely on screening out certain sectors, that approach led to periods of significant underperformance; staying true to your principles hurt your pocket.
That doesn't seem to be true now: EQ Positive Impact Portfolios have produced even better returns than our Best Ideas over the last six years (see back page). There may be several reasons for that but one of the more plausible is that companies which have a core principle of trying to do good rather just maximise their financial returns actually achieve higher growth. Also, they don't tend to get fined by regulators and their staff are more committed.
That's been our experience. Staff turnover is phenomenally low and their commitment is awesome. Most have bought shares in EQ. Clients like the fact that we have committed that the business will not be sold – thereby providing much more confidence that there will be continuity.
Today the pressing need for many of our clients is advice on how to start spending their capital. That's why we've been developing our capabilities and offering cashflow modelling tools to clients. We are finding this really helps to bring peace of mind that goals can be achieved, especially during periods of market volatility.
These 5 years have been tougher than I'd expected in 2014 but I think we are stronger as a result and we now have a profitable business that I'm really proud of. On to the next 5!

John Spiers
Chief Executive