Why invest for a child?
Pay less inheritance tax
Pay for school fees
Going to university
Buying a home
Getting married
…or even retirement!
Today, the need has never been greater: our children are facing a perfect storm of financial adversity; UK students now graduate with the highest levels of debt in the English speaking world and property prices have never been so out of reach.
Getting started
One of the key messages is to start early so that the money you invest for your children has longer to grow. The power of compounding means that £1 saved today should be worth much more in the future.
The chart below shows the power of investing the maximum amount into a child's Junior ISA (currently £4,128 per year) and Junior SIPP (currently £2,880 per year) up to their 18th birthday, assuming a steady annual growth rate of 5%. Assuming this growth continues with no further contributions, their pension alone would grow to over £500,000 before they turn 55.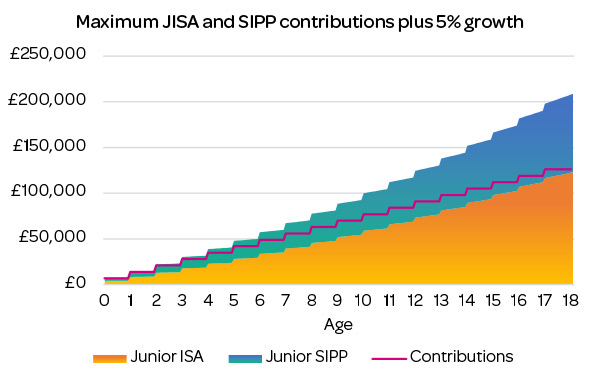 [1]
Selecting an investment strategy
In most cases, an investment strategy for a child implies a long time scale. This situation is ideal for adopting an adventurous investment strategy, where you accept the greater volatility that comes with the potential for greater returns in the long term.
Fluctuations in stock market values can be advantageous to regular investors as a result of the phenomenon called 'pound cost averaging', whereby your money buys more when markets are depressed.
This all suggests that a child's portfolio should be invested largely in equities (shares in companies) and property, since these are the types of asset that, historically, have always produced the highest returns, over the long term.
Two smart ways to invest
Choosing the right account to give your offspring the best possible start in life is vital. Two options to consider are a Junior ISA or a Junior SIPP. See how they compare in the table below.

Read the guide
Investing for Children explores the main vehicles that can be used for saving and investing for children.