The speed and magnitude of the market drops have been surprising, falling at the fastest pace on record. Normally equity markets take several months to get as weak as this, taking their cues from a gradual slowdown in economic activity. On this occasion we are contending with economic shutdown (rather than slowdown), which is creating panic and hysteria as short-term investors rush to sell.
However, this is the most dangerous thing for longer term investors to do right now. Selling may reduce the stress of further losses in the short term, but it also turns paper losses into real ones. Once bitten twice shy, many will remain on the side lines as the market recovers, resulting in the permanent destruction of capital.
Some of the sharpest rallies in markets happen in the earliest stages of recoveries. Sometimes the recovery takes longer than other times. But it is usually what ends up happening.
Government intervention
Governments and central banks are working hard to counter the economic impact of the virus. So far, central banks have done what they can by lowering interest rates (close to zero in most of the developed world) and providing colossal funding programmes to keep the cogs of the financial system turning. However, they cannot compensate for the scale of lost income that individuals and companies face.
Yesterday, we saw the first signs in the US and UK of government funded payments, loan guarantees and tax relief. Some European countries have made similar announcements. More details are yet to come, but governments are essentially trying to replace some of the cashflow being lost as people stay at home to contain the virus.
The scale of economic damage to date is unclear and the virus has not yet been brought under control. As such, it is still too early to tell whether the scale, timing and format of government spending will be enough in its current form. A large part of the measures being announced are offers to lend to businesses, and higher borrowing may not suit everyone. At this point we can see governments responding to the crisis in a fluid way and tailoring their announcements in response to market moves.
Defensives doing their job
During the last month we have seen markets both down 10% and up 10% over the course of a day. This is a sign that price movements are reflecting rapidly changing human emotions in response to a constant barrage of information.
However, the parts of the market that we consider to be 'defensive' are indeed behaving that way. The chart below shows that consumer staples, health care and utilities are still down, but less so than other sectors. Meanwhile, we can see the energy sector underperforming the rest as it contends with both economic contraction and the flood of oil from Saudi Arabia: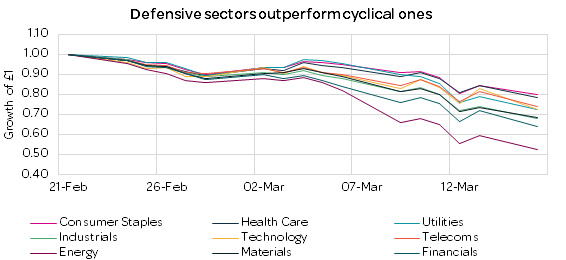 It is hard to judge the ultimate cost of shutting down economies but there is a high probability that we could face a recession. Government spending will help to dampen the impact, so the next question is: what shape will the recovery take?
How we are positioned
Most importantly in environments like this, it is essential to have a diversified portfolio.
Within our Best Ideas model portfolios we had been focusing on higher quality companies due to our existing views on the US-China trade war. These quality companies are less likely to run out of cash and they have strong balance sheets. This won't stop share prices falling, but it does give them a better chance of enduring the crisis and emerging in decent shape. From a sector perspective, we are underweight energy, materials and financials (which are the worst performers) while being overweight healthcare, consumer staples and technology (that fared better). Having removed all open-ended property funds from our portfolios, we are immune from the wave of fund suspensions currently hitting some investors. Across all of our portfolios, our recent shift away from UK equities into other regions has been beneficial.
The investment landscape is shifting very fast as we move into the response stage of tackling the crisis. Facts are changing about the spread of the virus, government and central bank responses, and oil prices. For now, we think that we are appropriately positioned to weather the storm.
When we judge the worst is behind us, portfolios will be shifted to benefit from a rebound in some of the hardest hit cyclical sectors. This will also be an opportunity to rebuild exposure to some of the structural themes that we think are driving economies around the world over the long term, such as artificial intelligence, robotics and healthcare.
Contact
Have a question about investing with EQ? Please email enquiries@eqinvestors.co.uk [1] or call 020 7488 7171, we're always happy to hear from you.