"It's very delicious" David Datuna wrote on Instagram [1] as he snacked on a $120,000 banana which had been duct taped to a wall as part of an art installation in Miami. Though the police were called, the man wasn't charged for ruining the artwork. "He did not destroy [it]…" a spokesman said, "the banana is the idea".
Traders went bananas as they pushed the price of oil up following a meeting between OPEC and Russia at which they agreed to cut global crude oil output. Asset class returns in sterling and local currency are below; while equities were broadly up last week in local currency terms, a strengthening sterling pushed nearly all the major regions into the red.
Table 1: GBP total returns

Source: Bloomberg
Table 2: Local CCY total returns

Source: Bloomberg
After weeks of avoiding the topic due to the potential of causing people total and utter fatigue, last week's moves in sterling helped catapult the UK election firmly into first place as a discussion point. Over recent weeks, the strength of the pound has reflected how likely investors and traders view an overall Conservative majority. Now with just days to go and the Conservative Party having had a relatively gaffe-free election period, the pound has risen to its strongest level since early this year.
Though the exit treaty negotiated by Boris Johnson does indeed allow for a looser post-exit UK-EU trade relationship going forward, it is clear from the trajectory of sterling in recent months that investors and traders have been reacting positively. This is in part due to the prospect of diminishing economic uncertainty as the imminent threat of a no deal exit has receded.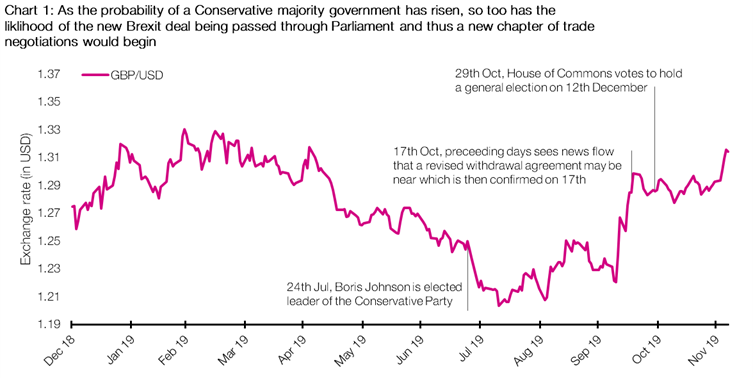 Source: Bloomberg
Unlike the bounce in the polls enjoyed by the Labour Party in the run up to the 2017 election, this campaign period has been challenging for the UK's main opposition party. One the one hand, a resurgent Liberal Democrats fighting with a clear "Stop Brexit" policy has acted to split the Remain vote, while on the other, the Conservatives have campaigned with a clear "Get Brexit Done" policy which has drawn support in Labour held-Leave vote seats. But with such a strong stance on Brexit which alienates a portion of its core voters, the Conservatives have risked losing some Conservative held-Remain vote seats.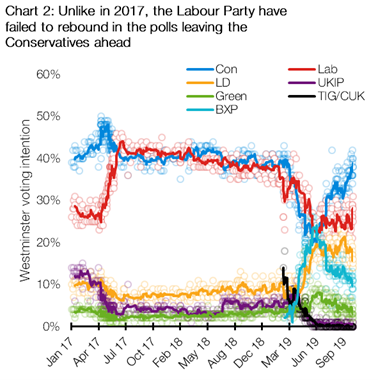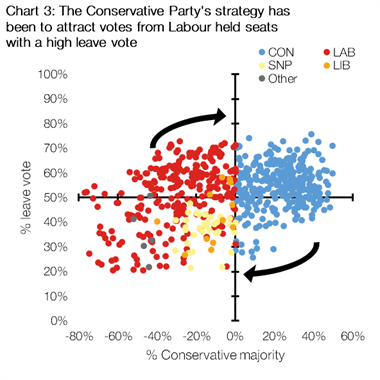 Source: EQ Investors, Electoral Commission, YouGov, Opimium, ICM, Survation, Dr Chris Hanretty (UEA)
In reality, it's extremely difficult to try and predict the outcome of an election with so much depending on a multitude of factors. What is extremely clearis that whoever comes to power will open the taps and begin a "fiscal expansion" (e.g. more government spending). Recent years have seen companies with high exposure to the UK-consumer suffer due to uncertainty around the future UK-EU relationship. But with the chance of this uncertainty clearing and a fiscal boost from the government in the pipeline, it raises the question as to whether there could finally be a catalyst for this part of the UK equity market to advance.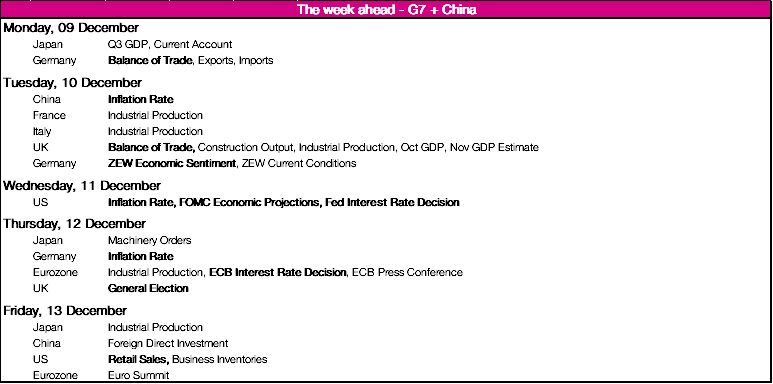 STAT OF THE WEEK: 44% – decline in UK greenhouse gas emissions since 1990 (Department for Business, Energy and Industrial Strategy).
Data correct as at: 06/12/19