With a thoroughly unremarkable result from the rugby over the weekend, I will instead tip my hat to Twitter user cloud1489 [1] who dressed up as a Brexit flowchart for Halloween. Having made a few myself, I can attest that they easily become nightmarish as forgotten branches come back to haunt you…
The UK Parliament voted last week to go to general election and thus end the zombie session. Asset class returns in sterling and local currency are below; while Westminster were busy politicking, the S&P 500 closed at record highs on an upbeat US jobs report.
Table 1: GBP total returns

Source: Bloomberg
Table 2: Local CCY total returns

Source: Bloomberg
Last week would have been another quiet week in British politics were it not for that fact that: the EU Council granted the UK a further extension to the Article 50 process thereby delaying the Brexit date once again, Boris Johnson shelved his Withdrawal Bill, MPs failed to back a motion for an early general election by the required two thirds majority, only to then pass a short bill the following day with more than a two thirds majority.
All this happened before Wednesday (the day the UK was supposed to leave the European Union) and put in motion the retirement of the infamous John Bercow from his role as Speaker of the House of Commons. Why does this bear any significance? Tight Parliamentary mathematics has been a feature of this current Parliament and there is no guarantee a general election will markedly shift this. If we are left with a thin Government majority or even a hung parliament after the election, the political (or apolitical) inclination of the next elected speaker will be critical in shaping how any Government is able implement policy. No wonder they say a week in Westminster is a long time…
Chart 1: Aggregated polling data for the next UK General Election based on Westminster voting intention shows how support for the Conservatives has rallied since Johnson's election as party leader in the summer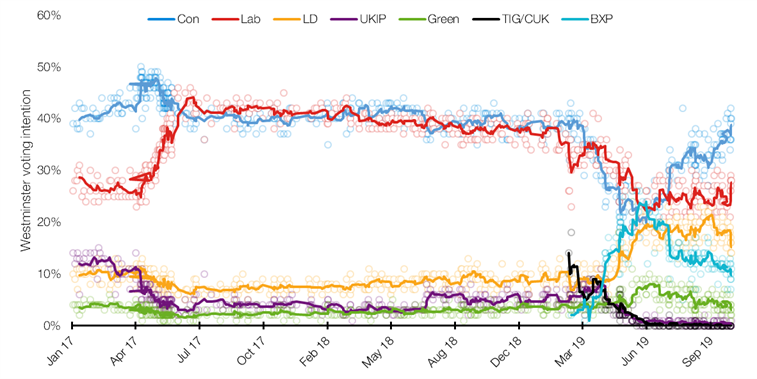 Source: EQ Investors, Mark Pack (PollBase), YouGov, Opimium, ICM, Survation, ComRes et al.
While it is likely that the next few weeks will be characterised by naff campaign slogans and volatile polling data, markets will be paying close attention to the resulting shifts in probabilities for various election outcomes. While the Conservative Party has purportedly removed a no deal exit threat from its manifesto, investors will be considering black swan events such as an SNP-backed, Labour-led Government or a Brexit Party-backed Conservative-led Government. While either of these may appear extreme or improbable, each could have significant implications for the UK economy and as such will affect sentiment towards UK assets.
Chart 2: An index tracking economic policy uncertainty spiked to its record high in the UK following the vote to leave in June 2016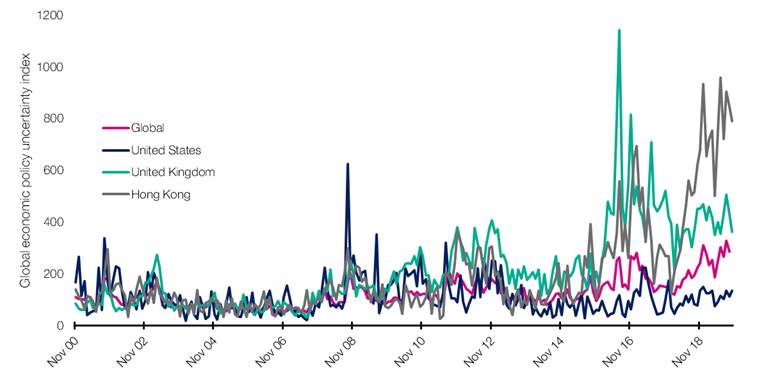 Source: Baker, Bloom & Davis
The chart above shows how the indicator for policy uncertainty in the UK remains elevated versus the wider world. Given a shock result in the upcoming election (it's not unheard of that psephologists get it wrong), it is perfectly possible for UK policy uncertainty to spike once again as new, potentially unforeseen risks for the economy emerge. This in turn could give rise to renewed volatility for sterling which could have wide ranging effects on the relative value of foreign and domestic assets. All to play for!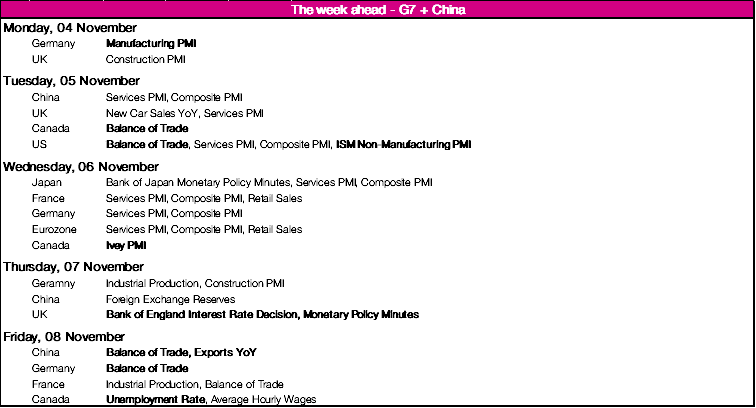 STAT OF THE WEEK: £140 million – the cost of the 2017 general election which if divided by the number of people registered to vote that year equals approximately £2.99 per vote (ONS & Electoral Commission).
Data correct as at: 1/11/19