If anyone was wondering where the entrance to hell is, apparently it's in the Midlands [1]. In what is thought to be the largest collection in the UK, hundreds of "witches' marks" have been found carved into the walls of caves at Creswell Crags with the hope that this would stop evil spirits emerging from the darkness.
Evil spirits were also banished from developed equity markets last week, with all four regions (US, UK, Europe and Japan) posting gains of over 2%! Asset class returns in sterling and local currency are below; after a string of poor economic data and slashed growth forecasts, European indices shone through as the winners on favourable news flow.
Table 1: GBP total returns

[2]
Source: Bloomberg
Table 2: Local CCY total returns

[3]
Source: Bloomberg
Export heavy and trade sensitive European stock indices led the equity rally last week, spurred by the Chinese state news agency reporting that China and the United States had reached consensus in principle on some key issues surrounding trade talks. Markets were given a further boost with Chinese President Xi Jinping saying talks would continue in Washington, and US Treasury Secretary Steve Mnuchin saying talks had been "productive".
Two of the larger moving industries driving equity market performance in Europe were automobiles and banks. The automobile sector has been under significant pressure more recently following weak new car registration data as a result of new, tougher regulation around vehicle emissions. Though fundamentals for the industry remain unchanged, share prices benefited from a turn in sentiment thanks to the softening trade stance between China and the US.
Chart 1: Automobiles outperformed wider European equities last week as hopes for a trade resolution between China and the US rose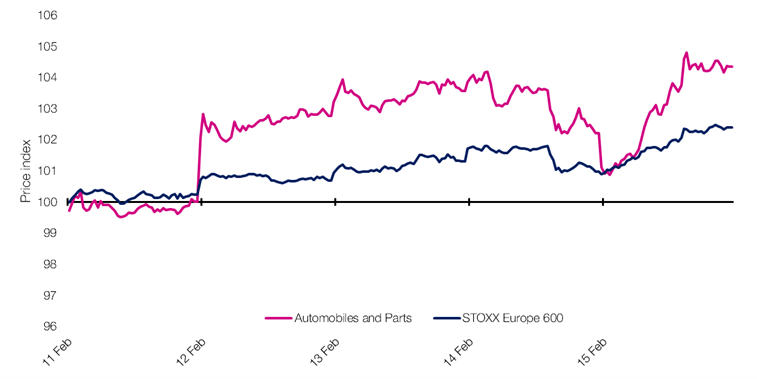 [4]
Source: Bloomberg
Banks, the other industry driving European equities, rallied off the back of comments made by a European Central Bank official regarding the potential for a third round of low rate bank funding. The existing program (which is the second round) goes by the catchy name "targeted longer-term refinancing operations 2" (or "TLTRO II" for short), and effectively creates an attractive low-rate borrowing environment for banks in an attempt to stimulate lending in the Eurozone economy. With the current program due to expire in 2020, ECB officials are considering how bank lending may be stunted should banks suddenly face higher borrowing costs; this would have significant implications for the health of the Eurozone economy.
Chart 2: European bank stocks played catch up with wider equities last week after comments from a senior ECB revealed there may be more easing on the way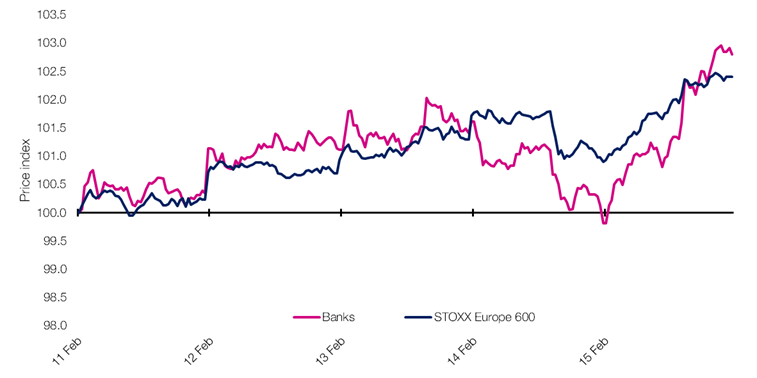 [5]
Source: Bloomberg
While a good week for European markets, underlying concerns remain around the economy's fundamentals. The ECB official added that the Eurozone's recent economic slowdown is more pronounced than expected, while suggesting that the path of inflation is set to be more shallow than forecast. This fits with the narrative emerging from the European Commission [6] which has seen large downward revisions to key European economies.
With the next ECB meeting due to take place in early March which will likely see policymakers slash growth forecasts, all eyes will be focused on  announcements regarding either the ECB's asset purchase program or the targeted longer-term refinancing operations.
THE WEEK AHEAD
Monday: N/A
Tuesday: Australia Reserve Bank of Australia Meeting Minutes, UK Unemployment Rate, UK Average Earnings, Germany ZEW Economic Sentiment, Japan Balance of Trade
Wednesday: Eurozone Consumer Confidence, US FOMC minutes, European Central Bank Non-Monetary Policy Meeting
Thursday: Germany Inflation Rate, Germany Markit Manufacturing PMI, Eurozone Markit Manufacturing PMI, Eurozone Markit Services PMI, US Durable Goods Orders, Japan Inflation Rate, France Finance Summit 2019
Friday: Germany Ifo Business Climate, Eurozone Inflation Rate, 2019 US Monetary Policy Forum
STAT OF THE WEEK: 2060 – the year by which the world's building stock is expected to double, which is the equivalent of adding another New York City every month for 40 years (GatesNotes).
Data correct as at: 15/02/2019