I enjoyed a comment on my Twitter feed from someone who noted "one team goes ahead in the first minute on a dodgy penalty […] then for the next 85 minutes […] nothing happens. This is the beautiful game? Thank god for cricket and rugby. Proper sport."
Equity markets appeared slightly more excitable/volatile, celebrating Liverpool's victory by displaying their team colours! Asset class returns in sterling and local currency are below; tweets from the US President have once again taken global markets by surprise and seen equity markets in the developed world plunge.
Table 1: GBP total returns

Source: Bloomberg
Table 2: Local CCY total returns

Source: Bloomberg
The US President successfully bookended the month of May with two unexpected tweets that have rattled global markets. With market participants still considering the fallout from 5 May [1], the president's more recent social media post has threatened up to a 25% import tariff on Mexican goods unless it stopped "illegal migrants coming through Mexico" and into the US. The market reaction was a plunge in asset prices which have exposure to the US-Mexico trade relationship, and the Mexican peso itself plummeting -4% against the US dollar in a couple of hours. This development is particularly devastating news for trade in autos and auto parts which make up circa 30% of the $30 billion of Mexican goods imported to the US monthly.
Chart 1: Automotive companies with operations spanning across the US-Mexico border were damaged by the president's latest twitter storm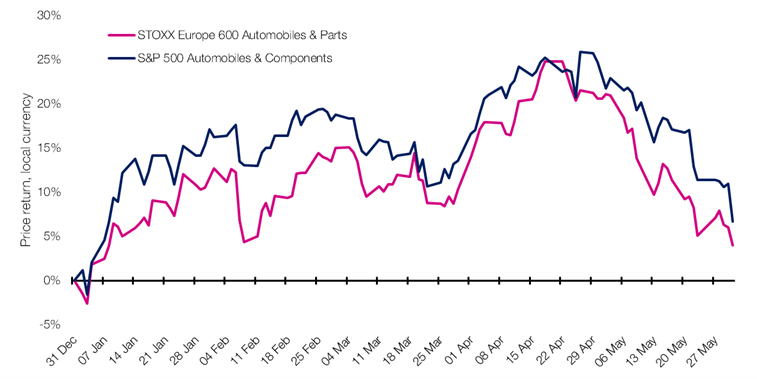 Source: Bloomberg
With this new front in the global trade war opening, some analysts have estimated that proposed duties could add as much as $23 billion in costs for automakers and suppliers which has the potential to "cripple the industry". It is expected that much of these increased cost will be passed directly on to customers as current profit margins for these companies are already extremely thin. But with surveys assessing consumer sentiment in the US towards new vehicle purchases having weakened dramatically in the last year, it is probable that any price increases will dent sales growth.
Chart 2: Potential price rises for autos risk denting an already fragile market, highlighted by the drop in consumers responding that now is a good time to buy vehicles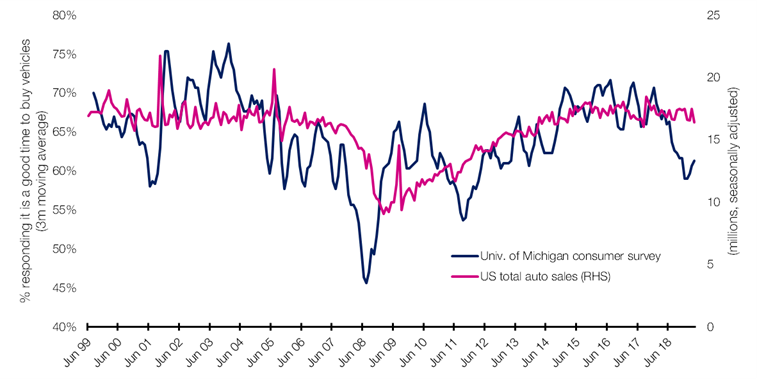 Source: University of Michigan, WARD's Automotive Group
All-important vehicle sales data for the US will be out on Monday afternoon, but for now investors will be keeping a close eye on developments between the US and Mexico. Significant change could come from either US Congress moving ahead to ratify the United States-Mexico-Canada Agreement, or from the Mexican President moving to appease Mr Trump. Either way, the auto industry remains an extremely sensitive part of the global economy due to its interconnected supply chains.
THE WEEK AHEAD (G7 + China)
Monday: Japan Nikkei Manufacturing PMI, China Caixin Manufacturing PMI, Germany Markit Manufacturing PMI, UK Markit/CIPS Manufacturing PMI, US Markit Manufacturing PMI, US ISM Manufacturing PMI
Tuesday: Italy Unemployment Rate, UK Construction PMI, Eurozone Inflation Rate
Wednesday: China Caixin Composite PMI, Eurozone Markit Composite PMI, Eurozone Markit Services PMI, UK New Car Sales, UK Markit/CIPS UK Services PMI, Eurozone Retail Sales, US Markit Services PMI, US ISM Non Manufacturing PMI
Thursday: Germany Construction PMI, Eurozone Q1 GDP, European Central Bank Interest Rate Decision, European Central Bank Press Conference, US Balance of Trade
Friday: Germany Industrial Production, Germany Balance of Trade, China Foreign Exchange Reserves, Italy Retail Sales, US Unemployment Rate, US Non Farm Payrolls, US Average Weekly Earnings
STAT OF THE WEEK: 80% – the increased level of productivity of the UK automotive industry when compared to an average of the rest of the sectors (Department for Business, Energy and Industrial Strategy).
Data correct as at: 31/05/2019