Yet another unforeseen situation arising due to the lockdown in many parts of the world is a global shortage of condoms. It has been reported that Malaysia's Karex Bhd, which manufacturers one in every five condoms globally, has been forced to temporarily shut its factories due to social distancing measures.
Investors' suspicions of a bear market rally were aroused last week when equities rose dramatically despite a seemingly deteriorating backdrop. Asset class returns in sterling and local currency are below; in sterling terms, equity market performance was less impressive as the pound rallied aggressively from its recent lows.
Table 1: GBP total returns

Source: Bloomberg
Table 2: Local CCY total returns

Source: Bloomberg
Last week perfectly illustrated our recent commentary with respect to markets keeping an eye out for a fiscal as opposed to a monetary response to the Covid-19 pandemic. On Monday, the US Federal Reserve went several steps further than during the 2008/09 Global Financial Crisis by not only announcing that it would purchase a potentially unlimited amount of government debt but that it would also initiate two new facilities to its quantitative easing programme. One facility would focus on the corporate sector whereby the bank would buy corporate debt, while the other facility would focus on the household sector where purchases would include securities backed by student, car and credit card loans.
Nevertheless, despite this colossal announcement, markets fell on Monday. This is because market participants' attention was instead gripped by last weekend's proceedings in the US Senate where Senate Democrats blocked a piece of legislation meant to address the economic fallout from the virus in the United States. As such, while the Fed's unprecedented actions were welcomed, they were largely ignored. A timeline of the week's events is highlighted in the chart below.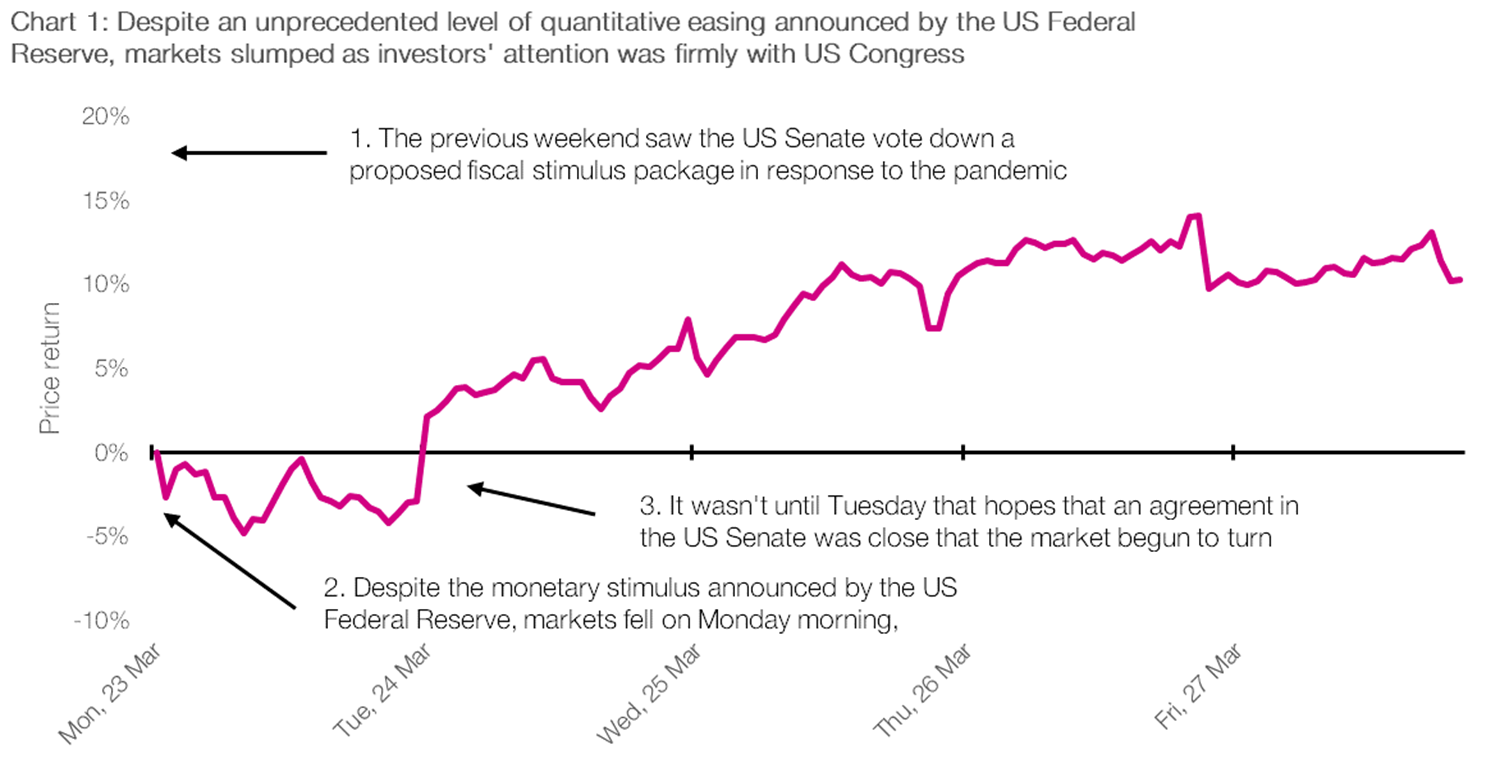 Source: Bloomberg
Despite this positive run for equities, there was one data release last week that shook the nerves of several market participants. US initial unemployment claims, a weekly statistic released by the US Department of Labor that tracks the number of people who have filed jobless claims, rocketed to its highest figure on record in the week to 21 March. With 3.2 million claimants, it is now increasingly clear to many that while the current downturn may be short-lived, it will certainly be deep.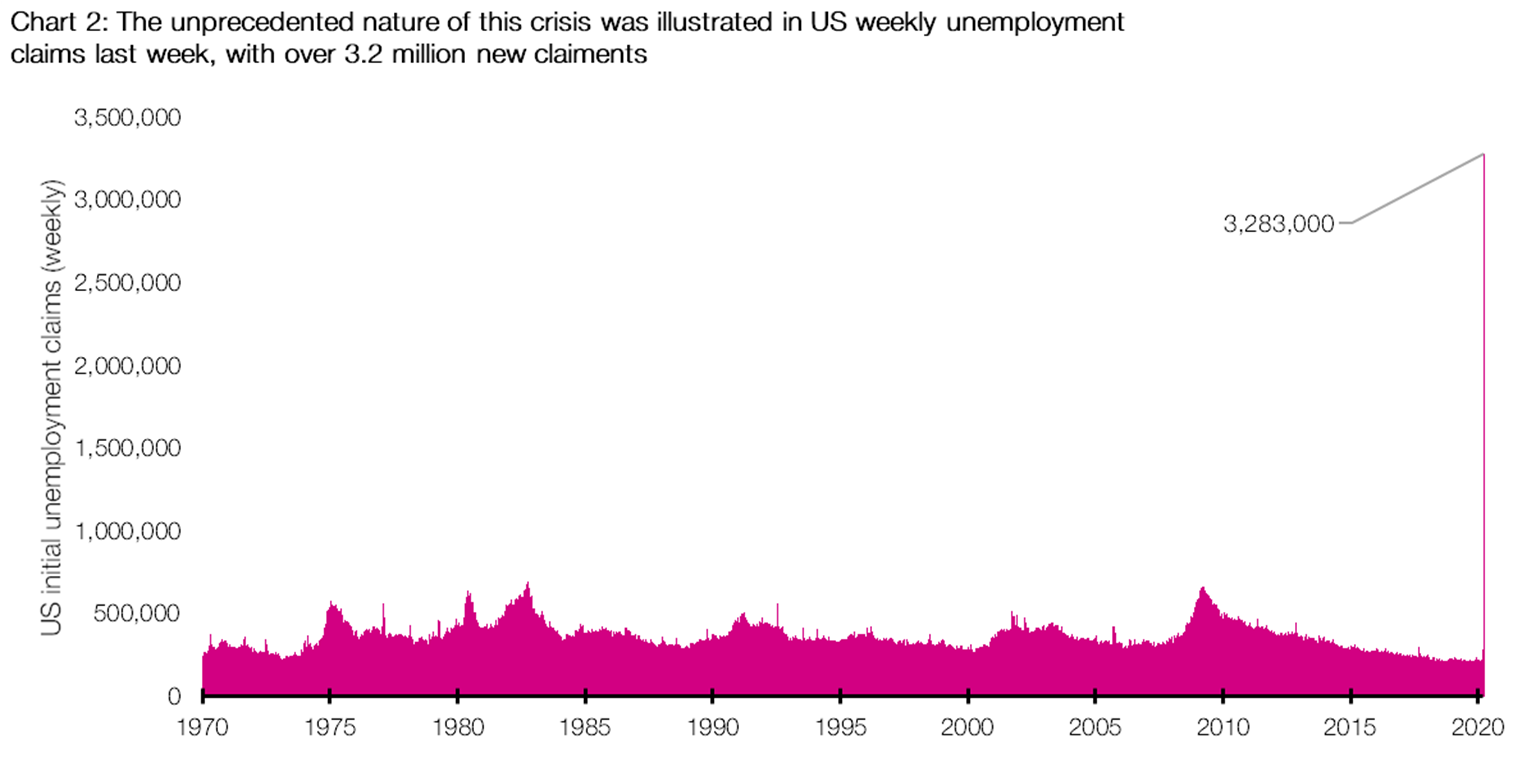 Source: Bloomberg
It was also a bad week for the US as official data revealed the world's largest economy now also has the world's largest number of confirmed coronavirus cases. Over the past 7 days, the number of cases in the US has increased at an average of 21% per day, while Italy –the focal point of Covid-19 in Europe – has seen its rate of new cases slow to an average increase of 7% a day.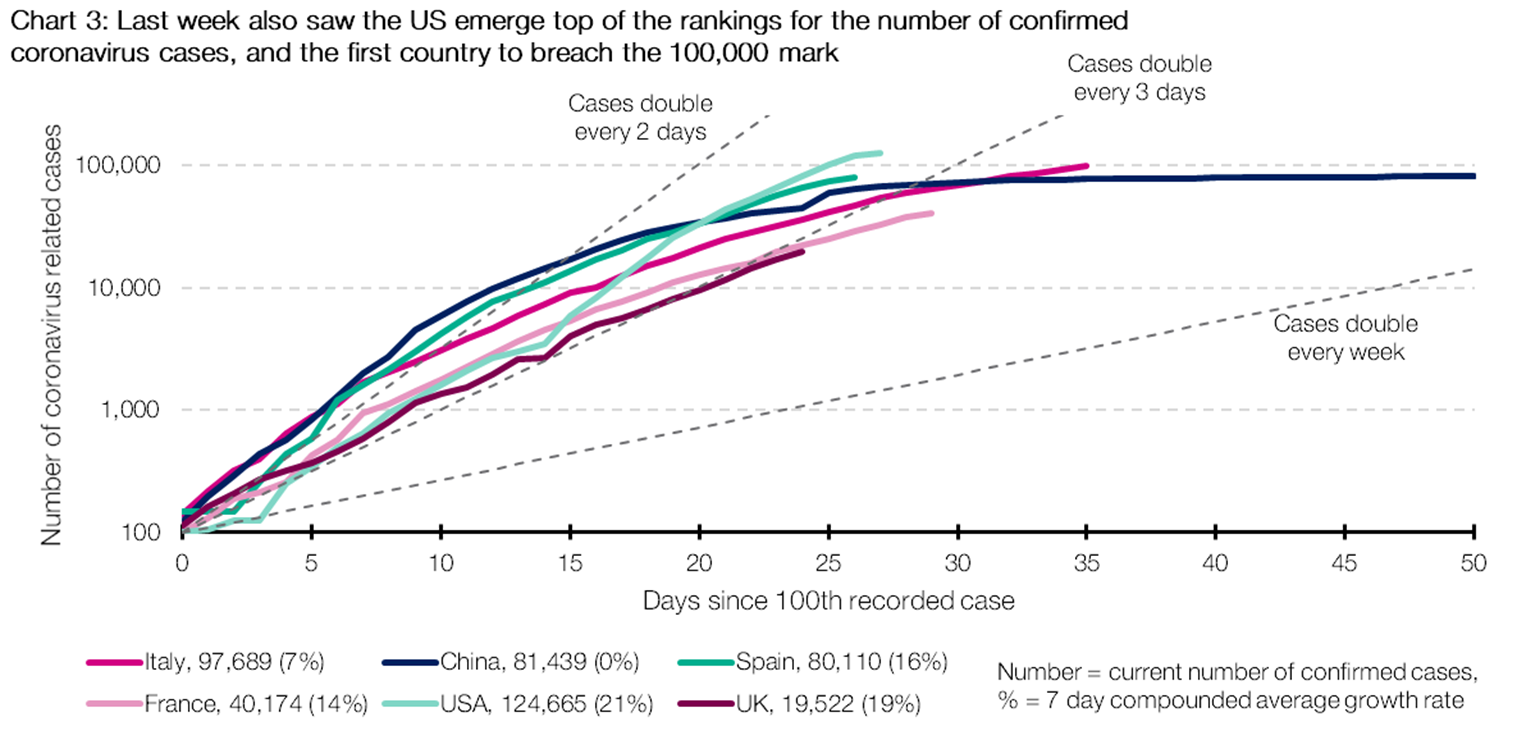 Source: John Hopkins University
Investors will be continuing to keep an eye on both government responses to get an idea of the timeframe over which we can expect this crisis to continue unfolding, and emergent economic data to work out just how severe this economic shock will be. Only time will now tell!
STAT OF THE WEEK: 93% – the proportion of British voters who support the UK government's current restrictions on normal life (YouGov).
DATA CORRECT AS AT: 27/03/20
Contact
Have a question about investing with EQ [1]? Please email enquiries@eqinvestors.co.uk [2] or call 020 7488 7171, we're always happy to hear from you.