Asset class returns in sterling and local currency are below; after two weeks of negative returns for assets across the board, last week offered investors respite with developed equities leading their emerging peers.
Table 1: GBP total returns

Source: Bloomberg
Table 2: Local CCY total returns

Source: Bloomberg
For some of the more keen eyed among you, you may have noticed Latin American equities have been significantly out of step with international peers over the last few weeks. This is best illustrated by the 1-month return which shows the South American region up over 8% while wider emerging markets have fallen 5.7%. What has been driving this? Sentiment towards Latin American equities is incredibly political sensitive – this time is no different. Brazilian stocks, which make up over 50% of the Latin American index, were clear winners after the former army captain and "far-right" presidential candidate Jair Bolsonaro won support from 46% of the people in the first round of the vote on October 7th. The Brazilian real subsequently rallied hard and the Bovespa stock market (Brazil's main exchange) jumped more than six percent within minutes of the opening trade.
Despite Mr Bolsonaro's relatively extreme views, earning him the name "Tropical Trump", investors have thrown their support behind him as he offers fresh economic reforms for the country. Brazil has more recently experienced its deepest recession on record (widely attributed to the left-wing PT party) and a stream of political scandals which saw the impeachment of former president Dilma Rousseff.
Chart 1: Brazilian equities have benefited from the market friendly Jair Bolsonaro, frontrunner in the Brazilian presidential election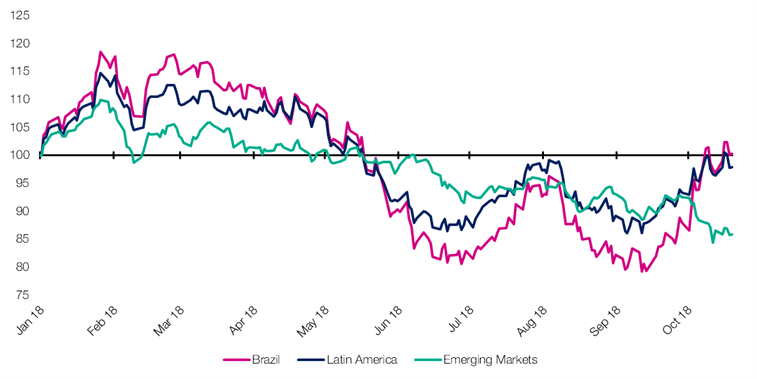 Source: Bloomberg
One particular concern of investors in Brazilian assets has been the future of the central bank. As it does not have full institutional independence, it opens up political risk for monetary policy as incoming presidents have the power to replace the top official. Investors therefore were able to take a sigh of relief when the presidential front-runner said he would not rule out keeping the widely respected incumbent; the central bank's chief was promoted in June 2016 and has since kept tight control over inflation which has plagued the largest South American country in more recent years.
Chart 2: Brazilian inflation has hit highs of 10% in recent years, which has severely impacted real GDP growth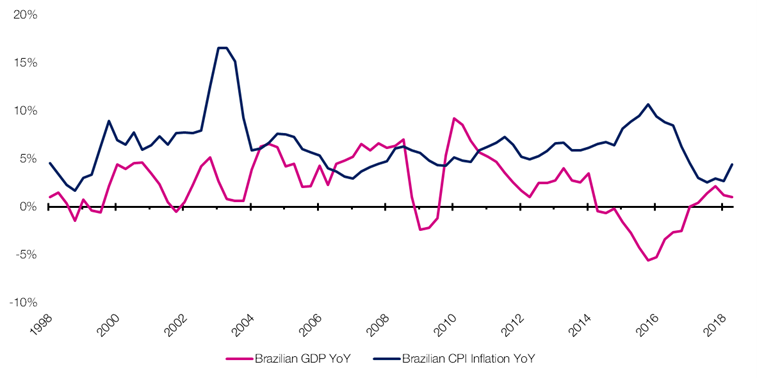 Source: Bloomberg
THE WEEK AHEAD
Monday: N/A
Tuesday: Eurozone Consumer Confidence
Wednesday: Germany Markit Manufacturing PMI, Bank of Canada Interest Rate Decision, US New Home Sales
Thursday: Korea Q3 GDP, Germany Gfk Consumer Confidence, Ifo Germany Business Climate, European Central Bank Interest Rate Decision, Durable Goods Orders
Friday: US Q3 GDP
STAT OF THE WEEK: -0.1% and 1.2% – the forecasted real GDP growth rate for South America INCLUDING and EXCLUDING Venezuela respectively (World Bank).
Data correct as at 19/10/18