In the midst of the intense political murmurings during the Article 50 extension request, I found myself mesmerised as I stared into a black hole. No, I am not referring to the Brexit negotiations, but to the first ever image taken of a black hole [1], located in a distant galaxy.
Market participants were clearly lost in space as western equity markets barely moved. Asset class returns in sterling and local currency are below; despite a big week for data and central bank activity, equity markets remained benign as stock indices in the US, UK and Europe all notched marginal gains.
Table 1: GBP total returns

[2]
Source: Bloomberg
Table 2: Local CCY total returns

[3]
Source: Bloomberg
One of the largest surprises from last week's economic data releases came from UK monthly GDP figures which revealed the economy to be accelerating for a third straight month, reaching its fastest level of year-on-year growth since 2017. Many have pointed to the UK's pending withdrawal from the European Union as a significant headwind for the economy, though it is clear that services – which make up close to 80% of the economy's activity – have remained robustly in expansion territory since the referendum. While some have theorised that February's uptick in growth could be explained by manufacturers stockpiling ahead of a potential a no-deal exit from the EU, the official data released from the Office for National Statistics revealed that the construction and services sectors were the largest drivers in the year to February.
Chart 1: A breakdown of contribution to GDP reveals the magnitude of stockpiling ahead of a no-deal Brexit in the manufacturing sector to be negligible in the year to February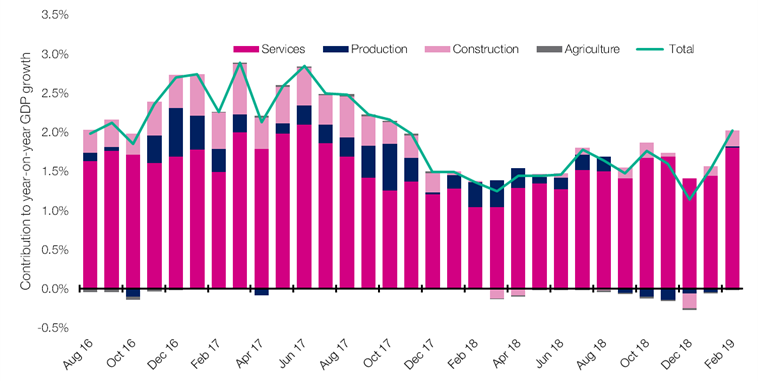 [4]
Source: Office for National Statistics
So the question is, how does the UK compare to its G7 partners? To look at like-for-like, we can show data up to the end of December 2018 as the UK is relatively unique in publishing its GDP monthly. Having been one of the strongest growing economies from 2013 through to 2016, the UK fell towards the bottom of the G7 growth rankings in 2017 when manufacturing dominant peers (e.g. Germany and France) were boosted from the "broadest synchronised global growth upsurge" since 2010 (according to the IMF). With heightened uncertainty now surrounding global trade (and indeed global growth) recent soft data releases indicate deep contractions in German and French manufacturing activity while hard data in the UK shows its dominant services sector to remained robust.
Chart 2: While the UK dragged towards the bottom of the G7 growth range in 2017, recent developments in the global economy see it once again towards the top of the pack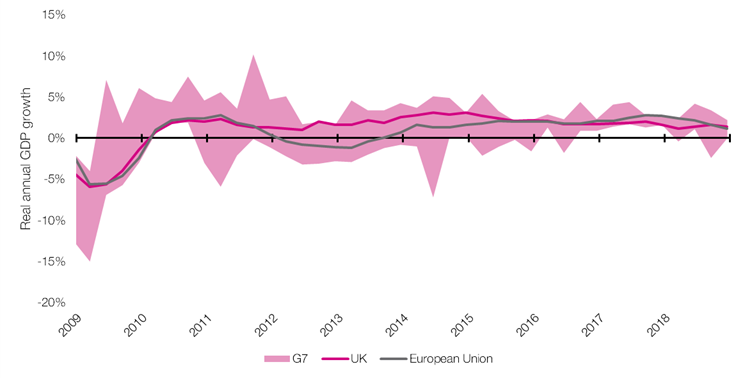 [5]
Source: Bloomberg
An IMF report released in April 2019 have seen significant downward revisions to perhaps previously over-optimistic 2019 growth forecasts, including -0.6% for Germany, -0.4% for Italy and -0.3% for the broader Eurozone. Meanwhile, the UK has escaped any downward revision to its growth estimates with 2019 GDP 1.5% higher in real terms, which would represent a marked slowdown from its current 2% annual rate. The lack of change in forecast is in part due to the inability of forecasters to predict the UK's future trading relationship with the EU. Even a permanent customs union with the EU (which is currently a hot topic in UK politics) to ensure tariff-free trade in goods would secure just under 30% of the UK's total exports in goods and services – equivalent to 8% of GDP – leaving significant room for uncertainty. Despite the economic resilience, it will be extremely difficult to speculate on what may come next as we must wait to see if any headway in negotiations is made between Theresa May and Jeremy Corbyn.
THE WEEK AHEAD
Monday: Turkey Unemployment Rate, Bundesbank Monthly Report
Tuesday: Reserve Bank of Australia Meeting Minutes, UK Unemployment Rate, UK Average Earnings, Eurozone ZEW Economic Sentiment,, Eurozone Construction Output, Germany ZEW Economic Sentiment, US Industrial Production, Japan Balance of Trade
Wednesday: China Industrial Production, China Retail Sales, Japan Industrial Production, UK Inflation Rate, Eurozone Balance of Trade, Eurozone Inflation Rate, Canada Balance of Trade, Canada Inflation Rate, US Balance of Trade
Thursday: Eurozone Markit Manufacturing PMI, Eurozone Markit Services PMI, Germany Markit Manufacturing PMI, Germany Markit Services PMI, UK Retail Sales, US Retail Sales, Japan Inflation Rate
Friday: N/A
STAT OF THE WEEK: 3.8 billion – the number of people worldwide who do not have an internet connection (United Nations).
Data correct at: 12/04/2019