Weekly market recap: champions of cheap money
Global equity markets reacted well to a sharp U-turn from the US Federal Reserve.









by Tertius Bonnin, 1st February 2019

Ninety million people have seen recent temperatures of -17C (0F) or below as the US shivered into the worst cold snap in decades. The US president was quick to respond to the crisis on twitter, responding that "people can't last outside", questioning "what the hell is going on with Global Warming" and pleading "[global warming] please come back fast, we need you!"
Fortunately the polar vortex didn't freeze markets last week as comments from the US Federal Reserve were received warmly by investors. Asset class returns in sterling and local currency are below; both equities and bonds posted positive gains last week, as the possibility of further monetary stimulus grew.
Table 1: GBP total returns

Source: Bloomberg
Table 2: Local CCY total returns

Source: Bloomberg
Global equity markets reacted well to a sharp U-turn from the US Federal Reserve on Wednesday, in which the chairman Jerome Powell put on hold further US interest rate rises – citing muted inflation and rising risks to global economic growth. US Treasury yields also fell as Mr Powell vowed to be patient and flexible towards winding down the bank's balance sheet. Despite the more cautious tone, the US Federal Reserve remains the only major central bank to be withdrawing monetary stimulus on a monthly basis.
Chart 1: While the US Federal Reserve has been withdrawing liquidity, other major central banks have remained in expansionary territory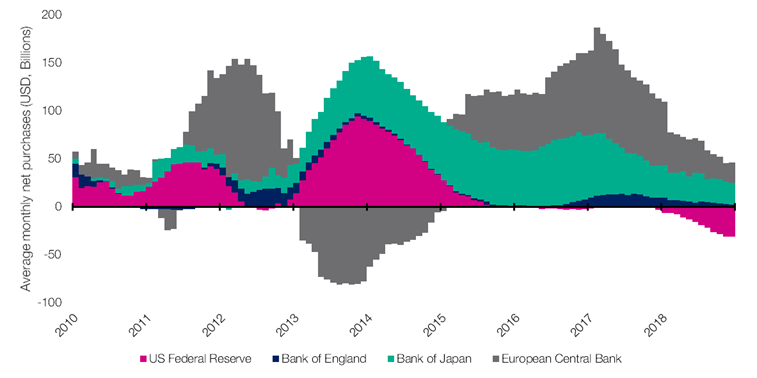 Source: Bloomberg
In previous pieces, we've touched on the importance of the US dollar to global trade. This is because a high volume of invoicing outside of the US done is in US dollars – for example, a deal between a Swedish customer and a Japanese manufacturer is likely to be invoiced and settled in USD. So when "dollar liquidity" (read this as another way of saying the vast amount of money injected into the financial system through quantitative easing) is withdrawn, it effectively reduces the number of dollars in circulation. Meanwhile, the US Federal Reserve has also been hiking interest rates which has drawn yet more currency out of the system as savers get higher risk-free interest on bank deposits.
With international demand for US dollars not falling in line with liquidity, a shortage is created and basic rules of economics kicks in. High demand and low supply causes the US dollar to rise in value and appreciate against other currencies which was the case throughout 2018. Now that the US Federal Reserve has said it is becoming more cautious with regards to its tightening cycle, investors are beginning to come to terms with the possibility of either an interest rate cut or a slowdown in the Fed reducing its balance sheet.
Chart 2: The US dollar rose significantly in 2018 as liquidity being withdrawal from the system had a direct knock-on effect in the foreign exchange markets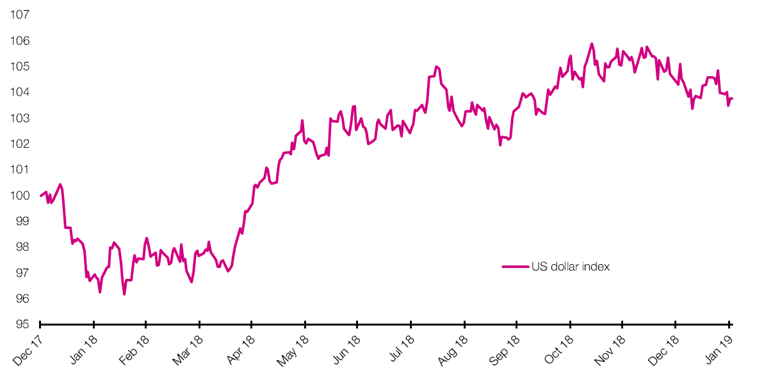 Source: Bloomberg
So what does this mean for markets? Ultimately global equities and bonds will be large beneficiaries from any monetary stimulus. With global growth beginning to weaken and inflation in key economies remaining subdued, central bankers will be under significant political pressure to prevent either stagnation or recession.
THE WEEK AHEAD
Monday: UK Construction PMI
Tuesday: Eurozone Markit Services PMI, Eurozone Retail Sales, Australia Balance of Trade, Canada Balance of Trade, US ISM Non-Manufacturing PMI
Wednesday: US Balance of Trade, Canada Ivey PMI
Thursday: Bank of England Interest Rate Decision, Monetary Policy Committee Meeting Minutes
Friday: Reserve Bank of Australia Statement on Monetary Policy, Germany Balance of Trade
STAT OF THE WEEK: 900 million – the total number of iPhones ever sold, more than half of which are still being used today (Apple).
Data correct as at: 01/02/2019