Buying air freshener, brewing some coffee or putting a load of bread in the oven. These are some solutions you should consider following a recent survey which has revealed that British people are most likely to judge other people's houses by their smell. The study went on to reveal that it takes the average person just 38 seconds to evaluate a home they've walked into.
Markets certainly woke up and smelled the coffee last week as investors and traders reacted to positive news flow emerging from Beijing and Washington. Asset class returns in sterling and local currency are below; markets rose with investor optimism last week as prospects of a US-China trade agreement came to the fore, following months of dispute and hard talk.
Table 1: GBP total returns

Source: Bloomberg
Table 2: Local CCY total returns

Source: Bloomberg
Posting its biggest weekly gain in more than a month, the oil price saw strength last week on signs that progress is being made in the protracted US-China trade spat. This came on both sides of the globe, as Washington revealed that negotiators were close to finalising the first phase of a trade deal with China, and Beijing said that parts of the agreement are "basically complete". Oil has been a significant casualty of the ongoing trade dispute which has seen dented global demand for the commodity, causing inventories to swell. This has coincided with the US itself ramping up production of shale oil (a substitute for conventional crude oil) with global markets becoming "awash" with the commodity, according to the US Energy Secretary.
Chart 1: Given the significance of oil as an input in global supply chains, rising expectations of a recession in 2018 Q4 placed downward pressure on the commodity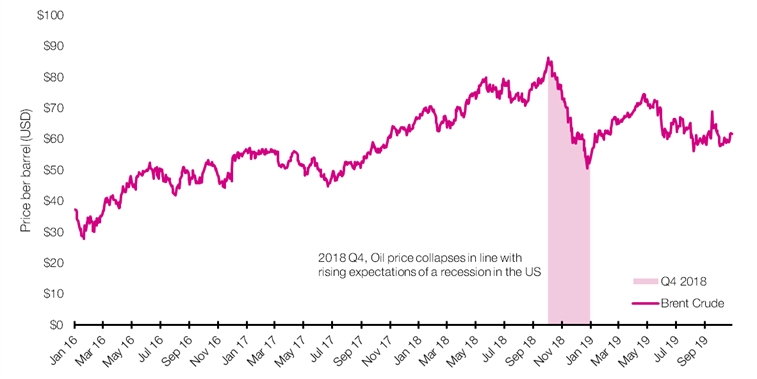 Source: Bloomberg
Should the US and China finalise a deal, a major headwind for the global economy will have died down. In turn, this could place further upwards pressure on the oil price as expectations of growing future demand would take hold of the market. A rising oil price can have wide reaching consequences for the global economy: the cost of energy is a major component of how inflation is calculated so a significant rise in oil could create an inflationary scenario.
What does this mean? Well, a recent trend among central banks has been to cut interest rates and employ accommodative monetary policy tools in an attempt to stimulate economic growth. Should we see a pronounced uptick in inflation, there is a risk that central banks could be forced into shifting towards more restrictive policies (like higher interest rates) in order to get inflation under control.
Chart 2: A higher oil price can lead to higher energy input costs which is a key component of inflation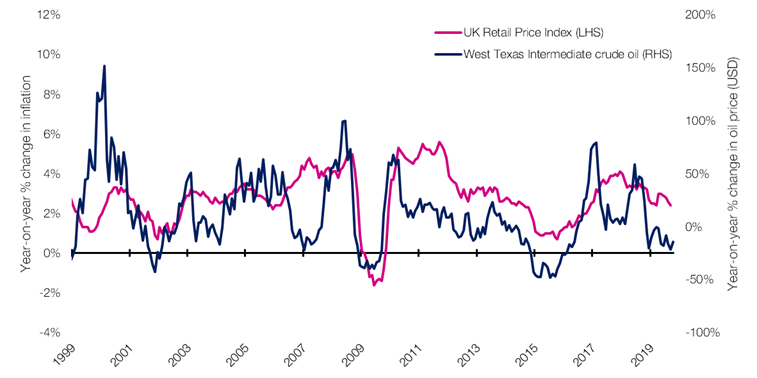 Source: Bloomberg
Several of the world's major central banks are due to meet this week in order to discuss their economic outlooks and what the appropriate monetary policy responses may be. Of particular note will be the US Federal Reserve which is overwhelmingly expected by the market to cut interest rates. But with the US-China deal potentially coming to a conclusion, the question many investors will be asking is whether an interest rate cut is necessary.
STAT OF THE WEEK: 1.3, 68.4 and 159.1 – the number of CCTV cameras per 1000 residents in New York, London and Shenzhen respectively (Comparitech).
Data correct as at: 25/10/19