South Norfolk Council have threatened people with an £80 fine if they're caught feeding wild chickens that are living on a housing estate. Up to 200 chickens live in the town, which the council has described as "unhygienic" and "feral". Last year, efforts were made to rehome the birds but with seven cockerels in the flock, the birds have been breeding faster than they have been caught.
Investors' feathers have been ruffled over the last week or so as fears of mass contagion of the coronavirus begin to be priced into global markets. Asset class returns in sterling and local currency are below; having risen as much as 5% since the start of the year, the US equity market has retraced its gains to be flat year to date.
Table 1: GBP total returns
Source: Bloomberg

Table 2: Local CCY total returns

Source: Bloomberg
Global equity markets have suffered in recent weeks following the outbreak of the "Wuhan coronavirus" in China. As of this morning, there were over 17,000 reported cases globally, and over 350 deaths in China alone. The rapid spread of the virus – at a rate much faster than that of SARS in 2003 – has spooked investors and prompted a steep sell-off in global equity markets as fears that measures to contain the contagion will impact global GDP. Indeed, many factories in China remain closed, airlines are cancelling passenger flights to and from China and the Chinese New Year holidays have been extended, in certain provinces, until mid-February.
Source: Bloomberg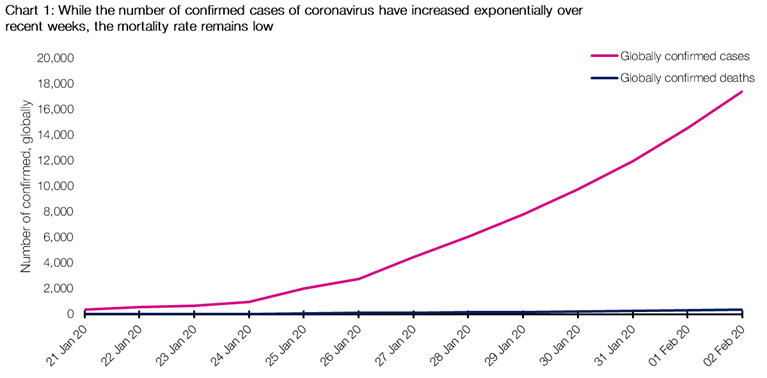 Prior to the outbreak, sentiment towards China had been extremely positive as a result of both accommodative domestic policy and phase one of the US-China trade agreement being signed by both sides. Though it is currently too early to understand the impact of the virus on the Chinese economy, any sign that it becomes contained could see a backdrop where asset prices behave more positively.
As a reminder, this is not the first time we have seen an outbreak. The chart below shows 11 previous examples of pandemics over the past 50 years with the market impact. In all by one case (HIV/AIDS in 1981) markets have delivered a positive return in the following six months from the initial outbreak. While this chart is not meant to give the impression that there is no action required from governments around the world in the immediate term, it is meant to remind readers that markets often overreact to short-term noise that has little or no bearing on the long-term prospects of the economy.
Source: Bloomberg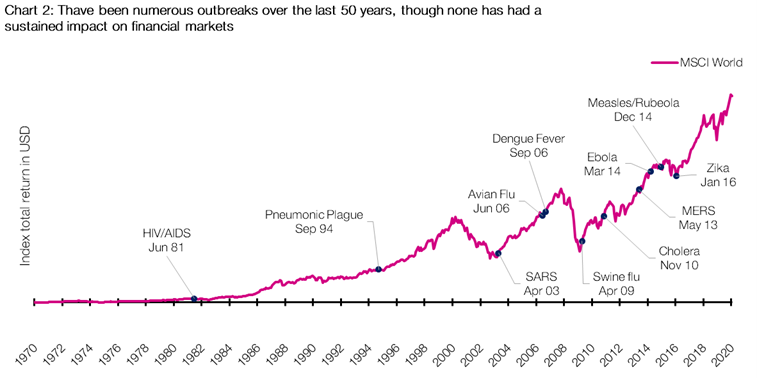 So what now? Based on reported cases and assuming a 10-day delay between infection and detection, researchers at several well-regarded academic institutions have estimated that the actual number of infections could be multiples higher than currently reported. What is encouraging, however, is China's unprecedented response to the virus in which it has placed entire cities with millions of inhabitants under quarantine to stem the spread. We await developments with literally bated breath.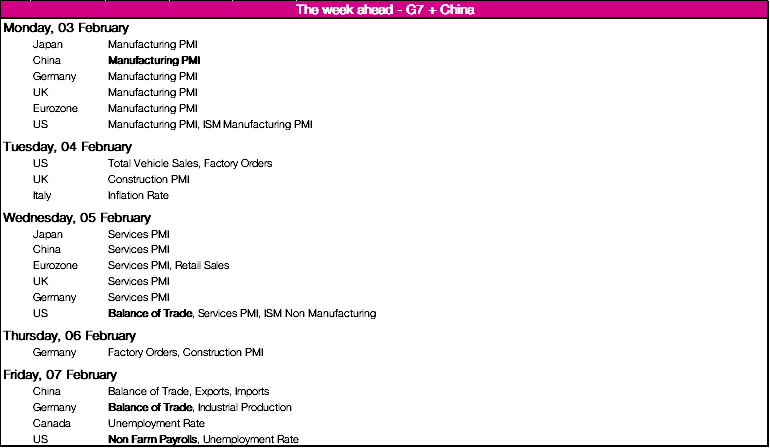 STAT OF THE WEEK: 1,317 – the number of days from the 2016 European Union referendum result and the official exit on the 31 January 2020.
DATA CORRECT AS AT: 31/01/20
CONTACT: Have a question about investing with EQ [1]? Please email enquiries@eqinvestors.co.uk [2] or call 020 7488 7171, we're always happy to hear from you.