ICYMI: An extraordinary recording of an extraordinary meeting of the Handforth Parish Council Planning and Environment Committee went viral last week as proceedings descended into chaos. One individual, Jackie Weaver, has emerged as unlikely hero of parish council politics after she ejected the chairman from the meeting and restored order to the proceedings. If you haven't seen it already, a 20 minute highlight video is WELL worth watching on YouTube [1].
Chaos is exactly how several commentators have described the vaccine rollout in the European Union as the commission has locked horns with vaccine manufacturers. Meanwhile, the UK and US are leading the world's major economies with the rollout and are likely to be among the first economies to enjoy a relaxing of Covid-related restrictions. So, what's gone wrong in Europe? What's gone right in the UK and US? And are vaccines even making a difference yet?
To begin, the United Kingdom and the United States have both ordered significantly more vaccine doses per capita than the European Union. The make-up of each vaccine portfolio has also been an important factor. In particular, the United States has had success in pre-ordering vaccines that have been shown as effective during clinical trials with over half of its vaccine portfolio now approved by the US regulator. On this side of the Atlantic, the United Kingdom and the European Union are more in line when it comes to the proportion of the vaccine portfolio that has been approved. However, the United Kingdom has had a key advantage in its roll out in that it both made deals to acquire and approved the use of vaccines significantly before its continental peers.
Figure 1. Pink bars indicate approved vaccines, blue bars indicate vaccines approaching the final phase of testing/requiring regulatory approval, and grey bars represent vaccines with a significant way to go until potential approval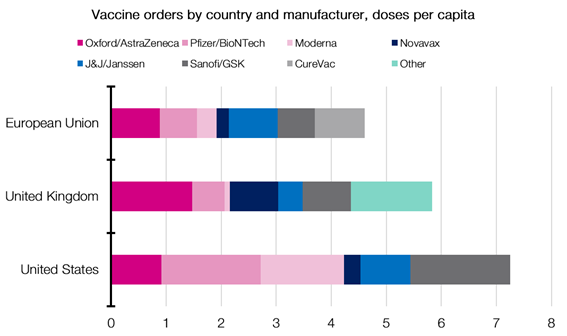 Source: Bloomberg, EQ Investors
As for whether vaccines are making a difference, the benefits of roll out are already being seen in the UK and the US. The charts in Figure 2 show daily new infections along with vaccine roll out for the UK, US and E4 (the four largest EU economies: Germany, France, Italy, and Spain) adjusted per 1,000 capita. This allows for easier comparisons between the three regions.
There is no doubt that stricter lockdown rules in Europe have resulted in a lower overall infection rate. However, there has been a remarkable drop off in new cases as the vaccine has been rolled out in the UK and US. There are no doubt caveats that should be made with this data such as tighter lockdown measures introduced towards the end of 2020 which will have naturally led to a decline in new cases, or that there have been different community testing policies. Nevertheless, the overall trend is certainly positive.
Figure 2. Mass vaccine roll outs in the UK and the US have helps to place significant downward pressure on new infection rates, while the EU's slow roll out risks a prolonging the pandemic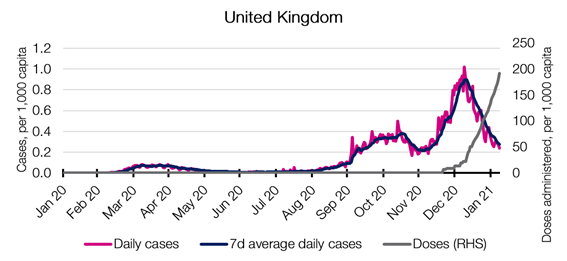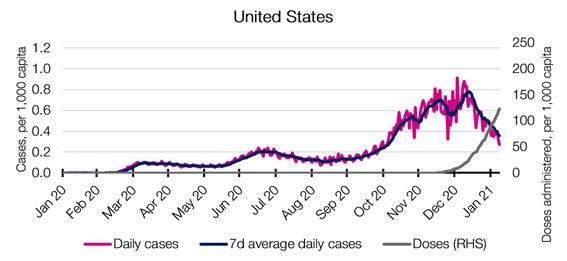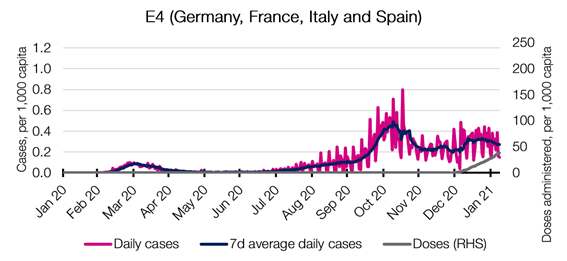 Source: Bloomberg, Our World in Data, World Bank, EQ Investors
Experts at the World Health Organisation currently estimate that a vaccination rate of 65-70% is needed to reach overall population immunity. Though the UK and US are making good progress towards this milestone, a slower roll out across the rest of the world is likely to be a significant head wind for global growth. With advanced nations having secured enough vaccine doses to inoculate their populations multiple times over, there will no doubt be discussions in the near future around how to distribute excess shots to the rest of the world and to kickstart the global economy.
STAT OF THE WEEK: 75% – Protection form coronavirus conferred by a single dose of the Oxford/AstraZeneca vaccine after three months, though protection from serious disease is significantly higher (University of Oxford).
Data correct as at: 12/02/2021
Contact us
Have a question about investing with EQ [2]? Please email enquiries@eqinvestors.co.uk or call 020 7488 7171, we're always happy to hear from you.