If you've been looking for a destination where you can let your hair down and get away from work, I've heard Barnard's Castle is very nice and I suspect it may be relatively easy parking.
Despite rising bankruptcies, equity markets have been on their own lockdown journey in recent weeks as easing social distancing measures give rise to more bullish sentiment. Asset class returns in sterling and local currency are below; risky assets have continued to do well in recent weeks as the market appears to discount any chance of a second wave of infections.
Table 1: GBP total returns
Source: Bloomberg
Table 2: Local CCY total returns

Source: Bloomberg
While equity markets are often the focal point of most commentators, this week we'll look at fixed income markets which have had a wild ride of their own through this turbulent time. Social distancing and lockdown measures have had material impacts on many industries, with Leisure & Travel being one of the hardest hit. Many of these companies are now left with insufficient cash flows to meet outgoing payments on leases or debt, due to declining revenues. As such, we have seen a surge in bankruptcy filings since the start of 2020 (shown in the chart below left). When we dig further down into the data, we note that the Consumer Discretionary sector – under which industries such as Leisure & Travel, Retailing and other consumer services are classified – is top of the leader board (shown in the chart below right).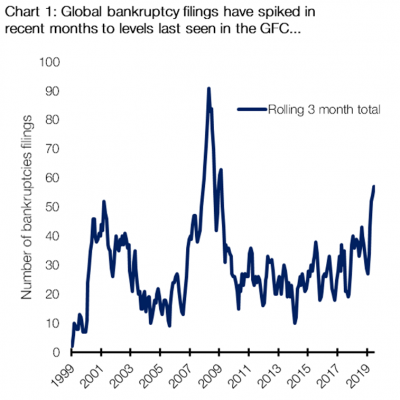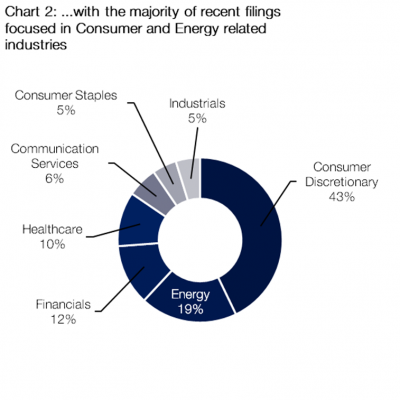 Source: Bloomberg, EQ Investors
Casting our minds back a few weeks, we'll remember that markets have been hit by two concurrent crises rather than just one. Indeed, around the start of the Covid-19 outbreak, we saw the outbreak of an oil price war between Saudi Arabia and Russia which injected significant volatility into global energy markets and even sent the price of the commodity negative. We discussed [1] at the time that one of the largest victims would be the US shale industry whose breakevens (i.e. the oil price required above which companies would make a profit) were – and still are – significantly above current market prices. It should be no surprise therefore that within US High Yield markets the perceived risk towards Energy companies remains significantly above other industries.
The chart below illustrates the market in aggregate, plotting each industry's perceived risk of default (the OAS, or option-adjusted spread) as well as how much that industry makes up of the overall high yield market. We can see how Energy is currently perceived to be one of the riskiest areas within fixed income, while other industries that carry a high Covid-19 risk (such as Travel & Leisure, Retailers, Real Estate, various Industrials and Automotive) are also perceived to have elevated risk. Meanwhile, the remaining industries with low Covid-19 risk include areas such as Health Care, Consumer Staples and Utilities.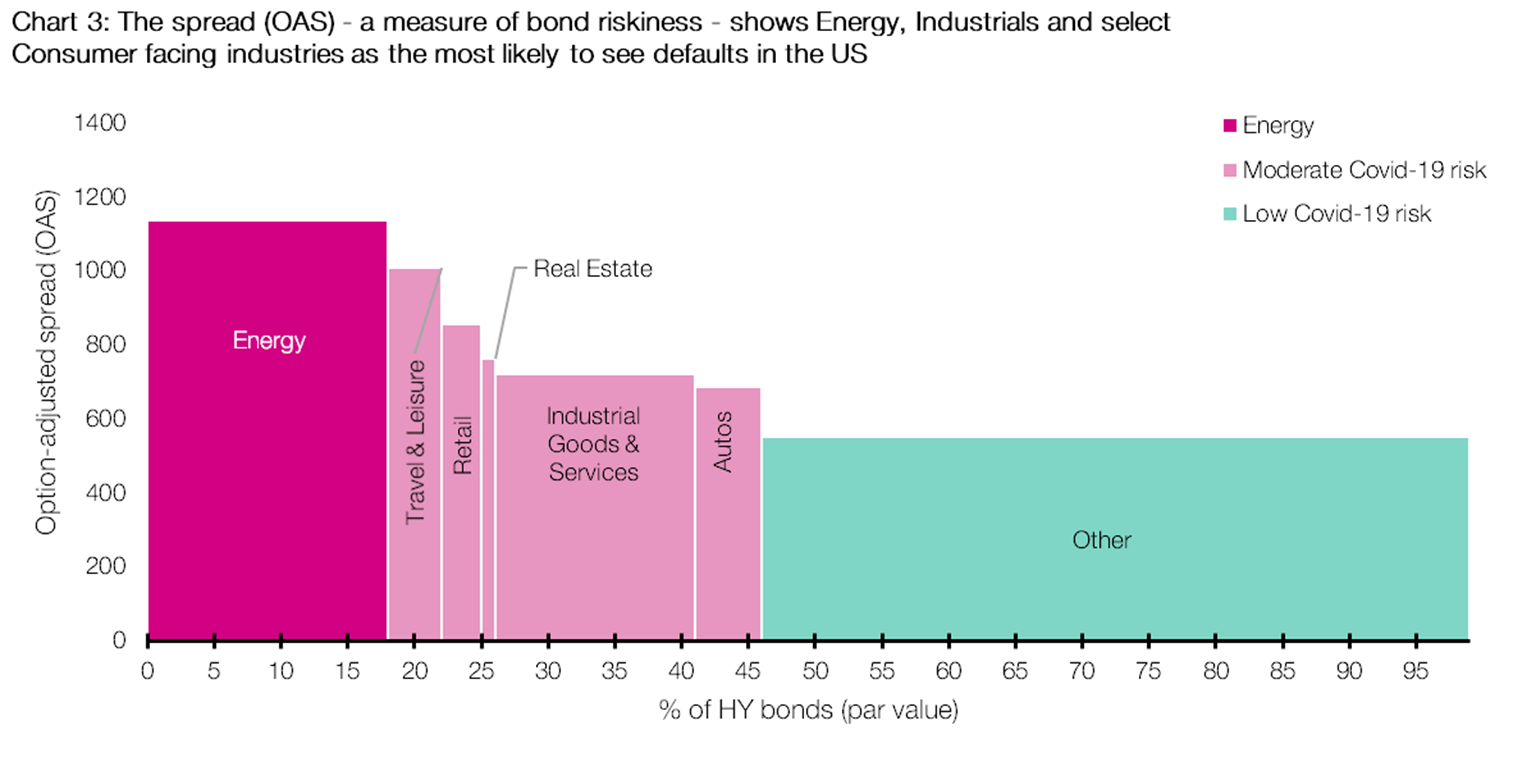 Source: Bloomberg, EQ Investors
Some European states are already agreeing vast bailout packages for what they believe would otherwise be perfectly productive companies. But this sets what some argue could be a dangerous precedent: how can governments be sure they are allocating capital efficiently and not just propping up companies that would otherwise be overindebted and unproductive? Can governments afford to bail out declining industries like brick and mortar retail? Time will tell…
STAT OF THE WEEK:  60% – the proportion of UK imports that will be tariff-free under the newly published UK Global Tariff (Department for International Trade).
DATA CORRECT AS AT: 22/05/20
Contact
Have a question about investing with EQ [2]? Please email enquiries@eqinvestors.co.uk [3] or call 020 7488 7171, we're always happy to hear from you.