Weekly market recap: debt yields dive as dovish-Draghi disappoints
European Central Bank pushes back rate hikes as Mario Draghi warns of slowing economy.









by Tertius Bonnin, 11th March 2019

While others may have predicted the result, this weekend was a nail-biter for me as I tried to follow the action. No I'm not talking about the rugby, but the North Korean elections! Held every 5 years, the secluded state's electorate turn out in their droves – often with close to a 100% turnout – to cast their votes for Kim Jong-un.
Perhaps not as nail-biting as these elections (or indeed the rugby!) was last week's European Central Bank (ECB) press conference. Asset class returns in sterling and local currency are below; slashed inflation and growth forecasts and a warning of downside risks from the ECB helped compress European bond yields in the ensuing risk-off trade.
Table 1: GBP total returns

Source: Bloomberg
Table 2: Local CCY total returns

Source: Bloomberg
Last month, we looked at comments from ECB officials regarding a new round of low rate bank lending. Styled as "targeted long-term refinancing operations" or TLTRO, the intended impact of this extraordinary monetary policy is to reduce the costs of debt for banks based within the Eurozone. The idea is to create an economic incentive to raise lending levels. As the current program (TLTRO2) is due to expire in 2020, the announcement of a continuation program (TLTRO3) was expected, in order to minimise the risk of lenders suddenly finding their borrowing costs rising to unmanageable levels. However, the accompanying forecasts – significant downward revisions to growth and inflation – came as a bit of a shock.
Chart 1: Over the last year forecasts for both the Eurozone's real GDP growth and inflation rate have been guided down, with the sharpest revisions occurring last week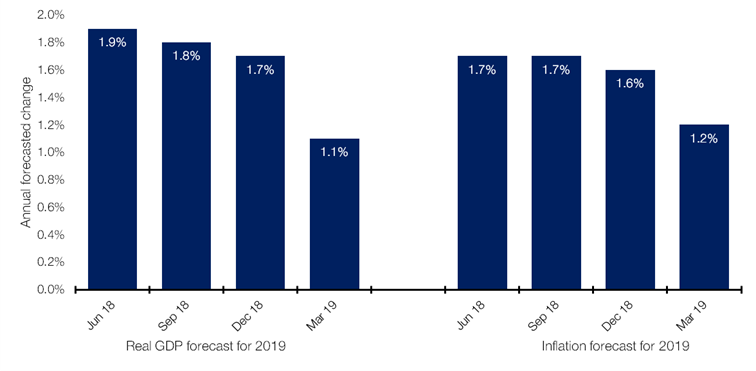 Source: European Central Bank
The failure to respond to the sharp haircut to 2019 growth and inflation forecasts with a substantial policy change (i.e. continuing its TLTRO program AND expanding/extending its existing asset purchase program) left some investors scratching their heads. This caused volatility in a number of European assets; in equities, European bank stocks were among the largest movers, rallying on the initial announcement of TLTRO3 but moving into negative territory in the ensuing ECB press conference as the reality of a lower growth environment hit. Reacting to the fall in inflation expectations, German government bond yields also had a significant move to their lowest point since October 2016.
Chart 2: Investors sought safe-haven assets (i.e. the German government bond) following the ECB slashing forecasts which subsequently sent bank stocks tumbling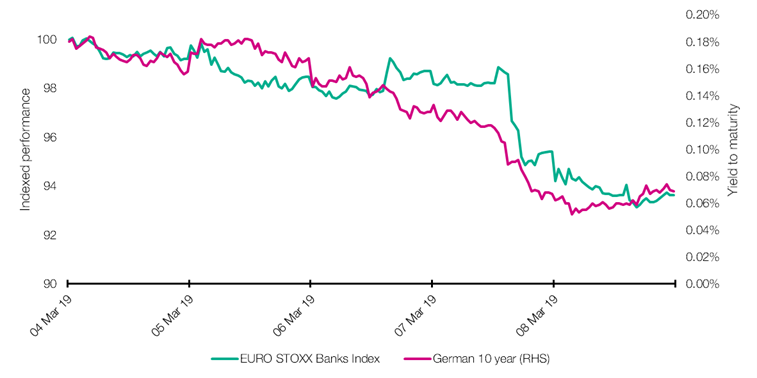 Source: Bloomberg
With Germany – the export heavy engine of the European economy – highly vulnerable to international trade and growing levels of protectionism around the world, investors will be focusing on data releases such as industrial production and balance of trade due this week ahead of inflation data for the wider Eurozone on Friday. By once again kicking the prospect of a rate rise for the Eurozone into the long grass, the ECB President Mario Draghi is now due to end his tenure in October 2019 having never raised rates.
THE WEEK AHEAD
Monday: Germany Industrial Production, Germany Balance of Trade, US Retail Sales
Tuesday: Australia NAB Business Confidence, UK Balance of Trade, UK monthly GDP, US Inflation Rate, Australia Westpac Consumer Confidence, UK Parliamentary vote on Brexit (May's Deal)
Wednesday: Eurozone Industrial Production, UK Spring Budget, US Durable Goods Orders, UK Parliamentary vote on Brexit (No deal)
Thursday: Germany Inflation Rate, UK Parliamentary vote on Brexit (Article 50 extension)
Friday: Eurozone Inflation Rate, US Industrial Production, US Michigan Consumer Sentiment
STAT OF THE WEEK: 52.3% – the potential increase in intra-African trade by 2022 if the African Continental Free Trade Area is fully ratified (UN Economic Commission on Africa).
Data correct as at: 08/03/2019