According to CBS, your chances of being struck by lightning twice in your lifetime are around 1 in 9 million, which is higher than your chance of winning a US Powerball jackpot. So, you can imagine the surprise of a Colorado man who won two $1 million Powerball jackpots in a single day after playing the same numbers for 30 years!
After weeks of losses, oil traders had some luck last week as the commodity rallied from its recent gully. Asset class returns in sterling and local currency are below; amid an earnings season, equities have been looking for direction following a stellar rebound from their March lows.
Table 1: GBP total returns

Source: Bloomberg
Table 2: Local CCY total returns

Source: Bloomberg
As we roll through earnings season, the thought on everyone's mind is where the market will go from here. Using a simple model, we can breakdown the current price of equities into two components: earnings per share (EPS) and the multiple of the EPS investors are willing pay to own the shares (P/E ratio). For the mathematically minded (or those who would like to visualise these sorts of things), the relationship is shown below.
While a company's EPS is grounded by its ability to produce a profit after operating costs, interest expense and taxes, the P/E ratio oscillates in line with investors' sentiment towards risk. In other words, the higher the P/E ratio the more investors are willing to pay for each share without a change in the underlying company fundamentals as they may in part perceive there to be fewer risks. The two charts below show how these two components have moved over time.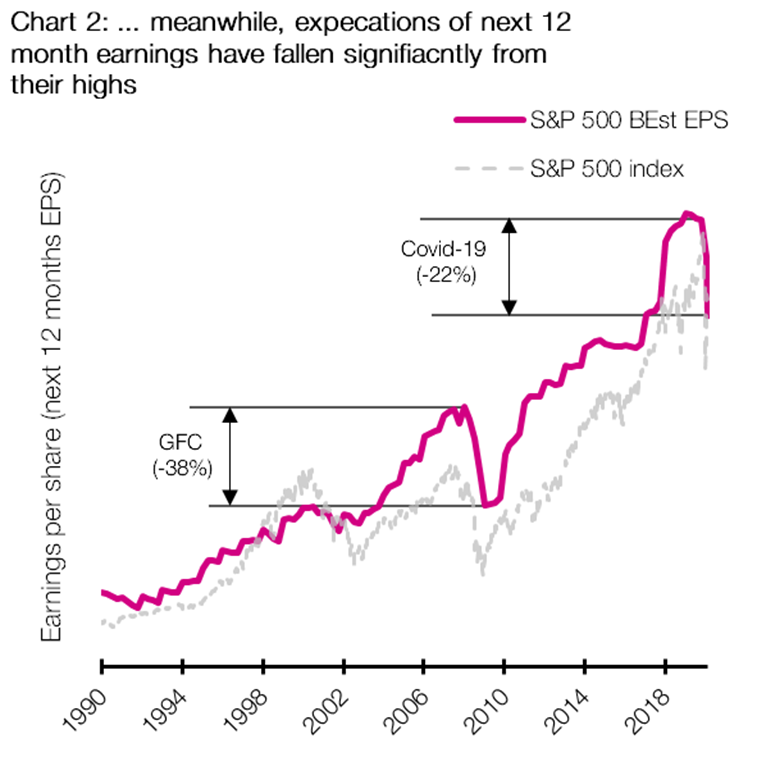 Source: Bloomberg
The two key takeaways are as follows:
the rebound in equity markets from the March lows have been almost entirely due to an increase in P/E ratio which some investors point to as being unsustainable (left-hand chart)
expected underlying earnings which have a much stronger relationship with equity prices over the longer-term are falling (right-hand chart)
As we speak to our fund managers who in turn are in constant communication with the management teams of their portfolio companies, it is clear that the Covid-19 lockdown across the world will not just impact corporate earnings in 2020 Q1 (the results of which are currently underway), but will spill into Q2 and potentially beyond. If this is true and the market's expectation of future earnings are too optimistic, investors may question whether the market can defy gravity by looking through depressed earnings for a recovery, or will the market follow the fall with EPS?

Source: Bloomberg
Either way, what has been remarkable about this recent market environment is the speed at which markets have moved. The chart above looks at bear markets going back to the 1950s, and clearly shows that the current market has seen the fastest sell-off and subsequent rebound. Perhaps several vaccine trials and talks of ending social lockdowns have been enough to soothe investors?
STAT OF THE WEEK: 5 out of 6 – the proportion of major pandemics since the end of the 19th century which have claimed over a million lives (Institute of Economic Affairs).
DATA CORRECT AS AT: 01    /05/20
Contact
Have a question about investing with EQ [1]? Please email enquiries@eqinvestors.co.uk [2] or call 020 7488 7171, we're always happy to hear from you.