Now 11 billion miles away from Earth, Voyager II has become the second man-made object to reach interstellar space. Launched in 1977, the craft has now left the heliosphere though it will still be deemed within our solar system until it passes the Oort Cloud – an extended cloud of icy objects – which is due to happen in 30,000 years.
This incidentally coincides with where my best guesses are for the conclusion of the Brexit saga following last week's political developments. Asset class returns in sterling and local currency are below; some risk assets suffered as investor confidence broke down last week on weaker than expected economic data from both China and Europe, triggering fears of a global economic slowdown.
Table 1: GBP total returns

[1]
Source: Bloomberg
Table 2: Local CCY total returns

[2]
Source: Bloomberg
You would be forgiven for missing a huge amount of international news flow last week as a Conservative leadership contest took hold of the UK press. Despite emerging victorious and gaining immunity from further leadership challenges for another year, the UK PM has been dealt a deadly blow; to shore up support, the PM was forced to promise that she would stand down as party leader before the next election, thereby beginning the countdown for the end of her premiership. With just over a third of her Parliamentary party (117 MPs) voting against her, some have seen this as an indicative test as to how the PM's Brexit deal would fare in any House of Commons vote given Opposition parties have vowed to vote it down. The scale of such a rebellion therefore underlines the hard fact that Parliamentary arithmetic remains a significant hurdle for the PM that she must overcome in order to pass her Withdrawal Agreement before the final 29 March 2019 deadline.
Meanwhile, our continental neighbours have had their own issues to contend with, making the UK's pending withdrawal seem somewhat trivial. Beyond the "gilet jaune" movement in which the French Interior Ministry estimates 66,000 people took part on Saturday, economic data across the Eurozone has failed to regain positive momentum and is now indicating a contraction in economic activity in key member states. To make matters more challenging, the European Central Bank confirmed on Thursday that it would officially end its asset purchase programme by year-end. Though the central bank is to continue reinvesting the proceeds of existing assets and thus will remain in expansion territory, the withdrawal of new liquidity from the Eurozone financial system is likely to create further stress at an already difficult time. Any perception of monetary tightening will prompt investors to reprice the probabilities of future interest rate rises, and as a consequence a strengthening euro will likely damage the region's export growth.
Chart 1: Last week's PMI data revealed a contraction in French economic activity following protests which have swept through the country in recent weeks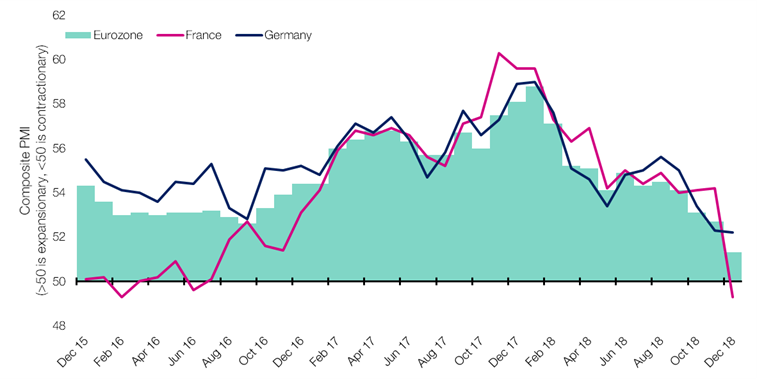 [3]
Source: Bloomberg
It is important to note that there are some transitory reasons for the Eurozone's economic slowdown; such as the German automotive industry facing manufacturing bottlenecks caused by new environmental standards, or disruption caused by the French protests at new fuel taxes. However, uncertainty stemming from global trade tensions also remains a large factor. Fortunately, last week wasn't all bad news for Europe on this front. Following recent reports that Beijing is to temporarily lift retaliatory tariffs that were placed on US autos, positive investor sentiment has helped buoy European automotive stocks. In turn, this helped European equity markets to outperform their global peers and post a positive return despite growing concerns around a slew of poor economic data that has emerged from China.
Chart 2: Friday saw global equity markets tumble after China posted its worst industrial production figures in over twenty years, and its weakest retail sales growth since 1999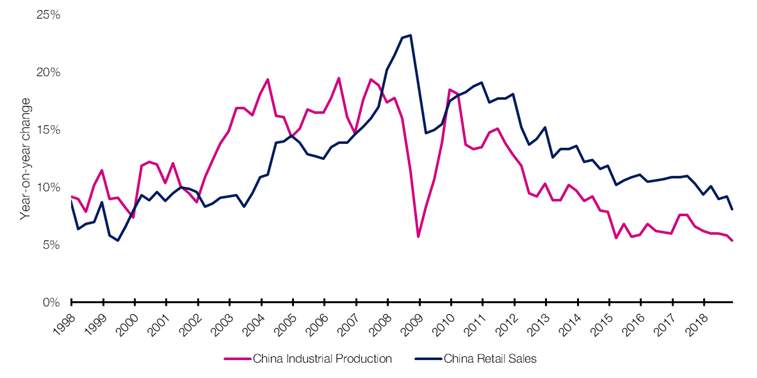 [4]
Source: Bloomberg
With nine business days left of this year, the culmination of the events above over the course of one week has likely killed off any hope of a market rally into the Christmas period. This year has seen a significantly more volatile market environment than 2017 which by all accounts was a Goldilocks year, precipitated by a weakening dollar, easy financial conditions and the anticipation of a huge fiscal boost in the US. While we are likely to take many of the themes from this year – trade wars, confrontation between superpowers, synchronised economic slowdown, political crises across Europe – into 2019, we can only hope that world leaders will take some time to rethink current trajectories.
Have a great festive break.
THE WEEK AHEAD
Monday: Eurozone Inflation Rate
Tuesday: Reserve Bank of Australia Meeting Minutes, Germany Ifo Business Climate, Japan Balance of Trade
Wednesday: UK Inflation Rate, Canada Inflation Rate, US Federal Reserve Press Conference
Thursday: Bank of England MPC Minutes, Japan Inflation Rate
Friday: UK Gfk Consumer Confidence, Germany Consumer Confidence, US Durable Goods Orders, Eurozone Consumer Confidence Flash
STAT OF THE WEEK: 1 in 10 – the proportion of Britons who send a Christmas card to their pet, or the pet of a friend or family member (Royal Mail/The I newspaper).
Data correct as at 14/12/2018